The struggle for women's rights is global. Women in every society have been fighting for their rights for centuries. ActionAid is privileged to work with and support these women.
Women around the world are more likely to live in poverty, simply because they are women. Women's unequal position in society means they have less power, money, protection from violence and access to education and healthcare.
Despite these injustices, women everywhere are standing up to claim their rights and to fight poverty. ActionAid stands with them.
In poor countries girls often miss out on the education received by their brothers. When ActionAid sets up education programmes we make sure that  women are consulted, not just men. This means that the education of girls and women becomes a priority.
Women who can read and write can access heathcare information, and are better able to assert their families' interests.
Child sponsorship and rights for girls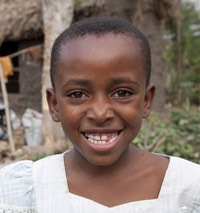 Neema is eight years old and has been at school since she was 5. She has three older sisters who also go to school. She lives with her mum.
Neema told us that she likes child sponsorship because she likes writing to her sponsor.
ActionAid supporters have helped to provide the toilets, classroom and desks for Neema's school. It's often difficult for children - especially girls - to go to school in Tanzania, so Neema feels lucky to be in school.
When you sponsor a child, you'll be providing the resources for real, long-term change. You'll get two letters a year from the child you sponsor, and updates from the country programme to tell you how the money you are spending is changing the community your child lives in.