Hannan (not her real name) lives on the edge of the sprawling Zaatari refugee camp. Set up just eight months ago to provide shelter for the growing influx of Syrian people; it is now home to more than 90,000 refugees who have been forced to flee their country.
As we sit in her caravan, Hannan's daughter sits in her lap, her blue and pink tracksuit covered in a film of dirt from the dusty camp, her cheeks chapped by the dust of the desert. The little girl's name is Malak, Arabic for angel.
Hannan is 9 months pregnant and the hospital has told her that she will have the baby within the next four days. I ask her how she feels about having her child here, "I'm scared" she says, "this is not a suitable environment to bring a baby into.  I am worried it will get ill here. But what can I do?  My husband sent me here so I can have the baby in a place that is safe."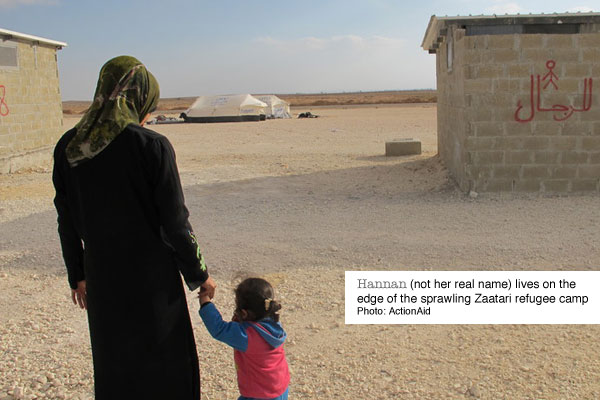 Hannan's husband is still in Syria and she hasn't seen him since she left. Hannan is just one of the thousands of female Syrian refugees who have fled their country to bring up their children alone. The UN estimates that one in every five households is female-headed. With last week's announcement that the number of Syrian refugees has exceeded one million, that's more than 200,000 women who are supporting and raising their family alone.
Thankfully for Hannan, her mother is here to help her.  They explain that they walked in the rain and cold before being picked up and brought to Zaatari. Like many of the families here they weren't able to bring much with them. Hannan and her mother were some of the first women to receive one of ActionAid's women's kits, including clothing and hygiene items. She says,  "We don't have any money so when I received the clothes I felt very happy."
Based on discussions with refugees about what support they require, ActionAid is providing clothing to women, as well as basic but essential hygiene items such as washing powder and soap.  Over the coming weeks and months we will also be supporting people to overcome the emotional impact of the crisis, as well as developing initiatives to promote the protection of vulnerable people, such as women and children, in the camp.
>> Please support our Syria emergency appeal