A vital project in Bangladesh, sheltering homeless girls, is facing closure this Christmas. Please help us save happy homes.
When I ring the doorbell of Happy Homes in Dhaka, a tiny face appears. With a huge smile, seven-year-old Razia introduces herself and welcomes me into the homes.
The home seems busy with morning tasks. Rabeya, Dolna and Mukta are getting prepared for school; all of them are going to take the Junior School Certificate (JSC) exam in November. Dolna dreams of being an English teacher and likes English story books.
In response to my question about her fluent English, Mitu Aktar, a 14-year-old girl whose parents left her when she was three, replies, "Sometimes visitors from other countries come to see us. I try to understand their speech and learn the language."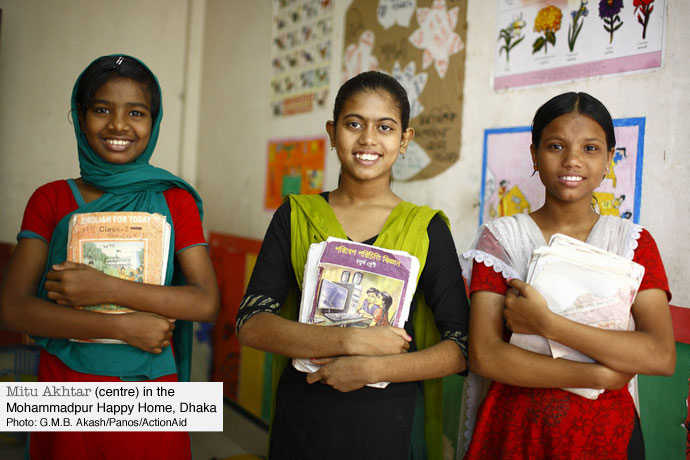 Mitu scored top marks in her exams last year and has won numerous awards for painting and drawing. "I love to draw but our art teacher has left three months ago," she says. "We heard that we don't have money to pay him."
Happy Homes are saving up for the future by cutting down all but the absolute necessities.
Lunch is simple: plain rice and meat that the local community gave for Eid-Ul-Adha. The girls sit on the floor in circle and tell me about the handicrafts they are so excited to show me. Later that day the first floor of the home is filled with painting, reading, dancing and singing.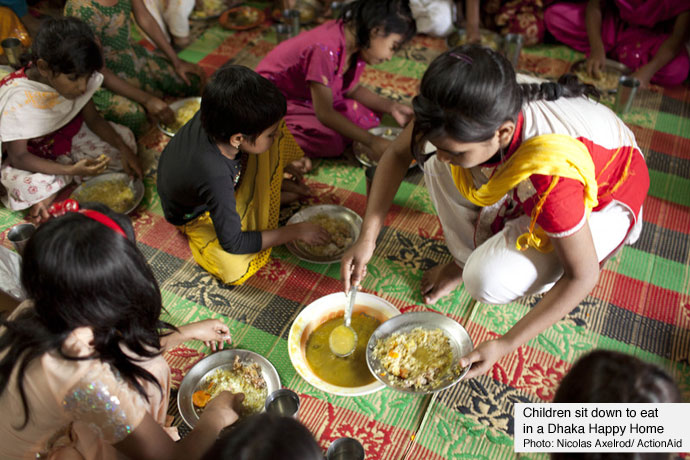 Outside it's almost dark now and it's time to leave. Just before l go, Mitu tells me:
"We want to stay happy in our Happy Home. Please write to the supporters for us so that they support us to have a better life!"
I hope we can give these children the happiness they deserve.