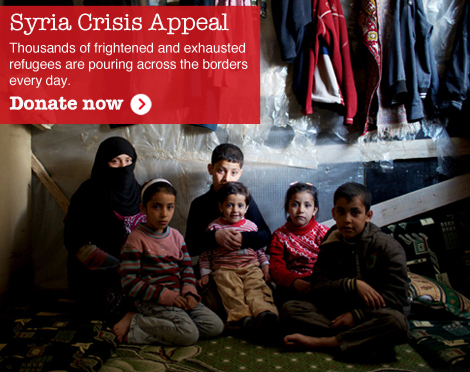 Please, give whatever you can
Thousands of exhausted refugees are suffering in freezing temperatures as they flee violence in Syria.
Syrian refugees are suffering from the worst snowstorm in decades. They're exhausted, frightened, and freezing cold.
The number of refugees has hit 2.3 million - many have left everything behind. ActionAid is distributing vital supplies and warm clothing in Zaatari camp in Jordan. We urgently need support to reach the most vulnerable people.
How your money can help
• £30 could buy two pairs of winter boots 
• £60 could buy a pair of boots and a coat for a woman who has lost everything
• £100 could clothe a family with socks, gloves, boots and jackets.
Israa's story
13 year-old Israa, pictured here with her mother, fled to Zaatari refugee camp with her family.
"There was a lot of bombing very close to our house. We heard they were raiding our village, and if they found people hiding they would kill them.

They entered our house. They smashed all the kitchen plates onto the floor. There were bullet holes all over our home.

I saw people wounded and bodies in the streets. I remember the smell of dead bodies, and the smell of burning from the bombing. We couldn't bring anything with us. We didn't bring any toys, just our clothes."