Here at ActionAid, we're seeing a movement of people who want to give a gift that will last a lifetime.
These people are pledging their birthdays, weddings and anniversary celebrations to the world's poorest people by asking their friends and families to send a donation to ActionAid as their present. If you feel that you have everything that you need, would you join this movement of people by making a life-changing pledge?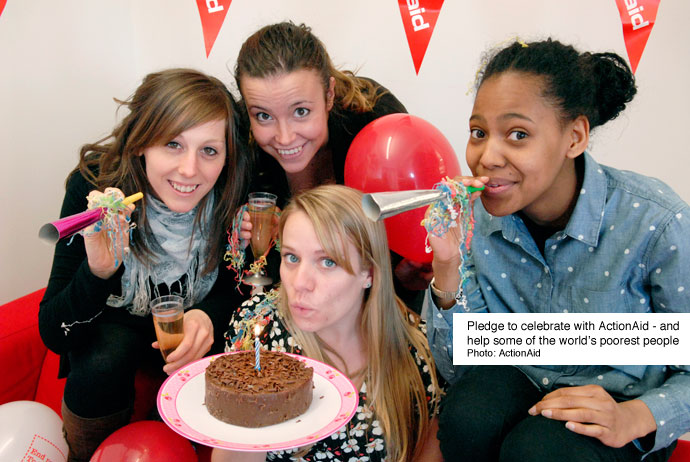 Inspirational givers 
When eight-year-old Natalia told us that what she really wanted for her ninth birthday was for other little girls around the world to have enough food to eat, we promised her we would do everything we could to make her birthday wish come true.
For her birthday Natalia raised £1,000 for ActionAid - to help feed some of the world's poorest people. Her commitment to create a world free from hunger won her a place on the Independent on Sunday Happy List 2012. Now that is something worth celebrating!
Couples celebrating their wedding days are also increasingly choosing to make a difference for their celebration. Rob and Fiona pledged to support ActionAid for their intimate wedding in picturesque Castiglione del Lago, Italy. "We'd done the whole buying toasters and tea towels thing already," says Rob, "so we decided to ask our guests to donate to charity. We came away with a good feeling, had an amazing day and managed to raise money for ActionAid."
How your wedding can empower women
The support given by couples tying the knot is particularly relevant for the girls and women that ActionAid works with worldwide. Weddings aren't always happy occasions for women and girls. Fourteen-year-old Sahanara married a businessman from Mumbai, which was a cover for an illegal trafficking operation that left her HIV positive.
ActionAid is empowering women such as Sahanara by helping them to escape from violent situations and return to education. We prioritise women's rights because we believe that gender inequality is an injustice that must be addressed.
You can choose to support a specific project for your wedding day or other special occasion, and get the chance to hear directly from women like Sahanara. This year there are a range of projects to support: getting children back to school in Sierra Leone, supporting children working in brick kilns in Pakistan, helping communities get back on their feet after a natural disaster - or working with families to help them feed themselves in Lesotho.
Traditional gift list £411: a luxury weekend for two - or the gift of life
Many people in Sierra Leone cannot afford medical care, so pregnancy is very risky and many mothers and babies die. Your gift could help train birth attendants in Sierra Leone, like Isatu, who help to deliver a precious new life safely. They ensure that the mother recovers and that the baby is immunized.
"The first birth I attended after training was triplets! I knew what to do and all three were born healthily." Isatu Kargbo
Pledge to support mums and babies on your special day
How we can support you
If you choose to celebrate your wedding day with ActionAid, we will provide you with an A6 wedding gift card containing your online wedding gift list and a little more about the people who could benefit from the support of your wedding guests.
Our bespoke celebrations pack is suitable for a birthday, wedding or anniversary celebration. Inside your pack, a gift list will show how your money can make a difference to people living with poverty and injustice, through supporting ActionAid projects across the world. 
What your celebrations could do...
£25 could train a child in Afghanistan to become a tailor
£40 could provide a hand pump for a well in Sierra Leone, providing six people with clean water for life
£75 could provide 14 AIDS orphans in Malawi with nutritious porridge for one year – sometimes the only guaranteed food they receive
£125 could supply a whole class of students with all of their learning materials for one year in Ethiopia
> Pledge to share your celebration with those who need it most