Cyclone Fani: What's happening in India and Bangladesh?
3 May 2019
India's largest ever cyclone in decades made landfall on its east coast on 3rd May 2019. Find out key facts about what happened and how ActionAid is helping on the ground.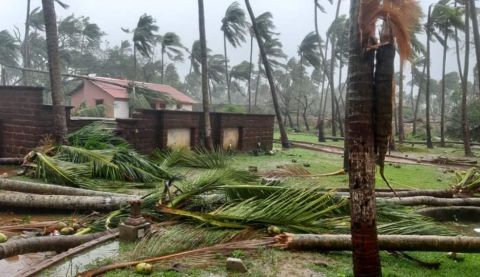 Latest update on Cyclone Fani: Tuesday 7 May, 2019
Cyclone Fani killed 33 people in India and 17 people in Bangladesh before weakening and moving further inland to the north eastern region.
In India, 1.2 million people were evacuated and nearly 5,000 shelters were set up including 800 specially-designed cyclone shelters. Schools, roads, houses and agricultural lands have sustained the most damage. People have started to return to their homes and villages but food and sanitation are emerging as the main concerns.
In Bangladesh, 1.6 million people were evacuated but 53,000 acres of agricultural land and 13,000 houses have been damaged across the country. In Cox's Bazar, 144 Rohingya refugee households have been affected by the storm.
ActionAid India have identified food, water, medicine, hygiene kits, solar lamps and temporary shelters as immediate needs. Women and children are receiving the support first, including the provision of school supplies for children.
ActionAid Bangladesh is also coordinating a needs assessment and collecting information as the situation unfolds.
ActionAid Association India's Regional Manager in Odisha, Debabrat Patra said:
The women I met here have seen this before, in previous disasters. They are frustrated, and scared. Many had left everything in the escape from home – and they're now terrified that they've lost their houses, belongings and livelihoods."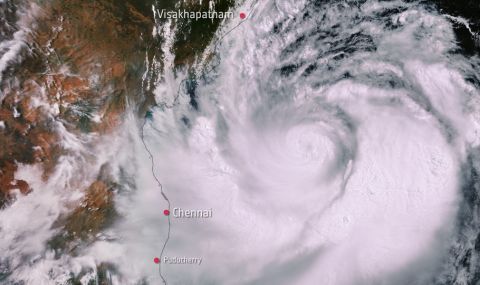 Satellite image of cyclone Fani by ESA,  CC BY-SA 3.0.
Cyclone Fani: What has happened?
Cyclone Fani made landfall in India on 3rd May 2019 in Odisha State (also called Orissa).
Wind speeds of 110km/hr have resulted in heavy rainfall and flooding. The cyclone is the strongest tropical storm to strike the country in 20 years.
Where did Cyclone Fani make landfall?
Cyclone Fani has made landfall between Brahmagiri village and Puri City in India. 
What is being done to help?
Local authorities have evacuated over 1 million people in coastal communities of Odisha and Andhra Pradesh. Rail, road and air traffic have been suspended and hundreds of disaster management staff have been working across the state. The Indian army, navy and airforce were on alert to help with rescues. 
How is ActionAid helping in India?
Over the last two years, ActionAid India has trained more than 1,540 women to be humanitarian leaders and prepared disaster plans for 35 villages in the state of Odisha. These female-led teams from the affected communities know who is the most vulnerable and where they live. They lead on the emergency alert systems and are best placed to decide what's needed in any response. Since the 'Super Cyclone' hit Odisha in 1999, ActionAid India has trained around 4,000 men and women in disaster risk reduction.
ActionAid India has been working in the most at risk areas with local partners supporting the evacuation of locals and spreading early warning alerts through community radio.
We have visited women and children in shelters in the Puri District to establish their needs.
ActionAid India is preparing to ensure that people affected by the storm have access to essential supplies and services such as shelter, food, water, sanitation, clothes and medical assistance.
ActionAid Association India's Regional Manager in Odisha, Debabrat Patra  said:
In Puri, evacuees are sheltering in a nearby school, but with only two toilets being shared by 500 people – this accommodation is woefully inadequate. We must prioritise the most vulnerable – those with disabilities, older people, children, pregnant women and anyone with serious illness. Rescuers must aim to reach them first for evacuation, relief and rehabilitation. We also need to ensure everyone has food, clothing and basic services such as toilets.
Is Cyclone Fani heading towards Bangladesh?
Cyclone Fani is expected to move towards Bangladesh on 4th May 2019. Cox's Bazar, where thousands of Rohingya refugees live in camps, is also on alert, but the cylone is not expected to hit the camp unless it changes path.
What is ActionAid doing in Bangladesh?
ActionAid Bangladesh is on alert as Cyclone Fani is headed towards the southwestern and western districts of Bangladesh on the 4th of May 2019. 
ActionAid Bangladesh and its local partners are making necessary preparations in anticipation of the Cyclone. 
In Cox's Bazar, ActionAid Bangladesh is getting ready to take necessary steps for an emergency response, including the protection of women and children. 
Please donate to our Emergency Action Fund to help us prepare and respond to disasters like these.
ActionAid