ActionAid and ODI general election hustings: the key issues
21 November 2019
On Monday 18 November, ActionAid UK and the ODI hosted a 2019 general election hustings event where we heard what the different political parties would do to promote women's rights and sustainable development.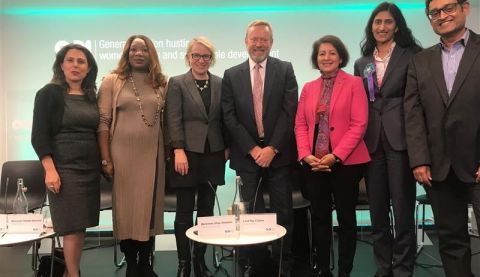 So far issues like Brexit and the NHS have dominated the general election campaign, and – while these are important - we at ActionAid don't think enough attention has been paid to women's rights. 
That's why, on Monday, we hosted a hustings event in order to give parties the opportunity to share their views and policies and answer questions on how they would promote the rights of women and girls around the world, if elected into government. 
We invited all of the major parties to attend, and were joined by:
Elizabeth Babade, Brexit Party Prospective Parliamentary Candidate for Warrington North 
Baroness Natalie Bennett, Green Party leader from 2012-2016 
Lord Ray Collins, Labour DFID and FCO spokesperson in the House of Lords 
Harini Iyengar, Women's Equality Party lead London Assembly candidate 
Baroness Shas Sheehan, Liberal Democrat DFID spokesperson in the House of Lords
The Conservative Party, SNP and Plaid Cymru were also invited, but unfortunately were not able to send a candidate.
Opening statements from the candidates
The event kicked off with short welcome speeches from ActionAid UK's CEO Girish Menon and ODI's Executive Director Sara Pantuliano.
Following that, the Chair of the hustings event – the Guardian's Executive Editor of Global Development, Lucy Lamble – introduced the speakers and gave them 3 minutes each to give their opening statements. 
The Green Party's Baroness Natalie Bennett went first. She pledged to increase UK aid spending from 0.7% to 1% of Gross National Income.
She said we have a moral responsibility for system change towards a world where resources are shared fairly, particularly in light of the UK's history of colonialism and war. She noted that:
We often see gains in areas like women's rights, then they're taken away again."
Lord Ray Collins from Labour said the denial of the rights of women and girls remains a widespread driver of inequality worldwide.
He said Labour is committed to an explicitly feminist development policy. Labour would triple funding for grassroots women's groups in the world's poorest countries and would continue to fight for women's rights through both legislation and social action.
Politics affect everyone, so it shouldn't be left to men, said the Brexit Party's Elizabeth Babade. She encouraged girls to get involved in politics from a young age, and praised the female Prime Ministers that had come from the Conservative party: Margaret Thatcher and Theresa May.
Baroness Shas Sheehan set out 3 main priorities for the Liberal Democrats on women's rights: 1) the protection of the 0.7% aid budget, which she stated was absolutely crucial to safeguard; 2) a focus on pro-poor policies with a focus on women and girls; and 3) a commitment to a strong autonomous and independent Department for International Development. 
Harini Iyengar set out the Women's Equality Party's 8-point roadmap for gender equality, with the same priorities applying both domestically in the UK as well as overseas. Some of the issues she raised included the need for equal representation in politics, closing the gender pay gap, and tackling violence against women and girls. 
Questions from the audience 
After the initial opening statements from the candidates, Lucy Lamble fielded questions from the audience in the room, ActionAid activists, and those submitted by people watching online.
A student in the audience asked the candidates if their party would support the ratification of the International Labour Organisation (ILO) convention 190 in the UK, which would protect women from violence and sexual harassment at work. 
All of the speakers represented responded by saying they would ratify the convention.
We at ActionAid think this is great news. We have been calling for the next government to ratify the ILO convention to protect workers in the UK, and then to encourage other countries around the world to adopt it too.
A second question from the audience was on the impact trade deals can have on women's rights. Trade and trade arrangements between countries can have a positive or negative impact on women, for example on their jobs, pay and working conditions. 
In their answers, candidates called for gender-sensitive impact assessments and core minimum standards to apply to all trade arrangements. Others raised the need to champion trade justice and fair trade.
In response to a question from a staff member from the IMF on ensuring aid reaches who it is really aimed at, Shas Sheehan and Natalie Bennett agreed that aid should be spent through the Department for International Development (DFID) – where the expertise is.
Ray Collins and Elizabeth Babade stressed the importance of transparency in both countries giving and receiving aid. Harini Lyengar emphasised the importance of local approaches. 
Read next
10 January 2020

13 December 2019

11 December 2019