Ebola Crisis Appeal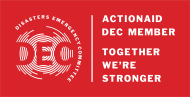 Please donate now
Ebola virus is a deadly disease which is devastating the lives of people in West Africa. Our teams on the ground in Liberia and Sierra Leone have helped 300,000 people to fight the disease, but thousands more are at risk.
You can help stop the spread of this deadly virus by making a donation to our Ebola crisis appeal now.
£25 can pay for cleaning and disinfectant materials for three families at risk from Ebola.
£50 can buy three sets of personal protective equipment for volunteers supporting people under quarantine.
£100 can provide training to a community on how to keep themselves safe and help stop the spread of Ebola.
Another way you can help us fight Ebola in West Africa right now:
What is Ebola virus?
Ebola virus is a severe, usually fatal illness spread through contact with bodily fluids of infected people and animals. Initial symptoms are 'flu like and easily confused with other common diseases like Malaria. The next stage is vomiting, diarrhoea and both internal and external bleeding. Death usually follows. The virus can survive for several days outside the body, including on the skin of dead victims.
There is no vaccine, cure or specific treatment.
Crisis point in West Africa
This is the worst outbreak in history. Reports from the World Health Organisation estimate that more than 20,000 people could die before Christmas if the virus is not stopped.
Right now, every person who gets Ebola is infecting up to two more people. Unless we can stop that, Ebola will continue to spiral out of control.
Thousands of children have been orphaned. In some areas whole communities are in quarantine because of the epidemic. Unable to earn a living, trade or go to market they are not only battling Ebola, people are also facing the prospect of widespread hunger.
What is ActionAid doing to help?
Your donations are helping us to fight the Ebola Crisis in West Africa by:
giving medical and sanitation supplies to under-funded medical centres
providing protective gear to health workers.
broadcasting safety messages on radio stations and in public areas
training local volunteers to lead awareness raising campaigns in their communities
providing food and oil for people in quarantine
We need your help so we can step up our work and stop the spread.
Donate to ActionAid's Ebola Crisis Appeal
Read more about our work to stop the Ebola outbreak:
90% of your donation will go to support emergency work in West Africa. 10% of your donation will be retained for ActionAid's Emergency Action Fund which will only be used for ensuring we are prepared and able to respond quickly and more effectively to future emergencies and crises. If the total amount raised for this appeal exceeds the funds needed for the response ActionAid will transfer the remaining balance to the Emergency Action Fund.