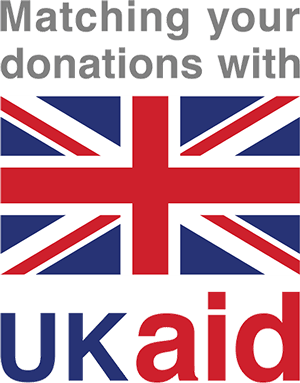 Give today and your donation will be doubled by the UK government at no extra cost to you. Even better, set up a monthly donation and your first three regular gifts will be doubled. This match funding will help pay for projects in Kenya, focused on reducing all forms of violence against women and girls. All donations made to this appeal between 7 March and 7 June 2018 will be matched, up to £5 million.
Your donation could help keep a girl like Amy safe from abuse
From the moment they are born, girls face many forms of violence including rape, sexual exploitation and forced marriage. Girls living in poverty are especially vulnerable.
In Kilifi, southern Kenya, where six-year-old Amy (pictured above), lives with her mother and brothers, rape and child marriage are common. Many girls drop out of school because they are forced to marry while still children, and become pregnant.
ActionAid's women-led programmes in Kenya aim to prevent and respond to violence against women and girls and create long-term change.
We fund women's groups and networks who train parents, teachers, local police and legal advisers to recognise the signs of violence and to report it.

Our Girls' Clubs are run by local women and teach girls about their rights and help them build confidence.
With your support, local women can prevent and challenge violence and make sure survivors get all the help they need. Donate now to help us keep girls like Amy safe from abuse.
What ActionAid does
Whether it's the result of being displaced by war, recovering from the aftermath of an earthquake, or simply being born into a deprived community, women and girls are the most affected by poverty.
ActionAid puts women and girls at the centre of our work across 45 countries. We make sure girls go to and stay in school, we work with communities to end gender-based violence, and we train women in the skills they need to earn a living.
Almost all of the people and partners who run our programmes are from the developing world. This means our staff are on the ground and experiencing poverty first hand. We see day-to-day how poverty affects people's lives, and are uniquely placed to give a voice to the women and children who suffer the most.
We also help women and communities prepare for and recover from disasters, a time when they can be at their most vulnerable. We demand action to change the factors that keep poor people poor at local, national and international level. We don't walk away until we've achieved lasting change.
How we use the money you give us
For every £1 we spend:
72p is spent on programme activity, including humanitarian and development work
12p is spent on fundraising
9p is spent on support costs (running the organisation)
7p is spent on campaigning for change
These figures are taken from our expenditure in 2016.
We're committed to keeping our supporters happy and being open and honest about how we fundraise. To find out more you can read our supporter promise.
Donating by post
If you'd prefer to donate by post, make out a cheque payable to ActionAid UK,
and send it to:
ActionAid UK Supporter Care Team,
Chataway House, Leach Road
Chard, Somerset
TA20 1FR
Contact us
We're here to help. You can contact us by phone or email.
£15
£10
£5
£15 a month could help educate girls and ensure they are aware of their rights