Thanks to the incredible generosity of ActionAid UK supporters, all of the children available for sponsorship in the occupied Palestinian territory have now been sponsored.
But for just 65p a day, your sponsorship with ActionAid UK will help another child living in conflict or severe poverty get access to nutritious food, clean water, health care and education.
All children have hopes and dreams, but poverty and injustice can hold them back. They might face violence, miss out on an education, or be prevented from claiming their rights. But it doesn't have to be this way.
By sponsoring a child, you'll help us work with local communities to overcome these injustices and unlock a child's potential. Your support will mean that children in some of the poorest parts of the world can look forward to a brighter future. So the hopes and dreams of girls like Saf'a might one day become a reality.
What to expect when you sponsor a child
As soon as you sign up to be a sponsor, we'll send you a welcome pack with a photo of the child you're sponsoring and their story so far. And that's just the start of the journey you'll go on together.
You'll get two handwritten messages a year from your child telling you about them and their life – they might be letters, drawings, or postcards – plus detailed updates about how they're getting on from our staff in their country.
You can write back to your sponsored child. Over time you'll get a new photo at special milestones so you can see them grow and thrive.
Where your sponsorship money goes
80% of your sponsorship gift goes overseas (whilst 20% is spent in the UK on raising awareness and finding more supporters). Of the 80% overseas gift, 70% goes directly to your sponsored child's community or, if there is an exceptional need such as a life-threatening emergency, another community within their country. The remaining 30% is used to fund other vital work in developing countries, and running child sponsorship so that you can receive messages from your sponsored child, and hear how your gift is changing lives.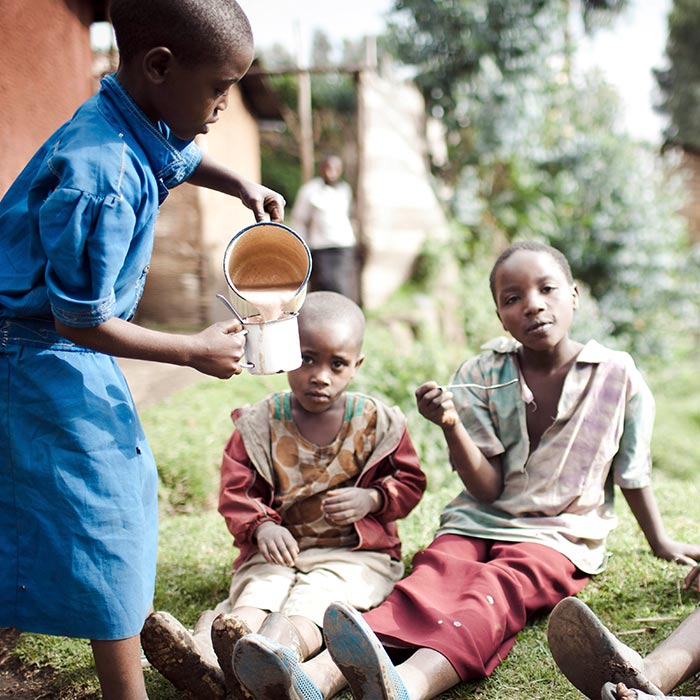 Food
Clean water
Healthcare
Education
You can be sure we'll achieve as much as possible with every pound you give us. And you'll be able to see the difference you're making through regular updates we'll send on how your money's being spent.
"It's amazing to see what a difference such a small amount of money a month can make to a whole community."

Richard Jordan, ActionAid child sponsor