Associated British Foods does a roaring business in the Zambian town of Mazabuka but pays "virtually no" corporation tax in Zambia.
Mazabuka's lush green cane fields can be deceptive: poverty and malnutrition are ever-present here, and overstretched public services are sometimes literally a matter of life and death.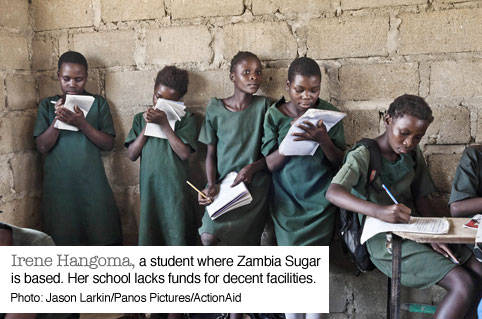 Irene, 12, schoolgirl
Irene is a student in Mazabuka, home to one of Associated British Foods major operations. The poor facilities at her school profoundly affect her learning but government education funds are severely limited.
"We feel bad reading whilst standing. We do not feel good at all. We need more desks and at least a floor. We need to be seated on the desk when the teacher is teaching so that we can concentrate."
Irene knows the importance of school. In spite of the obstacles, she hopes that education will help her support her family.
"I want to become the bank manager so that I should be of help to my siblings and my mother."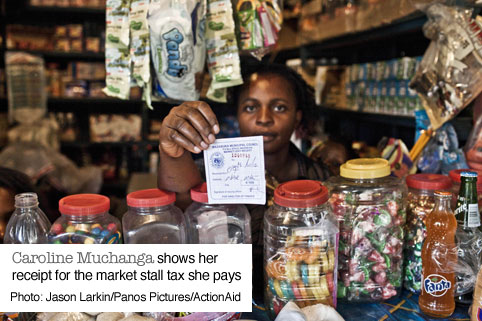 Caroline Muchanga, 28, market trader
Caroline is a market stall holder in Mazabuka.
She is well aware that Zambia Sugar, the big sugar company in town, is making massive profits. On a good day, Caroline makes about US$4 but in some years she has actually paid more business tax than the sugar firm, which is owned by Associated British Foods.
Small traders like Caroline do all they can to provide for their families. Nevertheless, she cannot afford to buy school books or uniforms for her children and sometimes they go to bed hungry.
"Our profits are never enough to supply us with good food at home... We feel so bad because the Zambia Sugar Company does not pay tax, and for sure we are suffering."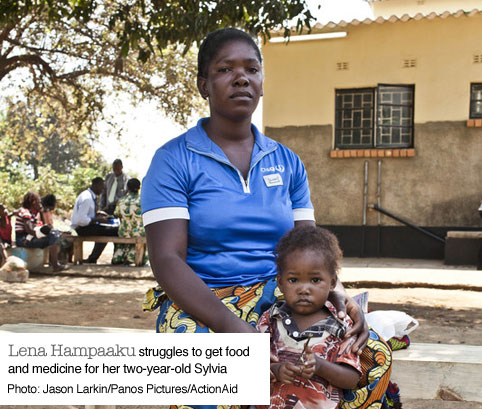 Lena Hampaaku, 21, community member
Lena's struggle to find work means she cannot buy food or medicine for her or two-year-old daughter Sylvia.
"It is usually hard to find something to eat. She cries a lot mostly complaining of hunger."
When she does find work, it is low paid. She dreams that Sylvia's education will one day help them escape the trap.
"We would love to be assisted so that our children start going to school. If she completes her education, she would start working then all our problems would be over."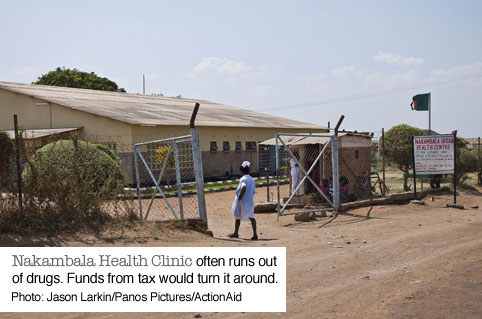 Nakambala Health Clinic
Nakambala Clinic is oversubscribed. They often run out of medication and are overstretched because people inside and outside the catchment area visit.
Zambia Sugar workers use Nakambala's free services and not the more expensive private clinics attached to the company.
More tax funds would enable the government to improve local facilities and tackle health problems facing communities like Nakambala.
"If that tax was paid, maybe the money would be used for other clinics like Cowungha, Neca clinic hospital to buy more drugs and to run outreach in hard to reach places," explains Sister Florence.
 
Campaigners in Zambia are calling for this tax dodging to stop. But we need to work together.
Ignore