Why sponsor a child with ActionAid?
We're experts in child sponsorship. We've been transforming lives around the world for 40 years, working with children, communities and sponsors to earn their trust.
Our staff and partners live and work in the community where your child is growing up. So they are perfectly placed to know what your child and their community need to thrive, and your sponsorship helps to make that happen. You can be sure we'll achieve as much as possible with every pound you give us, to change lives for good.
1

You'll be a child's only sponsor and form a unique relationship with them.

2

Through photos and letters you'll get a special insight into their life.

3

You'll see the difference your £19.50 a month makes to your child and their community.
What you get as a sponsor
As soon as you sign up, we'll send you a photo of the child you're sponsoring and the story of their life so far. Then you'll get two handwritten messages a year from your child, along with updates about how they're getting on from our staff on the ground. And you can write back to them. You'll get a new photo every two years, so you can see your child grow up.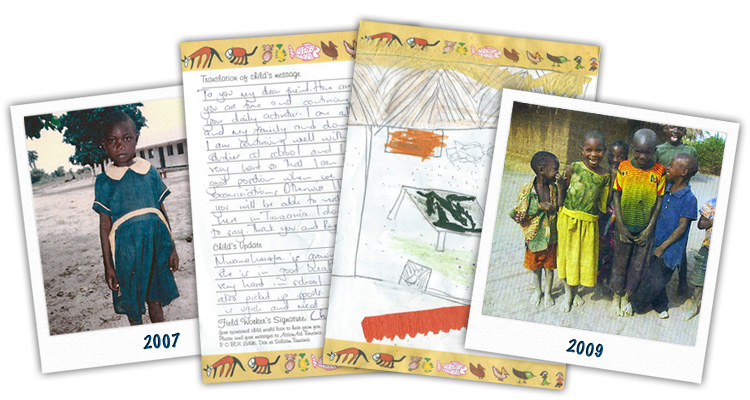 Where does my money go?
80% of your sponsorship money goes overseas (20% is spent in the UK on public education and finding more sponsors).
Your money supports your sponsored child's community, and the community decides what the money should be spent on. That might be a well so the whole village has clean water. It could pay for school books or maybe even fund the building of a classroom so your child can get an education. We'll send you detailed updates on how your money's being spent so you can see how your sponsorship is changing lives.
Watch this video to see how sponsorship has helped 11-year-old Concilie.
How sponsorship helps children
Helen Davies, 34, from Manchester, has been sponsoring MwanaArafa, a girl in Tanzania, for six years. Helen told us:
"I decided to sponsor MwanaArafa because I just wanted to give something back. I chose ActionAid because your goals and issues really resonated with me – especially helping girls to get an education.

Over the years what I've enjoyed the most about sponsoring MwanaArafa is receiving her letters. They started off as pictures when she was young, but she started to write a few words and then her letters became neater and longer.

When I visited her in Tanzania it was so great to actually see the school that my sponsorship had help to build.

It's really clear to me that sponsorship is not just for the one child that you're connected with – the whole of MwanaArafa's community benefits from the school."
Photos: Greg Funnell / ActionAid, William Davies / ActionAid.