Myanmar is one of the least developed countries in the world. One child in every 10 dies before the age of five. Basic healthcare services such as water, education and healthcare are very limited.
ActionAid has been working in Myanmar for 12 years. It is one of a very small number of charities able to work in Myanmar's poorest communities.
Recent changes in the regime have seen the country start to open up.
Child sponsorship in Myanmar (Burma)
In 2012 ActionAid launched its first ever child sponsorship programme in Myanmar.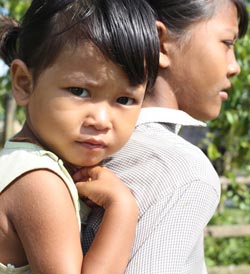 Extreme poverty in Myanmar means that children are often forced to work long hours and drink disease-ridden water. They have little or no chance of getting an education.
Ei Ei (pictured), carried by her sister Pyae (right) are two children that we're hoping to reach.
They live in a poor fishing village. Pyae is forced to work 16 hours every day to keep her family afloat.
Helping young people change their communities
The unique Fellowship Programme trains young volunteers to live and work within communities for two years. These local volunteers have experienced poverty, and work in remote areas to identify and solve challenges.

The solutions are diverse, from road and bridge repairs to training in farming methods and even micro-loans to enable people to set up their own businesses. We have worked with over 390 communities, supporting more than 150,000 of the most vulnerable and marginalised people. In 2012, ActionAid ambassador Emma Thompson travelled to Myanmar to visit the ground-breaking programme.

The solutions are diverse; road and bridge repairs, training in farming methods, even micro-loans so people can set up their own businesses. In total, we have worked with over 390 communities, benefitting more than 150,000 of the most vulnerable and marginalised people. They were recently visited by ActionAid ambassador Emma Thompson.
Cyclone Nargis
Myanmar was hit by a terrible cyclone in 2008, and the British public responded by donating millions. ActionAid was one of the first to respond, helping 200,000 people rebuild their lives. But we did far more. We launched a country-wide network delivering rice banks, schools and health clinics to the most vulnerable people.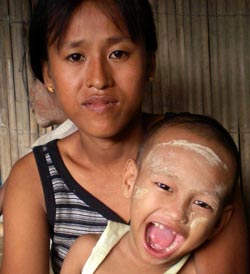 Kyu Kyu KhineKyu Kyu (left) was one of them.
"I found out my parents had died, and wondered how I would survive without them - and with no home or food. I have two sons, the elder of which (aged 5), is disabled from polio. I didn't know what to do.
"The grant from ActionAid enabled me to buy a second-hand fishing net, as my previous one had been destroyed in the cyclone...Now I am able to catch fish regularly, and we have more money as a family."
Read more about the impact of the cyclone on Kyu Kyu.
How you can help
When you sponsor a child in Myanmar, you'll be providing the resources for real, long-term change. You'll get two letters a year from the child you sponsor, and updates from the country programme to tell you how the money you are spending is changing the community your child lives in.