Women's rights and poverty in Sierra Leone
Women face significant levels of inequality in Sierra Leone.
A woman's chance of dying from pregnancy-related issues is amongst the highest in the world: for every 100,000 live births, 970 women die from pregnancy-related causes.1
This is partly due to high teenage pregnancy rates: 35% of girls aged 15-19 have had children or are pregnant,2  while 39% of girls are married before their 18th birthday.3  
13% of girls are married before they are 15.4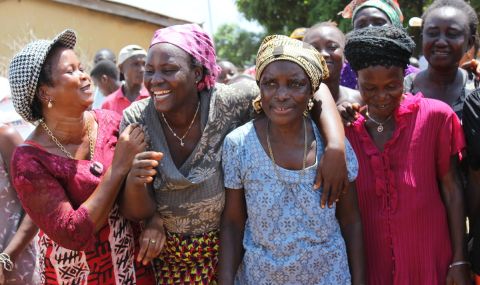 What we do in Sierra Leone
Getting girls into school
Although school attendance rates are improving in Sierra Leone, the drop-out rate among girls remains high. Only 62% of Sierra Leonean girls aged 15 to 24 are literate, compared to 71% of boys in the same age range.5
When parents struggle to meet the costs of education, such as books and uniforms, it is girls who miss out the most. Many girls are expected to support their families and marry at a young age. They are also at risk from sexual violence on their way to school.
ActionAid works with girls to identify the changes they want to see and to empower them to go to school. We organise training for women, men, boys and girls on the importance of educating girls. We also support communities to improve existing schools and build new ones.
Tackling violence against women and girls
ActionAid puts women and girls at the forefront of our work in Sierra Leone. We work in communities where violence against women is a persistent problem and seek to change attitudes from within.
We run workshops and awareness-raising programmes to ensure that men know it is illegal to incite violence upon women. This is combined with projects that inform women of their rights and how to get legal support if they have been abused.
Promoting women's leadership means that women can speak out about the issues that affect them and help improve their communities.
Disasters in Sierra Leone
Freetown mudslides in 2017 
Hundreds of people were killed in mudslides and flooding near Sierra Leone's capital, Freetown, following torrential rains in 2017. Thousands more lost their homes and were displaced.
Local ActionAid staff on the ground launched an immediate humanitarian response, getting emergency food and water, lamps and batteries to people in desperate need. 
Our staff were especially concerned about the welfare and safety of girls and women, who are the most vulnerable during humanitarian emergencies like this one. We delivered kits to women and girls (containing underwear, sanitary towels, soap, deodorant and a towel) to help them manage their periods safely.
Learn more about the Sierra Leone mudslides
Ebola outbreak 2014-2016
A devastating outbreak of Ebola struck Sierra Leone in May 2014. The virus spread rapidly, killing over 3,500 people and affecting over 8,000.
Community engagement was key to ActionAid's Ebola programme in Sierra Leone. We worked directly through networks such as local mothers groups who were able to gain the trust of local people and educate them about virus prevention.
Our community volunteers went door-to-door, spreading awareness of the importance of hygiene measures like handwashing, and reaching over 100,000 people. We also trained neighbourhood watch teams to spot signs of illness in the community and to deliver medicine to people quarantined in their homes. 
In 2014 and 2015 alone, our Ebola response reached over 350,000 people across seven districts. 
Supporting access to education
Rural communities face many challenges in accessing education, from the lack of qualified teachers to the poor-quality buildings.
"During the rainy season, we used to be wet, as the rain will disturb our lessons," 12-year-old Neneh said.
But ActionAid have built a new school in Neneh's community, filled it with new chairs and desks, and built a new well. She said:
We are so happy that we will have a well that we will now have clean water from, and we will not walk that long walk to fetch water."
Neneh is looking forward to learning in the new school and going to secondary school. She wants to be a lawyer when she grows up.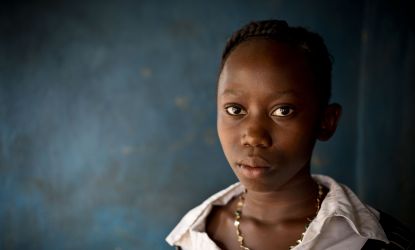 Helping survivors of Ebola to rebuild
In December 2014, after her grandmother and sole carer died from Ebola, 13-year-old Bandor's house was burned down to stop the disease spreading.
"I lost everything," says Bandor. "Even the photographs of my grandmother."
Bandor was taken in by her relative, Mama Alice, who is also one of ActionAid's 1,200-strong team of volunteers in Sierra Leone.
Trained as a neighbourhood watch volunteer, Mama Alice was able to spot signs of Ebola in her community and give support to those infected.
She and Bandor received essential supplies from ActionAid; now Bandor has a safe place to stay.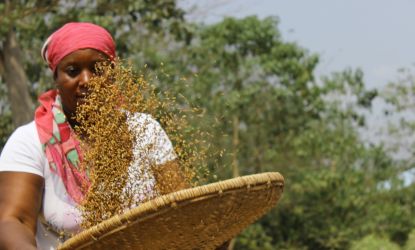 Supplying seeds for women farmers
The Ebola epidemic took not only people's lives, but their livelihoods. 
Small-scale farmers like Massa were unable to sell crops at market, due to bans on public gatherings, leaving her with no way to make a living. 
ActionAid supported local women's groups with the distribution of seeds in the aftermath of the epidemic, and coordinated trainings so farmers could improve their harvests. We also ran trainings on women and girls' rights, so women could become advocates in their communities. 
Massa said:
We are greatful for ActionAid as they were the first humanitarian organisation that spring into action during and even after the Ebola."
"We are now supporting and monitoring children, especially the girl child in schools. We provide for them uniforms, books etc, and all this is from our seeds that was given to us by ActionAid."
Footnotes
1https://www.sl.undp.org/content/sierraleone/en/home/countryinfo.html
2https://data.worldbank.org/indicator/SP.MTR.1519.ZS?locations=SL
3https://www.unicef.org/infobycountry/sierraleone_100861.html
4https://www.unicef.org/infobycountry/sierraleone_100861.html
5https://data.worldbank.org/indicator/SE.ADT.1524.LT.FE.ZS?locations=SL
Top image: Sia (left), 19, was one of 25 girls in her school to receive a scholarship to help her stay in education. Jonathan Bundu