Democratic Republic of Congo
Why we work in DRC
The DRC is one of the poorest countries in the world. Over 87% of the population live below the poverty line, and ongoing conflicts have driven millions of people from their homes.
The majority of the country's poorest people live in rural areas, where limited access to clean water and sanitation causes outbreaks of deadly diseases like cholera.
Women and girls in rural areas are vulnerable to sexual violence - it is reported that one in three women have survived sexual violence in eastern DRC.1  Half of the women aged 15-24 are also not literate.2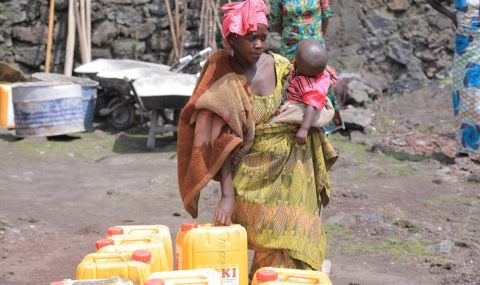 What we do in the DRC
We have a long-term programme working with local partner organisations in 15 areas across the North and South Kivu Provinces – home to an estimated 12 million people.
We provide psychological support to survivors of sexual violence and put a stop to violence before it happens. We run workshops with the police and military to find ways to ensure that laws against sexual violence are understood and enforced.
We also build the resilience of communities affected by conflict, by providing agricultural tools, seeds, and training to help them become self-sufficient.
Together with local, grassroots women's organisations, we're helping women and girls to lift their communities out of poverty - for good. 
Ebola outbreak 2019
ActionAid is currently responding to an outbreak of Ebola in the DRC, where at least 1,500 people are reported to have died.2
We are working closely with local groups who are rooted in communities and have the trust of local people. In particular, we are working with women, who are often the first responders in emergencies like this outbreak.
Our response is focused on:
Training women in how to prevent Ebola, including education about vital hygiene measures that people can take
Working with government and other organisations to ensure clear, accurate information is distributed to communities, in local languages
Working closely with ActionAid Uganda to prevent the spread of disease across borders.
We are preparing to expand this awareness-raising work, including tackling misconceptions about the disease in the communities where we work.
Find out more about Ebola, its impact, and ActionAid's work responding to outbreaks.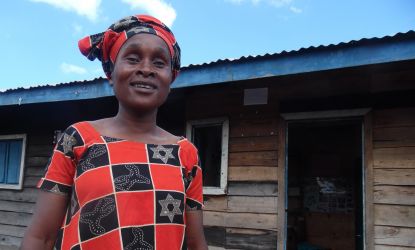 Promoting women's economic empowerment
46-year-old Tukuru was trained by ActionAid to set up a second-hand clothes business and supplement her income.
Before her training, Tukuru used to rely on farming but since she was able to borrow cash from her local women's group and receive training she has turned her family's life around.
 
I'm contributing towards the education of my children some of whom had dropped out of school, building our house and other household needs...Because of improved income I can now afford to buy fish and sugar which I could not do before."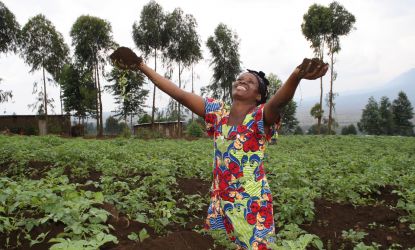 Supporting women's rights
Laws recognising women's right to inherit land are often not enforced by communities.
Leoni Maniraguh, 40, lost her parents in 2000. Her stepbrothers grabbed their land, leaving Leoni and her sisters without shelter or any way of feeding their families.
Leoni fought for 11 years to claim her land. She and her sisters joined an ActionAid group, where they learnt about inheritance rights and how to claim them. She finally won back her land, and her success means that now she is a champion of women's land issues in Nyirangongo. 
Every time any woman has a case with her husband or a family member in this area, she comes and consults me. The community refers to me as an example to follow."
Top image: Women in the DRC attend a project meeting that aims to build a protective environment for vulnerable people. The meeting participants are wearing masks to protect themselves and to stop the spread of Covid-19. ActionAid