Annual report and accounts
What we achieved together in 2020
The year 2020 was a tumultuous and difficult time for the entire world, with the Covid-19 pandemic bringing unprecedented challenges to women and girls in the global south.
ActionAid has been proud to stand with women and girls and with their wider communities throughout the pandemic.
In Ethiopia, for example, we implemented a major awareness campaign – distributing leaflets and erecting billboards, making sure people knew about handwashing, face masks, and social distancing. 
In the Cox's Bazar refugee camp in Bangladesh, our textiles trainers have transformed their women-friendly space into a facemask production workshop, enlisting the help of female refugees to ensure there are plenty of masks for the Rohingya people living in the camp. 
Women and girls have been disproportionately affected by the economic strife arising from business closures and job losses. From Malawi to India and from Nepal to the occupied Palestinian territories, our staff and volunteers have teamed up with local women's networks to distribute food, water, and other essentials to people whose livelihoods have been devastated. 
Covid-19 has seen an increase in cases of domestic violence in many parts of the world, as lockdowns mean women and girls have been trapped at home with limited or no access to support services. ActionAid has worked to ensure that women and girls still have somewhere they can turn for help when they experience violence or abuse.
For example, the Access to Justice SMS platform in Kenya has continued to be a lifeline – enabling survivors to text HELP to a phone number, resulting in a team of local volunteers responding and helping them get the legal, medical and psychosocial support they need.
Women and girls around the world have made significant advances, against some truly daunting odds.
As widespread vaccination shows what we hope will be a path out of the pandemic, we pledge to redouble our efforts – with the help of our amazing supporters, campaigners, staff, partners, volunteers, and trustees – to stand with women and girls to reduce gender inequality, eliminate violence, and build a better world for all. 
2020 in numbers
More than
21,500
new supporters in the UK signed up to give a committed gift
Raised
£50.3m
 to help change the world with women and girls
Over
£450,000
was raised through our Stand with Women campaign to help tackle violence against women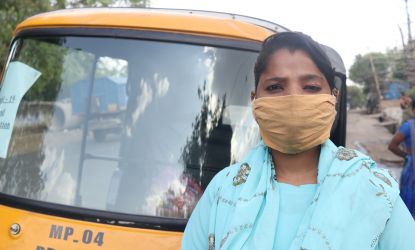 A success story – survivors of violence helping others through the pandemic
Talat is 28 and lives in Bhopal, India, where she makes a living as an auto-rickshaw driver. She mastered this skill with the help of a one-stop crisis centre called Gauravi after she left an abusive marriage. 
Not only has this work enabled Talat to earn an income and be financially independent, but it has also made it possible for her to help lead ActionAid's pandemic response and keep her community safe in the face of Covid-19.
The ActionAid-supported Gauravi Centre was looking for drivers to deliver thousands of vital food packages each day to marginalised communities in the Bhopal area in 2020. When Talat heard about this team effort, she knew she wanted to be part of it.
Just as I was supported by them, I wanted to also support others."
In crisis
We responded to
44
separate disaster events ranging from floods, cyclones, conflicts to refugee crises
More than
9,800,000
people received food supplies, sanitation, and hygiene support through our Covid-19 response
Over
11,120,000
people were directly supported through our Covid interventions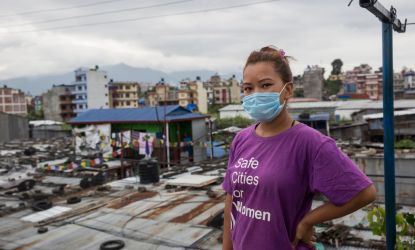 A success story – Covid-19 response in Nepal
23-year-old Barsha has been a volunteer for ActionAid for three years, having joined the coronavirus response after attending an ActionAid Nepal women's leadership programme.
Barsha's work on the frontline of ActionAid's coronavirus response in Nepal has been lifesaving. She has taught people to wash their hands and wear masks and created lists of the most vulnerable people so they can receive food, sanitary products, sanitiser, face masks and other support from ActionAid.
Barsha and her fellow volunteers often go the extra mile to reach those who may otherwise go without help.
Serving the community makes me feel good. It has boosted my self-strength. People usually don't like girls going out and talking, but it is very important to get out of the house and see things. We need to stand up. Now I talk a lot."
In solidarity
Over
96,000
actions were taken to protect the rights of women and girls
More than
51,000
people signed our petition to tell the UK Government not to cut UK aid
Over
2,000
people invited their MPs to speak in Parliament or join an ActionAid event at party conferences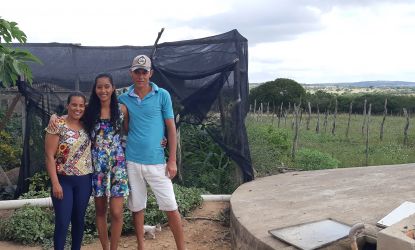 A success story – How child sponsorship changes lives
Nathiele is a 16-year-old student who lives with her parents in north-eastern Brazil.
Nat has been part of the Child Sponsorship programme since she was 10, and she talks about it as a turning point in her life.
"From the moment I started participating in the [sponsorship] activities, I became someone else, much more open-minded. It brought me more knowledge, more opportunities. I was able to develop a critical sense, learned a lot about how our society is living".
Today, when she's not reading or listening to music, Nat divides her time between studies, youth-oriented activism in her community, and her parents' agroecological garden. She wants to work with young people, helping them overcome obstacles, fight prejudice and build bright futures.
I am developing a youth collective in the community that has 20 people. What I learn, I pass on to them. I'm trying to help these teenagers by talking to them, and I'm organising another seminar. I know it'll be hard, but I also know I'll do it." 
In partnership
Over
£11.2m
raised by ActionAid supporters in the UK to fund child sponsorship programmes across 30 countries
Around
£2.6m
received from players of the People's Postcode Lottery, to support our work combatting violence against women and girls and responding to emergencies
Around
3,330
women and girls in Ghana and Zimbabwe have benefited from People's Postcode Lottery-funded work
A success story - fighting violence against women and girls
Maureen is 25 and lives in Kilifi County on the southern coast of Kenya. She is the secretary of her local branch of the Sauti ya Wanawake ('Voice of Women') movement, an ActionAidsupported network whose aim is to end violence against women and girls.
Before joining, Maureen didn't know her rights – she was lacking in self-belief and was unsure how to help other women access support when their rights had been violated. She found it life-changing to become part of a community of women who are making a real difference to society.
The fact that I can defend myself and defend others whose rights are being violated is important to me."
Top image: Hilda is working to transform her community as a member of the Sauti ya Wanawake (Voice of Women) women's movement, a localpartner of ActionAid Kenya. Photo: Tommie Ominde/ActionAid.
Page updated 13 January 2022