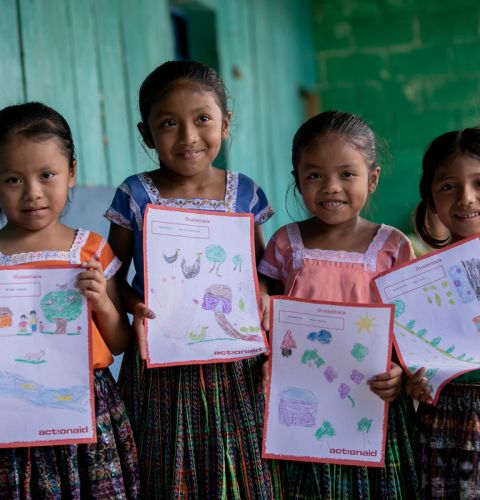 Our trustees and directors
ActionAid UK is governed by our Board of Trustees, and managed by our CEO and four directors.
Our directors
Our Chief Executive and four directors together make up our Senior Leadership Team.
They are responsible for the day-to-day decision making and for managing our four departments: Communication and Public Engagement; Fundraising Policy; Advocacy and Programmes; and Organisational Effectiveness.
Frances Longley, CEO

I have admired ActionAid's expert and passionate leadership on the rights of women and girls for years.

My work is driven by a commitment to championing gender equality and building a fairer world, so I am excited and proud to have been given the chance to lead such an exceptional and inspirational organisation.

I have over 20 years' experience in the not-for-profit sector, focusing specifically on strategy and communications, with an emphasis on increasing access to healthcare in marginalised populations.

Previously I was executive director, programmes and policy at CARE International UK, and chief executive of Amref Health Africa UK. Before that I was director of communications and brand and head of international programme engagement for Unicef UK.

I have an MSc in Development from the School of Oriental and African Studies in London.

Orla Fee, Director of Communications and Public Engagement

I have two decades' experience in communications roles across health care, human rights and the charity sector. In that time I have worked in research, publishing and communications with a variety of organisations including the Royal College of Physicians, the British Institute of International and Comparative Law and Queens' University Belfast. I hold an LLM in Human Rights, Emergency Law and Discrimination from QUB.

I believe that ActionAid's human rights-based approach, working with women and girls living in poverty in the global south and focusing on long-term transformative change, as well as making sure we embed feminist behaviours into our ways of working, is what makes us impactful and resilient.

Through our communications and public engagement I am committed to putting women and girls at the heart of everything we do and making sure their voices are heard.

Ed Tait, Director of Fundraising

I am absolutely delighted to be joining ActionAid as Director of Fundraising. I am a values-based fundraiser, who believes passionately in the cause and organisation I work for.

I spent 15 years at the UK homelessness charity Crisis in roles spanning supporter appeals, supporter services and legacy and philanthropy fundraising, before becoming their Director of Fundraising in 2012.

I have always wanted to work for an international NGO, and admired ActionAid in particular for the way in which it combines direct work on the ground with a campaigning and influencing role. I am particularly excited to be joining ActionAid now as it embarks on an exciting new strategy to focus on the rights of women and girls. I really look forward to helping ActionAid achieve great success in the coming years.

John Good, Chief Operating Officer

I have spent 15 years working in developing countries in both the private and not-for-profit sectors. My experiences have shown me that if there is to be change, it must be driven from the grass roots upwards.

I believe that the approach that ActionAid takes, enabling local communities to understand and demand that their rights are respected, is the best way to bring about lasting change in alleviating poverty and injustice and creating long-term positive change.

The work ActionAid carries out is complex, but with limited funds available we will ensure those funds are used to maximise the impact we have on people's lives.
Our trustees
Our Board of trustees has to listen to the needs of women and girls living in poverty, and balance that with being accountable to our supporters for using their money in the best possible way.
They make sure we are true to our mission and values, set our strategic direction, check our progress is in keeping with our strategy, and see that we comply with the Charity Commission guidelines.
Kath Abrahams

I have worked in the charity sector for 20 years, specifically in fundraising, marketing and communications. I am Director of Engagement and Fundraising at Diabetes UK. I passionately support ActionAid's mission to work towards a world where poverty is eradicated and where there is justice and equality for all. I believe that focussing on the rights of women and girls is the best route to achieving that mission.

I am particularly supportive of the adoption of feminist leadership principles across ActionAid to create an inclusive culture that brings out the best in people, and creates an environment which empowers people to achieve change together.

Catharine Brown

After a career in commercial marketing and working as a strategy and marketing consultant, I am now Chief Executive of Designability, a charity which creates new products and technologies designed to meet the needs of disabled people. I have worked with the management teams and trustee boards of many UK charities and am delighted to be a member of ActionAid's Board

Like others, I feel that the organisation's mix of emergency relief, long term support and campaigning for the rights of the world's most vulnerable women and girls is unique. I hope my experience of fundraising and communications across the sector will help ActionAid to encourage more people to understand and support our vital work, and change the futures of people living in poverty.

Paul George

My career has been in professional services. For the last ten years or so I have spent most of my time working with governments and businesses across Africa and South Asia. Some of the most important and inspiring work has focused on the education and empowerment of women and girls.

Over the years I have partnered with ActionAid teams several times and I have always been deeply impressed by their expertise and commitment. So I was absolutely delighted to get the opportunity to be involved as a trustee. I want to help ActionAid deliver its mission through building fair and effective partnerships.

Sophie Healy-Thow

I am a student on a mission to educate young people about food security, climate change and injustice. At 16 I won both the Google Science Fair and the European Union Contest for Young Scientists with a team project entitled 'Combating the Global Food Crisis: Diazotroph Bacteria as a cereal crop growth promoter'. Through my work I met some inspirational people and I began to think about how I might be able to change the world for the better.  In particular they sparked my interest in food security, climate change and educating the next generation, especially women and girls.

In 2015 I was invited to be a Global Youth Leader by the United Nations at the Global Goals Mobilising Generation Zero Hunger Conference in New York.  I also gave a TedX talk entitled 'Food Security: Everybody's Business'. I am a Youth Ambassador for the ONE Campaign and the ISPCC and in 2014 I was named one of Time magazine's top 25 most influential teens.

Working with ActionAid offers me the opportunity to help make tangible improvements to the lives of the world's most vulnerable people and I hope that by adding the voice of youth I can really make a difference. It is a privilege to be an ActionAid Trustee and work with change-makers and professionals who are at the forefront of international development working to end global poverty and injustice.

Joanna Maycock

A lifelong feminist, I have 25 years' experience in leadership positions in Civil Society, both at governance and senior Director level. I have worked to develop and put into practice feminist leadership in a variety of roles and contexts, including coaching and mentoring other civil society leaders. 
 
Passionate about the fight against poverty and injustice and the fight for women's rights through building stronger social movements, my professional experience encompasses expertise in EU policies, specifically EU policies for women's rights and gender equality, humanitarian and development aid and in the field of international poverty, gender and rights.  
 
Most recently, I was Secretary General of the European Women's Lobby: the largest and most effective network of women's organisations in Europe. I worked to define and implement a strategic vision for the women's movement in Europe, to strengthen its joint work towards a feminist Europe. Growing and strengthening the network to impact EU and national legislation and policy to end violence against women and girls; tackle women's poverty and unequal pay; and advance towards parity in decision making. 
 
Prior to my role at the European Women's Lobby, I led ActionAid International's work in Europe and was the first woman President of CONCORD, the European Confederation of Development NGOs. 

It is an honour to be a Trustee of ActionAid UK, ensuring that the voice and leadership of women and girls living in poverty is enabled and celebrated in all of our work. 

Abdul Shiil

I am a director at Sahan Cares C.I.C, a social enterprise empowering disenfranchised and low-income BAME members of the community in West London to gain new qualifications and employment within the health and care industry. I was recognised by the Federation of Small Businesses and SME National Awards in the Younger Entrepreneur of the year category in 2019 as well as holding fellowships with the School For Social Entrepreneurs, EY Foundation and the Goldman Sachs 10,000 Small Business programme in partnership with Said Business School.

I love what Action Aid stands for as a charity and the amazing successful projects and fundraising missions the charity carries out around the world. I am really excited about joining the Action Aid family as a trustee as it aligns with the principles I and my company stand for and live by everyday - which is heartfully supporting and empowering those in need to do better, and cannot wait to be a part of Action Aid's active support network and embark on this new journey with hopes and silver linings.

Shantha Sinha

As an Indian child rights activist I believe in the principle that 'no child must work and every child must attend full time formal day school' as a non-negotiable. I founded the M Venkatarangaiya Foundation which has been responsible for withdrawing over one million children from child labour and stopping over 20,000 child marriages. As a former Professor of Political Science at the University of Hyderabad, I also headed the National Commission for Protection of Child Rights.

 I am passionate about ActionAid, and have been on the board of ActionAid India for many years. Joining the Board of ActionAid UK is an opportunity for me to contribute to our work globally, and to make sure that the views of women and girls living in poverty and injustice are reflected on the board of ActionAid UK.

Caleb Stevens

Caleb is an experienced safeguarding and child protection officer. He supports children and young people with their mental health, wellbeing and welfare. Caleb became the youngest Magistrate for Justice in 2017 and was an Independent Monitoring Board Member for Her Majesty's Prison Exeter.

He is committed to equality and diversity and enthusiastic about developing youth voice at a strategic level.

Caleb was appointed to the Board of the YHA in 2020 as the youngest Trustee in the organisation's 90-year history. He joined the AAUK Board in September 2021 as Safeguarding Lead Trustee.

David Todd, Treasurer

I am passionate about the vital role ActionAid plays in the lives of people in places of unacceptable poverty, from helping provide a safety net in times of disaster, to campaigning to right injustices which perpetuate inequality.

I want to take my years of experience in the international development sector and combine it with my professional expertise in risk, governance and finance, to add as much value as I can to the organisation through my role as Treasurer of ActionAid UK.

ActionAid, by design, doesn't work in easy places! My aim is that we spend every donation, large or small, as wisely and well as we possibly can to maximise our impact.
Bond Governance Award 2018
In February 2018, ActionAid UK won the inaugural BOND International Development Award for Governance, a new category created to recognise NGOs who practise and promote good governance within their organisation.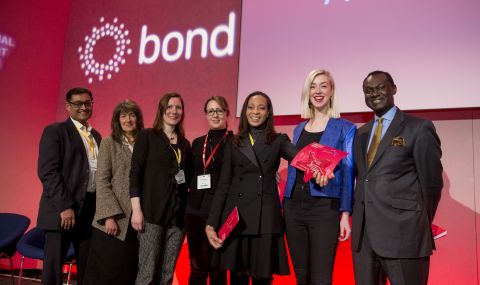 The award was given in recognition of the Board's work around diversity and the decision to implement feminist principles across the whole organisation.
Share this
Top image: (L-R:) Deymi, Aura, Aura and Blanca holding pictures they've drawn for their sponsors during message-collection time as part of our child sponsorship programme in Guatemala. Photo: Karin Schermbrucker/ActionAid.