Why are women and girls most affected by climate change?
Climate change is intrinsically linked to poverty, impacting the lives of the world's poorest people the most.
It is also intrinsically linked to gender, as we know from our work that women and girls are particularly vulnerable to the effects of the climate catastrophe. All over the world, women and girls are losing their homes as a result.
Women constitute the majority of the world's poor, who are overall more affected by climate change. 
They are more likely to be dependent for their food and income on the land, and natural resources, which are being threatened.  
They are less likely to be in positions of power and/or decision-making roles. 
They are more likely to be responsible within their families for securing water, food and fuel for cooking and heating, which are all being threatened.1  It is often women and girls, for example, who are forced to walk great distances to find water when local sources dry up. 
In poorer countries, they tend to be exposed to the negative impacts of disasters, including death and injury. These disasters are becoming more frequent and more severe due to climate change.
They face a heightened risk of gender-based violence during and following disasters, and when forced to leave their homes due to climate change, become more vulnerable to early marriage, adolescent pregnancy, rape and trafficking.2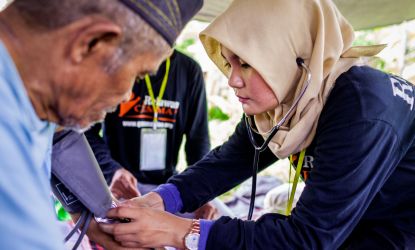 Supporting women's leadership in emergencies
In humanitarian crises, ActionAid does things differently. We work to promote women's leadership, ensuring women are empowered to make decisions about the needs of their community. 
We know that women bring vital skills, resources and experience to humanitarian response. And when crises happen, they are often the first responders, taking risks and playing critical roles in the survival of families and communities.
During the 2018 earthquake and tsunami in Central Sulawesi, Indonesia, we provided dedicated support for women and girls affected by the crisis, and supported the leadership of women to respond and rebuild their communities - like Dewi, an emergency volunteer, pictured. 
Top image: Rasal, a refugee, received support from ActionAid as part of our work in the Lesvos refugee camp in Greece. Karin Schermbrucker/ActionAid