Despite the law, women and girls all over Ghana often face violence, discrimination and abuse. It's common for girls to be forced to have female genital mutilation (FGM) and be married off against their will, and for women to be accused of witchcraft and banished to live in 'witch camps'.
What we do in Ghana
To protect girls from being kidnapped for marriage we support Community Anti-Violence Teams, known as COMBAT squads, to take action against abuse and educate local people about state laws. In 2013 COMBAT teams rescued 49 girls who had been abducted. 
We put pressure on the government to close witch camps and help reintegrate women into their communities. In December 2014 we organised the closure of the Bonyasi Camp.
Our Girls' Clubs teach girls about their rights and support them to stay in school, and by providing equipment - from school books to solar lamps - we help children to learn.
How we're changing lives for good in Ghana
To tackle hunger we train communities to use modern farming techniques so they can adapt to climate change, and provide grain banks to store food for when times are tough.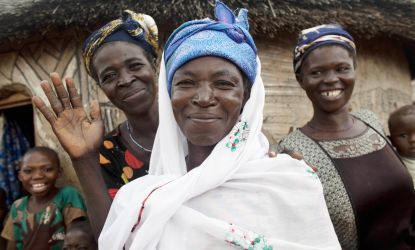 Supporting women accused of witchcraft
Ayishetu was accused of being a witch after her neighbour's daughter fell ill, and Ayishetu was cast out from her village. She ended up in Gambaga camp and was separated from her family for almost three years.
It's thanks to the Go Home project, supported by ActionAid, helping women escape and reinitegrate back home, that Ayishetu was eventually re-accepted by her community and able to live a normal life again.
"It wouldn't have been possible for me to come home without the project," she explains. "Accusations of witchcraft don't just go away, but Go Home helped persuade my community that the way they acted towards me was wrong".
Donate to support our work protecting women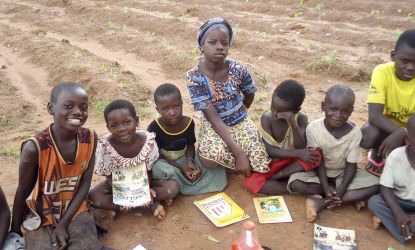 Solar lamps to help children study
Without electricity in her village, Ruth struggled to study in the evenings. She and her friends came up with the idea of using solar lamps, and with ActionAid's support they now gather each evening to do their homework.
10-year-old Ruth explains: "We will always be grateful to ActionAid for these books and solar lamps because now we study seriously at night.
"More parents in this community are now taking their children to school because of the way they see us studying seriously at night with our solar lanterns. They have really helped us."
Learn more about our work improving children's education
Top image: 14-year-old Mary standing outside her junior high school in Mampehia, Ghana. The word Mampehia means "Women don't want to live in poverty." Nana Kofi Acquah/ActionAid