How Louisiane is training future women leaders in Haiti
11 May 2017
In humanitarian crises, women and girls are disproportionately affected. But far from being passive victims, women are amongst the first responders these emergencies, bringing vital skills and knowledge to help save lives and livelihoods. Louisiane Nazaire is one of these women. When Hurricane Matthew struck Haiti in October 2016, she and other members of a women-led cooperative leapt into action. Louisiane explains why women's leadership is essential in emergencies.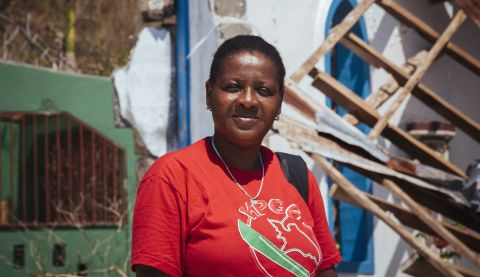 "My name is Louisiane Nazaire, and I come from Haiti. I'm a founding member of the organisation OFTAG, which is a women-led cooperative within ActionAid's partner KPGA, in the Grand Anse department of Haiti.
Before Hurricane Matthew, we had training in disaster risk reduction that was organised by ActionAid. So when the hurricane hit, we responded at several levels. 
Rebuilding lives and livelihoods in the wake of Hurricane Matthew
At the practical level we distributed water, soap and hygiene kits. We targeted 2,300 people through cash for work schemes, to clean out gardens and roads for example.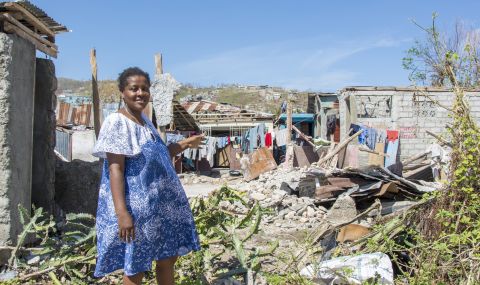 We also set up safe spaces for women in four communities where they could talk about instances of violence, and get psychological support and share their stories and experiences with other women. We also ran training to help women know how to protect themselves better, to raise their awareness and particularly in instances of domestic violence. This reached 24,000 people.
Also, a small group of women were helped to set up their own businesses for example selling liquid soap and other things so they could develop their own enterprises. In the very isolated communities who didn't have access to electricity we provided 500 households with lamps that could be rechargeable. Finally, we helped repair a workshop at Roseau that had been providing employment for 300 people to produce cassava. This was to get their business back up and running.
Women's leadership is vital in humanitarian response
Having women take the lead means more people will be reached: more women in particular, more older women, more women who are pregnant. Women are the ones who network across the society.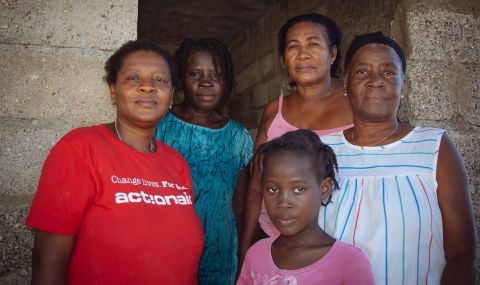 Women don't have access traditionally to these activities in emergencies, even though they are the head of household. What we saw following the 2010 earthquake is that this activity has massively increased.
Fighting for recognition of women as leaders
There are several examples to suggest that things have changed, but we're not there yet. We continue to fight for recognition of women as leaders within the community. In terms of the actual number of women in leadership roles it's a relatively small number. But nevertheless, the examples are there of women taking charge and bringing things forward in decision making roles.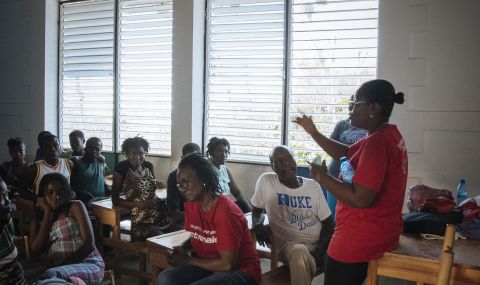 Out of the 3,200 women in OFTAG there are 500 who are in leadership roles in their communities. These women would be the ones to take the initiative to set up training on gender and leadership, and they can also take a lead in training against violence against women in the community.
So if I die today I know I will have left 500 women in leadership roles for the future. So I feel that I have achieved something because I'm a founding member of OFTAG." 
Women like Louisiane are making a huge difference to their communities in times of disasters. By donating to our emergency appeals you can help support them.
Photo credits: Dylan Roberts/FreeSociety/ActionAid