Watch Survivors' Runway: a fashion show with a difference
16 October 2017
On Tuesday 10 October, ActionAid UK and ActionAid Bangladesh came together to put on a fashion show with a difference. Instead of celebrating traditional ideals of beauty, Survivors' Runway celebrated the inner beauty and strength of eight acid attack survivors, who travelled over from Bangladesh to speak out against violence against women and girls. Watch our full livestream of the show below and read on to learn more about the survivors' stories.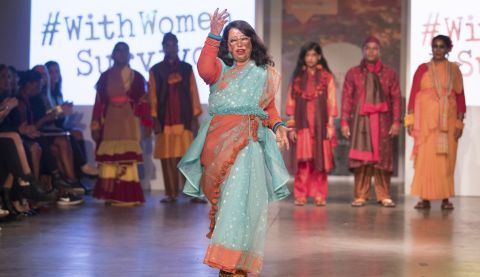 The night was truly a night to remember, at once deeply moving, joyous and inspiring.
The models' scars were a visceral reminder of the sheer brutality that so many women and girls experience. One in three women face violence in their lifetime.
Their colourful costumes, exuberant dancing and empowered performance were a proud defiance of the shame, isolation and silencing their attackers intended for them. They showed that they are not victims. They are survivors.
Watch our full livestream of the show below.
Acid attacks and breaking the silence
In a society where women are valued for their physical beauty, acid attacks have very clear intentions. Survivors – mainly women – are burned, disfigured and sometimes even blinded at the hands of relatives and strangers.
The motive is control:
Because she would not marry me; because she tried to speak against me; because I wanted to punish someone."
As Farah Kabir, Director of ActionAid Bangladesh, said in her opening speech, "Acid attacks are the most heinous crime. It burns you. You are in agony. You smell. Society shuns you. It's very difficult to think of tomorrow."
Nina Hossain, journalist and ITV news presenter, reflected after the show: "What we saw was the very worst of humanity. And then we saw the best of humanity."
It's common for women and girls to feel discouraged from speaking out against their attackers and seeking justice, often for fear of worse consequences.
They are not victims. They are survivors.
Anyone who defies that silence displays extraordinary courage and resilience. And that was what the show celebrated – the courage of our five women models Ganga, Jasmen, NurunNuhar, Safura, and Nurun Nahar, teenage girl Sonali, and our two male models Sadequr and Nur, performing in solidarity.
Building a network of hope
ActionAid has been in Bangladesh since 1983. In 2004 we began working with acid attack survivors, and established a network to bring them together. Led by the survivors themselves – the network provides counselling to traumatised survivors and runs an awareness campaign.
It's a network through which I have an identity.
One of the models, Nurun Nahar, is a Programme Officer for ActionAid Bangladesh and played a major part in growing the network. She told me about it after the show.
The Acid Survivors Network has made a huge difference in the models' lives. Jasmen remembers, "They gave me counselling and supported my studies. I started to feel normal again." And male survivor Sadequr says, "It's a network through which I have an identity." 
Until recently, hundreds of Bangladeshi women and girls suffered from acid violence, with 80% of the attacks occurring in the home.
Even one attack is one too many
Following a grassroots campaign led by ActionAid Bangladesh, legislation was introduced to limit the sale, storage and use of acid. This provided a strong legal foundation for activists to challenge attitudes within their communities.
Attacks in Bangladesh have now dramatically declined. But as Girish Menon, ActionAid UK CEO, reminded us in his closing speech; "Even one attack is one too many."
Fashion show special guests
We were delighted to have several special guests from the fashion industry and many of our celebrity supporters in the audience - including Jodie Whittaker, the first female actress to play Dr Who, Holliday Grainger and Andrea Riseborough.
I spoke to comedian Shazia Mirza after the show.
When I asked Shazia what message she has for survivors, she said, "Not to hide. Be out in the open and know that there will be people that will support you, respect you and treat you as they treat everyone else."
Stand #WithWomenSurvivors to end violence against women and girls
In order to end violence against women and girls, we must first break the silence. We hope you are inspired by our models speaking out, and will use your voices, as they have used theirs. Please watch the full show, share this blog with your friends, and most importantly – talk about it.
Together we can – and will – end violence against women and girls. For good.
Read next
18 March 2021

15 December 2020