Safe spaces combatting sex trafficking of Rohingya women
26 October 2017
Imagine leaving everything behind; losing your husband or your parents; being the sole provider for your children or younger siblings. Thousands of Rohingya women and girls are now in this desperate position - often forced to sleep on the roadside - and recruiters of the sex industry are setting their sights on them.
The #MeToo campaign is currently joining women's voices from around the world, exposing men who commit rape and sexual assault. We must not forget the women and girls who don't have a voice; like those fleeing conflict in Myanmar.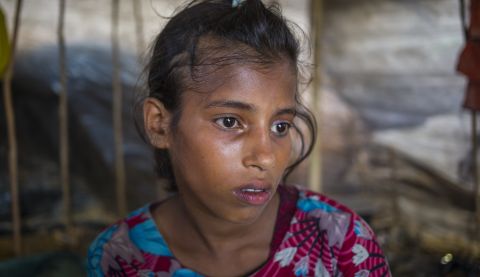 Taslima is a 10-year-old orphan living on the Bangladesh-Myanmar border with her brothers and sisters.
"My mum died after getting ill two months ago and my dad was killed in front of me. I saw the shooting," she told us.
Sometimes my sisters cry when they miss our mum. When I see that it makes me want to cry too.
The risk of girls like Taslima being forced into sex trafficking due to their vulnerability is one of the reasons why we have built a women's safe space in Cox's Bazar.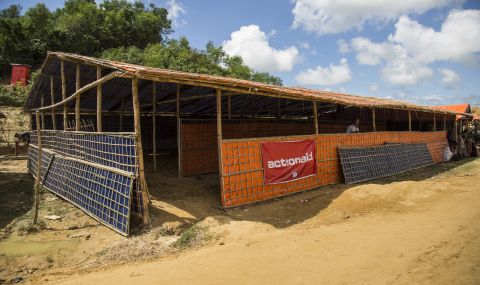 This space provides a safe environment where women and girls can access emotional support for the horrors they have experienced, as well as receiving medical referrals for cases of rape and gender based violence. 
One of the women visiting our safe space is 35-year-old Hasina, who had to escape across a river with her children just as her husband was shot. This has left her heartbroken, and she has been receiving support from Fatema, our trained Bangladeshi counsellor who works in the women's safe space.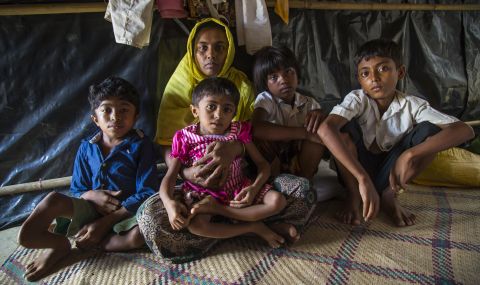 Fatema speaks a similar dialect to that of the Rohingya people so she can listen to their needs and help them access the services they need most.
This level of care is vital. Most of the women who come to Fatema have seen houses burned and people slaughtered. Many have also survived sexual violence - including a women who witnessed her husband and baby being killed before being raped.
"We listen to people's experiences and we try to build them up," says Fatema. 
We tell them that what happened was not your fault. You have to survive, you have to live with dignity, and I am beside you."
Giving women back their dignity
ActionAid is also providing hygiene kits for women and girls, including sanitary protection, soap, clean underwear and disinfectant.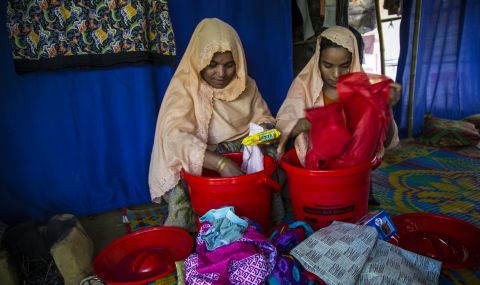 We are also building female toilets and bathing areas, covered by tin from all sides, so that women can keep their dignity.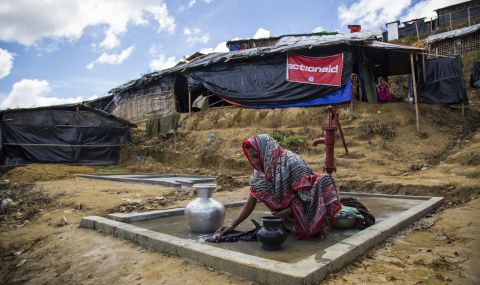 ActionAid is also distributing solar powered lights to women and girls, to keep them safe in the dark.
Targets for harassment
There are no official figures on the number of sex workers in refugee camps but there is a clear correlation between the slowing of aid distribution and a rise in the trade.
33-year old Amina survived an attack on her village in Myanmar, managing to reach Bangladesh despite being heavily pregnant. Amina has six children, and constantly worries for her daughters' safety in their temporary bamboo shelter. "I feel scared at night," she said.
I have pretty daughters and I feel worried for them. This house is flimsy, and I worry that men might disturb us at night.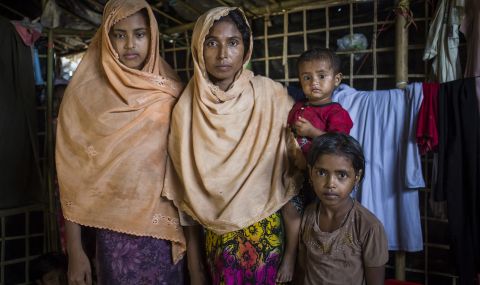 Leading the response
Key to our humanitarian response work are the women-led committees, each made up of ten members.
Women's leadership in an emergency can facilitate a more rapid response and recovery, as women are directly involved in the decision making that affects their lives and those of their children. 
We've seen this approach work time and again, most recently in Gaza, Haiti, Somaliland, and Nepal, as women bring their vital skills and experience to these committees. Women are often responsible for the care and emotional rebuilding of communities, and they play critical roles in the survival of their families.
"When women talk to us, they feel better, they gain encouragement," says Fatema.
It makes me feel really happy if I can lessen a woman's suffering - even if it is by a small amount.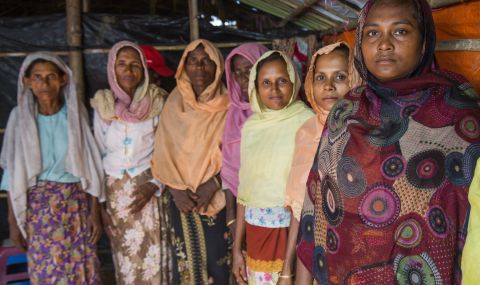 We must hear the voices of these women and girls who are threatened by sexual violence, and take steps to protect them against harassment. 
Read next
15 October 2018

28 November 2017

15 September 2017