How has the world changed for women in 2018? A survivor's perspective
26 December 2018
From Brett Kavanaugh to Ireland's Eighth Amendment, ActionAid's Martha Adam looks back on a turbulent year for women's rights, based on her own experience as a survivor of violence against women.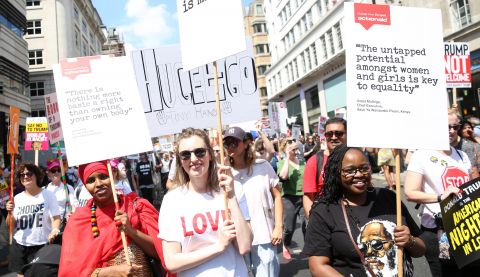 When I was first asked to write a blog about what's happened with women's rights in 2018, it all felt a bit woeful. Christmas is a time for joy and the political turbulence of this year with the prospect of further instability in 2019 didn't feel all that joyful.  
As a survivor looking back on the year, Brett Kavanaugh is a name that stands out for me. As my wonderful colleague Delyth wrote back in October, this case is a stark reminder that those in power are not listening to survivors' testimonies. I've heard talk of some men feeling like they're in a 'witch hunt', and yet a man accused of sexually assaulting a woman has still been elected to one of the highest legal positions in the world.
Last week, two male Conservative MPs who had been suspended amid allegations of 'inappropriate sexual behaviour' were reinstated to allow them to participate in the leadership vote. I've yet to see evidence of this witch hunt. 
The definition of rape
As I have written before, when survivors do come forward, they face the daunting prospect of a legal process that appears to be more concerned with establishing the credibility of the survivor rather than the perpetrator.
A recent survey commissioned by End Violence Against Women (EVAW) found that 'a third of people in Britain think it isn't usually rape if a woman is pressured into having sex but there is no physical violence'.
This was one of a number of findings that left me feeling quite dismayed. As I read this, I remembered the defence lawyer's line of questioning in my own court case, which seemed to suggest that because my rapist hadn't punched, kicked or bitten me, there was nothing stopping me from saying no.
When survivors enter this process, the people who answered EVAW's survey may well be the jurors who will decide whether the perpetrator is guilty. Men like Brett Kavanaugh may well be the judge. Would you come forward? 
Like I said. It all felt a bit woeful.  
Then, I gave myself a good shake and thought there must be something I've forgotten. 2018 cannot have been as dire as it feels right now.
I remembered the strength of women like Dr Christine Blasey Ford, who bravely came forward to share her story about Brett Kavanaugh, and inspire women all over the world to raise their voices against abuse.
And I dug back through the blog posts from this year and thankfully was reminded of the great many things we have to celebrate from this year. 
Celebrating defiant women
In February, we celebrated 100 years since some women gained the right to vote in the UK – the momentous achievement of a group of fearless women fighting for their rights.  
In March, we celebrated International Women's Day with a rallying call to women everywhere to stand up and shout #MyBodyIsMine in defiance of those who would seek to challenge that ownership. 
In May, the people of Ireland shouted #MyBodyIsMine loud and clear with a landslide referendum to repeal the ban on abortion.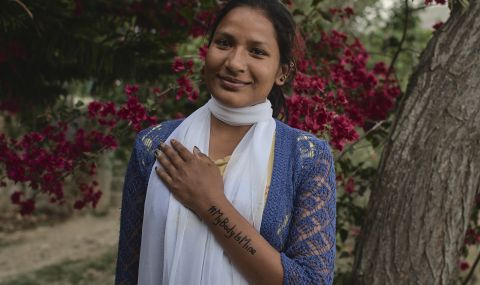 Meanwhile, we met Rama Bhandari, the twenty-year-old campaigning against 'Chhaupadi' – the practice that forces women and girls to leave their home during their period. Women like Rama are doing amazing work to end Chhaupadi and have given me hope that together, women around the world can claim their rights and end the shame that so often comes with periods. 
For Father's Day in June, actor and dad-of-four James Purefoy spoke about his visit to ActionAid South Africa, where he met a group of young women who had experienced sexual violence. He asked his fellow men to take responsibility for ending violence against women. 
On 13th July, ActionAid joined the #BringTheNoise protest in London to highlight the importance of women's rights. Sadia Abdi Alin, Country Director of ActionAid Somaliland, joined us at the protest and brought us the story of Hamdah, a woman who survived FGM and now campaigns with ActionAid to end the practice. 
In August, Rehul Zannat shared her experiences as one of the women leading ActionAid Bangladesh's projects with Rohingya refugees.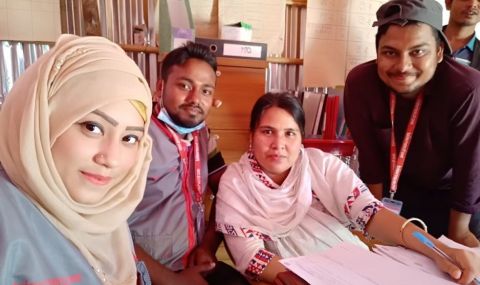 On 4th November, the USA went to the polls for their mid-term elections and voted in an unprecedented number of congresswomen. Sharice Davids became the first Native American and gay woman elected, while Rashida Tlaib and Ilhan Omar were the first Muslim women to be elected. 
And later that month, as part of our Home Doesn't Hurt campaign, my colleague Danielle drew on her own experiences of domestic violence to demonstrate three reasons why survivors 'don't just leave'. An outpouring of emotion greeted Danielle's blog, with women around the country sharing their own experiences. I find hope in the fact that, gradually, women are gaining the space to talk about domestic violence without being silenced or shamed.
A year of hope and sadness 
So here we are. December.  
It would be remiss of me not to mention #MeToo – arguably the biggest women's rights movement of recent years that shows little sign of slowing down. The movement that Tarana Burke founded in 2006 was propelled into the spotlight late in 2017 with women all over the world coming forward to share their story.
Multiple industries, from entertainment, to government, to retail have seen accusations against some of its most high-profile men. The movement has sparked its own initiatives, such as Times Up, the legal fund established in response to the Harvey Weinstein cases to support low-income women in accessing justice; and a similar UK initiative called the UK Justice & Equality Fund. 
#MeToo, like all of the stories I've mentioned here, is about women standing up for their rights. For their right to ownership of their own bodies and their right to justice when this ownership is violated.  
For this survivor, the story of 2018 is #MeToo. The story of 2018 is the invisible network of millions of women standing up because enough is enough.
Whether it's the women we work with on the ground who are leading fundamental change in their communities, or the women around me in the UK who are marching in protest or challenging damaging perceptions about sexual violence, it's that will, that defiance that will carry us into 2019 and beyond. I can find joy in that. 
Every day, women and girls are fighting injustice, inequality and intolerance to stand up for their rights.  
Support them. Stand with them. They deserve nothing less.