As Brexit looms, foreign aid is not a further tie that we should cut
6 February 2019
As Brexit looms and the UK forges a new path outside the EU, foreign aid should remain part of the Global Britain aspiration. Tackling gender inequality that locks women in poverty is key to bringing about long-term sustainable change.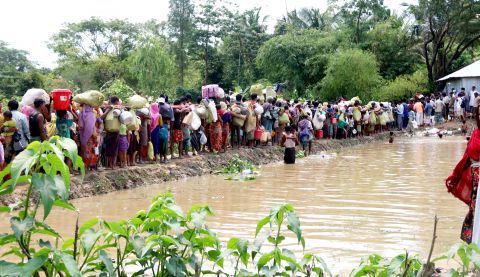 The knives are out for foreign aid again. Last week, Penny Mordaunt questioned the amount taxpayers should contribute to this vital budget, suggesting that private donations should play a bigger part. And just last month, Boris Johnson argued that overseas aid should be passed over to the Foreign Office. All of which could roll back Britain's effectiveness and our strong reputation in a crucial area where we are making a difference. 
Politicians, journalists and commentators would do well to remember that the amount we pledge to supporting the world's poorest countries is a tiny fraction of our public spending.
At ActionAid, we know from experience that women and girls are at the sharp end of global poverty. Britain plays a vital role in tackling this injustice, not only because it can make a huge difference but also because we must take some responsibility to right some of the wrongs that our historical legacy has served the global south. 
Tackling gender inequality that locks women in poverty, and hold communities back is key to bringing about long-term sustainable change. Gender inequality takes many different forms: from different types of violence against women to lack of economic power, a lack of access to sexual and reproductive healthcare, and social and political exclusion. 
DFID is respected globally as a world leader on women's rights and development; with its Strategic Vision on Gender Equality it recognises that to achieve the fulfilment of women's rights, we need to address the root causes – power imbalances between women and men. 
The department carries much influence in international spaces and has made great strides in putting its money where its mouth is and enhancing mechanisms to fund women's rights organisations and movements in the global south. Further, programmes such as the "What Works" to Prevent VAWG Initiative is producing tangible, life-changing evidence on approaches to reduce and prevent violence.
This is long term work, and it's not cheap or easy. Because foreign aid isn't just about the transfer of food and equipment; it can provide training for paralegals, medical students, teachers and farmers so that future generations can flourish, and the cycle of poverty and inequality has a reasonable chance of ending.
Foreign aid is not a sticking plaster – it wouldn't be much good if it were. It is instead deep-rooted, long-term, and is neither cheap nor easy.  But it is life-changing. 
Conversations about foreign aid inevitably centre around intangible percentage points, and the need to prioritise domestic spending. But that misses the point.
Of course, there is a significant need for spending money at home in the UK – and that is why more than 99% of GNI is not reserved for international aid. There is a worrying trend in the way we talk about things in the UK: it suggests that any form of international work or investment is somehow wrong-footed, elitist, or not-in-Britain's-interests. Such attitudes are little more than protectionist, inward-looking, and at ActionAid UK, we fundamentally disagree.
By continuing to pledge this small fraction of our income to the poorest countries, we are recognising where history has played a part and therefore it is quite simply the right thing to do. As the UK forges a new path after Brexit, foreign aid should remain part of the Global Britain aspiration, and show what we can be, and have been, in generosity, integrity, and humanity.   
 
Md. Sariful Islam/ActionAid
Read next
7 March 2022

9 December 2021

25 November 2021