Climate change is a feminist issue
26 December 2019
From the climate strikes to the UN climate talks at COP25 in Madrid, we look back on 2019 - the year the world woke up to climate change. We argue that climate change is an intersectional, feminist issue.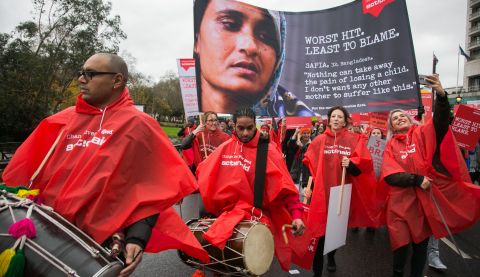 When you work for an international NGO it can be tempting to view everything we do as important, and in a sense that's of course true.
But the most urgent, demanding crisis of our times is unquestionably climate change and the need for climate justice. It's something that we've been working very hard on this year.
Climate change is an existential threat and sometimes it can feel overwhelming and a little incomprehensible. The world is getting warmer. The science is undeniable.
We know that sea levels are rising, that polar ice is melting, but something is often overlooked: climate change is an intersectional issue, and a feminist issue.
Women and girls are often the hardest hit, especially in the poorest countries. The people who contributed the least to climate change are the ones suffering the most from its impacts.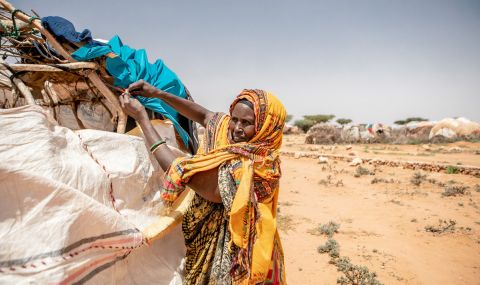 Take Cyclone Fani as an example. Fani was the largest cyclone to make landfall in India for decades when it hit in May. It killed at least 50 people in India and Bangladesh, destroyed homes and communities, and led to nearly three million people being evacuated.
Our emergency response was crucial in helping communities find their feet. Thanks to our earlier work to specially train more than 1,500 women as humanitarian leaders helped mitigate some of the worst impacts – their local knowledge allowed support to be focused most directly where it was needed the most.
We continue to work with communities affected by Cyclone Fani.
It's not enough to respond to climate emergencies, such as cyclones. We have to do our very best to stop them from happening.
We have to hold world leaders to account and demand change.
Our work at the UN Climate Action Summit was a key part of our climate activism and was based on three key demands:
•    Fair and urgent emission reduction targets
•    Ensure that climate actions protect human rights and the natural world
•    Rich countries meeting and exceeding the promised $100 bn per year.
Without determined action we will continue to see an increase in climate disasters and related impacts – famine, the loss of land, destruction of homes and infrastructure, massive levels of migration forced by climate change – but governments continue to kick the problem down the road.
But there is no more road.
The same applies to the COP 25 summit, held this month in Madrid. Activists and campaigners took the argument to world leaders again, only for them to prevaricate, obfuscate and otherwise avoid taking any responsibility for this crisis.
Our leaders have failed us, and they have failed climate survivors. It's up to us to continue to fight for #ClimateJusticeNow. We won't give up.
Rich countries must take action to reduce emissions, but they must also compensate those communities whose lives are being destroyed by climate change.
We will continue to fight for a new fund to provide finance to repair loss and damage, and to help those directly affected – despite the opposition of rich countries like the US, Japan and Australia. We will continue to help communities build their resilience and support local projects which aim to counter climate change.
As Brandon Wu, ActionAid USA's Director of Policy and Campaigns puts it, failure to act is:
Little more than a conscious decision to let poor people around the world die so that the rich might live."
We won't let that happen. We will continue to fight, and I hope you will join us.
How you can help
This year, we are shining a light on the women and girls who have been affected by climate change from Somaliland to Bangladesh.
A donation of just £3 a month could help us support women and girls whose lives are being devastated by the escalating crisis. Can you help? 
Kristian Buus/ActionAid, Fabeha Monir/ActionAid, Karin Schermbrucker/ActionAid
Read next
9 June 2021

14 April 2021