Take a stand this Wednesday for Women
9 June 2021
People are coming together for women's rights ahead of this weekend's G7 summit.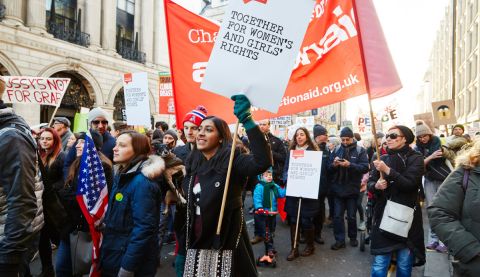 Why don't charities, NGOs and not-for-profits all work together to make change happen?' is a question I hear a lot. Well, this Wednesday, organisations across the UK are taking a stand for women's rights and to ensure everyone, everywhere, has access to the coronavirus vaccine.
In the middle of a global pandemic, £4 billion of cuts to overseas aid could not have come at a worse time. So we're joining forces across the UK to tell the government to act now for women's rights.
ActionAid is joining with 32 organisations, 32 Lords and MPs, and 15 influentials including Emma Thompson and Dr Shola Mos-Shogbamimmu to launch #Wednesday4Women, a day of campaign action for gender equality and vaccine equity. We're handing an open letter to Boris Johnson calling on him to stop Covid-19 rolling back hard-fought wins on women's rights by a generation. Will you join us? Read and share the letter below. 
Women and girls and Covid-19
Women and girls who already face discrimination around the world have felt some of the biggest impacts from the pandemic. But despite these multiple threats, women have been at the forefront of the response to Covid-19. Their leadership and expertise must be valued, and their work must be funded.
#Wednesday4Women brings together organisations, activists, allies and leaders across the women and girls' rights sector in the UK and globally. It is part of the #CrackTheCrises campaign, a coalition of over 75 organisations calling on world leaders to address the threats of Covid-19, poverty and injustice, climate change and nature loss.
Now you can play a big part – by sharing this blog with your friends and family so our voices reach further.
#Wednesday4Women open letter to the PM
Dear Prime Minister, 
 
The G7 Summit must crack the gender inequality crisis and deliver for women and girls. 
 
Covid-19 has had a devastating effect on the lives of women and girls - as a health emergency but also as a crisis that has pulled them out of school, doubled their workload, exposed them to more abuse or stopped their paid employment altogether. Women and girls who already face discrimination around the world have felt the biggest impacts. Evidence shows that without urgent investment, the pandemic will add another 36 years to closing the gender gap.  
 
Despite these multiple threats, women have been at the forefront of the response to Covid-19 and their expertise must be valued and funded.  
 
As you host the G7 Summit this weekend, we call on you to commit to vaccine equity and to take action on gender equality, by committing financial and political support to: 
 
• End violence against women and girls by increasing funding for prevention and response work led by women's rights organisations and girl-led groups  
 
• Recognise and value unpaid care work and provide significant public funding to reduce and redistribute it  
 
• Invest in women and girls' participation and leadership through women and girls' rights organisations to deliver open, democratic societies 
 
• Reverse the harmful UK aid cuts, restoring funding to girls' education, family planning and women and girls' health, and projects working around the world to promote gender equality including in humanitarian crises  
 
Crack The Crises is a campaign group of over 75 organisations representing 12 million people. We join with them to call on you to act now and stop the rollback of a generation of gender equality. 
 ---------
Can you share our letter on social media?
The more people see it, the more likely Boris Johnson and other G7 leaders are to take action.
Join us
If you'd like to sign up as an ActionAid campaigner and change the policies and attitudes that hold women back, sign up here. 
Alice Whitby/ActionAid
Read next
7 March 2022

9 December 2021

25 November 2021