Six end-of-term teacher gifts to say 'thank you'
7 July 2021
Explore our collection of life-changing charity gifts that are perfect for saying 'thank you' to a special teacher at the end of term.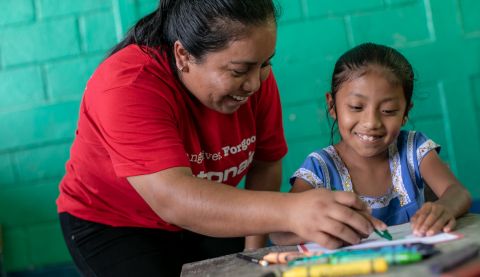 Looking for the perfect gift to say 'thank you, teacher', this end of term? We've put together a list of six of our favourite Gifts in Action, which are ideal for putting a smile on the face of any teacher. 
After an incredibly challenging school year, and so much hard work, teachers deserve it! So from education gifts to classic farmyard friends, explore our collection of thoughtful charity gifts below (you'll find gifts from just £10!) 
Still looking for the right end-of-term gift?
Now more than ever, teachers deserve a gift that shows them just how appreciated they are! 
So why not explore our full collection of Gifts in Action, and find the one that's perfect for them? Remember - every purchase will help fund ActionAid's work with women and girls in some of the world's poorest countries. Thank you, and happy end of term!
Karin Schermbrucker/ActionAid