COP26 UN Climate Summit: Four women's climate change groups to support
5 November 2021
We are funding four inspiring grassroots activists in their work on climate and gender justice for COP26. Find out more about what these activists are doing and how you can get involved.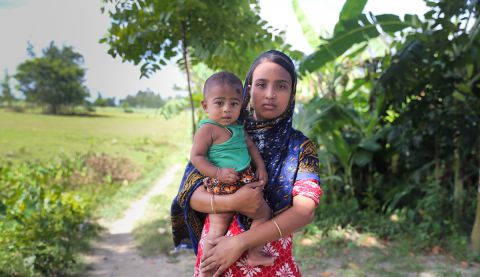 Overwhelmed by all that's going on around the UN Climate Summit, COP26?
Here's a simple breakdown of four grassroots organisations fighting for gender and climate justice that you can support.
Back in August, ActionAid UK supported CARE International UK as part of the Crack the Crises campaign to give out four grants to fund women's rights campaigners working on climate change with diverse communities.
Read about their inspirational work and how they are fighting for change. 
Tackling racial bias in media coverage of climate change
Climate Reframe is helping media outlets to recognise that they must play a more active role in reversing decades of racial bias and discrimination in the mainstream representation of the climate crisis. Its work is based on a shared understanding that we cannot "build back better" unless and until we also build back equal. Its focus is to bring historically marginalised and excluded voices to the forefront.
Climate Reframe members present at COP26 include activists, artists, scientists, economists, policymakers and grassroots organisers:
Fatima Ibrahim is organising with Green New Deal Rising is bringing 100+ young people up to Glasgow.
Rajiv Joshi, is hosting the Climate Action Lab.
Kamran Shezad is presenting in the Green Zone on Faith and Sustainable Cities.
Serayna Solanki is co-hosting a workshop as part of the People's Summit on 'Resisting Climate Geoengineering' with the Indigenous Environment Network.
Artist Louis VI is presenting a keynote on why Nature Shouldn't be a Luxury and a conversation with activists discussing Climate Injustice, Nature and people of colour.
Want to know more and get involved?
Support climate refugees that are subject to hostile UK environment policy
Migrants Organising for Rights and Empowerment (MORE) started 'Climate Justice is Migrant Justice' a grassroots awareness campaign in Glasgow led by people with oppressed identities with lived experience as migrants and asylum seekers.
Driven by community organisers and working with COP26 Coalition its work amplifies how migrant justice exists as a crucial point of intersection with the climate justice struggle.
On the run-up to COP26, MORE held workshops with migrants and asylum seeker community in Glasgow. It is facilitating a migrant justice assembly, holding a 'theatre of the oppressed' event called 'Let them eat cake' and organising a migrant justice bloc at the main march and rally as part of the Global Day of Action in Glasgow on November 6. 
Want to know more and get involved?
Donate to MORE crowdfunder to support individuals affected by the UK's hostile environment policy.
Join the MORE event at COP26, or the MORE bloc in Glasgow on the Day of Action march on on November 6.
Volunteer your time, expertise and resources to local grassroots, migrant-led organisations.
Follow More on Instagram: @More_Glasgow,and on Twitter: @MoreGlasgow. 
Celebrate the environmental work of women of colour
Black Seeds Network (BSN) are a passionate organisation based on celebrating the work of Black, Asian and ethnically diverse communities who are working for change for people and the planet.
Communities of colour have long been excluded or ignored by 'mainstream' environmental movements when many are already working on environmental and social justice issues.
BSN is celebrating women of colour trailblazing a path towards inclusive environmentalism through creating one-minute films of each of the women, with a message for COP26 at this unique time.
Want to know more and get involved?
Share the voices of those first to be affected and last to be heard
Glasgow and Manchester Climate Sisters focus on bringing together marginalised and diverse communities who are the first to be impacted by social injustices and often last to be heard when it comes to climate justice.
The Climate Sisters have already has hosted a series of workshops with a group of inspiring women to produce creative exhibition pieces which reflect their opinions of climate issues in the UK and globally. These women want their voices to be heard and want policymakers to know that climate change is a real issue that needs urgent action.
The exhibition pieces include poetry, music, podcasts, sculptures, paintings, jewellery, filmmaking, fashion, photography and performance.
How you can help
ActionAid UK works with women, girls and whole communities to help make their livelihoods, food and homes more resilient to climate change.
We support communities to adapt to the effects of climate change and work to ensure women and girls can play an active role in developing these plans. We also provide humanitarian support to people facing climate-induced losses and people who are forced to migrate due to climate change.
You can donate today to support ActionAid's work in helping women and girls to adapt to climate change. 
Top image: Sarmin, 16, from Bangladesh was married off at a young age after floods hit her village. Fabeha Monir/ActionAid
Read next
7 March 2022

9 December 2021

25 November 2021