Survivors are not statistics
18 May 2016
If you head to London today you might see something a little unusual. This morning, mannequins appeared in front of Marble Arch to mark International Safe Cities for Women Day. Safe Cities Day is celebrated all over the world from Australia to Zimbabwe, and calls for an end to violence against women on the streets of their cities.
So what's with the mannequins?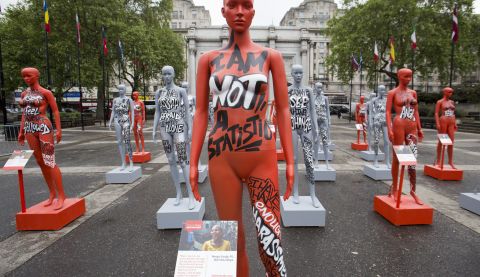 Why 30 mannequins took over Marble Arch this morning
Today, women around the world are standing up against violence in their cities and towns to celebrate International Safe Cities for Women Day. 
And London is no different. This morning, a 30-strong group of mannequins took over the iconic Marble Arch to send a powerful message to those in charge. 
The mannequins, a third of which are red, represent the one in three women and girls who will experience violence in their lifetimes.
The statistics on violence against women are so overwhelming that all too often they feel faceless and impersonal. With these mannequins, inscribed with messages from women ActionAid works with around the world, we wanted to highlight what must not be forgotten: that behind every statistic is a real woman, with a real experience of violence.
And this violence is holding women back in every country. 
Many women and girls experience violence on the streets of their cities. Poor lighting, dark streets, dangerous public transport systems and inadequate policing in many of the world's major cities leave thousands of the world's poorest women at increased risk of attack every day.
The stories behind the statistics
I have to bear harassments in buses every time I travel, but I cannot afford a taxi
The mannequins carry stories and messages from women in 10 countries. Women like Debaki Dhungel, 22, who lives in the Gairigaon slum community in Kathmandu, Nepal. Debaki told us she faces constant harassment on buses:
"One time, a man forced himself on the seat next to me. As he sat down he put his hand on my shoulder. I was shocked and politely told him to put his hand on the seat before us. He snapped at me and I felt bad and stayed quiet. He then managed to slowly slide his hand to my breast. This made me really angry, I shouted at him and told him to behave himself. If I spoke up the harasser would be shamed in public."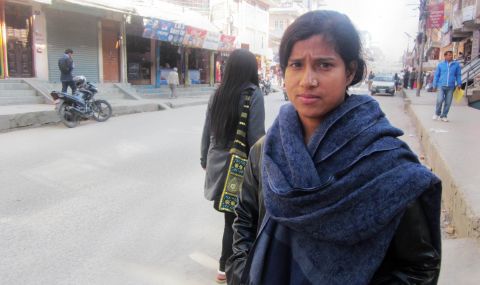 In many cases, it's the poorest women who are worst hit by violence and harassment, as they're less able to afford safer forms of transport. Debaki told us "I have to bear harassments in buses every time I travel, but I cannot afford a taxi."
ActionAid Nepal are working with everyone from grassroots groups to the local police to address violence against women in the country. As well as working to raise awareness, they carried out a 'safety audit' to better understand the causes of gender-based violence in Nepal. For the next step, they're working with women in the country to call for better policies to tackle violence.
Ending violence against women
Research shows that the single most effective way to end violence against women and girls is through the work of independent women's rights organisations. These grassroots groups tirelessly fight for the rights of women like Debaki, and are a lifeline of support for survivors. Despite this, they are chronically underfunded.
This International Safe Cities for Women Day, we're calling on the UK government to fund the life-changing work of women's rights organisations in developing countries, so that no woman or girl has to suffer constant harassment in her city.
We're joining campaigners all over the world to show our support for the women taking back their cities using the hashtag #safecitiesbecause. You can join in – use the box below to share why you want safe cities for women:
Have you been affected by violence?
If you or a woman you know is facing violence, you can get help by calling the National Domestic Violence Helpline on 0808 2000 247 – it's free and open 24 hours. You can also visit their website below:
Photo credits: ActionAid
Read next
7 March 2022

9 December 2021

25 November 2021