Meet the women fighting street harassment
11 April 2017
For millions of women and girls globally, street harassment is a daily reality of going out in public. From catcalling to unwanted physical contact on public transport, when women and girls feel unsafe in public it holds them back. ActionAid recently carried out some polling in the UK, Brazil, Thailand and India that showed a huge majority of women have experienced harassment or violence. 
But women and girls everywhere are speaking up to call out the catcallers – just last week, women all over the world marked 2017's Anti-Street Harassment Week with dozens of inspiring protests. Read on to see some of our favourite creative anti-harassment campaigns from around the world.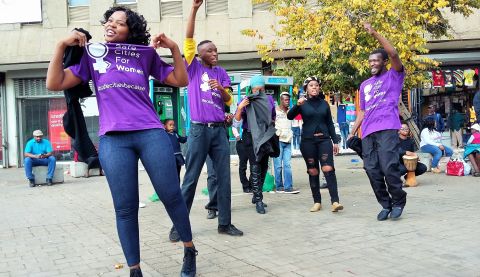 What is Anti-Street Harassment week?
Anti-Street Harassment Week began in the United States in 2011. The week has grown bigger and bigger every year and 2017 was no exception, with over 40 countries holding hugely varying and creative events.
In Egypt, activists used a hidden camera to film one woman's experience of walking across a busy bridge in Cairo. The women were motivated to make the film by their personal experiences of harassment, saying "The high frequency of stares makes it the most common form of sexual harassment, violating women's ability to feel safe while walking in the streets".
The Hollaback campaign in the United States organised 'Chalk Walk' events, where women write messages on the pavement calling for an end to harassment and sexual assault. This is an excellent way to grab the attention of passers-by, especially when the messages are written in locations where an assault took place.
What do you have planned for International Anti-#StreetHarassment Week (April 2-8)? Let us know! https://t.co/IIbQdjjYWe #EndSH pic.twitter.com/43PeH6cGdV

— StopStreetHarassment (@StopStHarassmnt) March 25, 2017
And speaking of crafty campaigning, artist and activist Tatyana Fazlalizadeh used street art in her project called Stop Telling Women to Smile, which features images of real women and their messages to their harassers.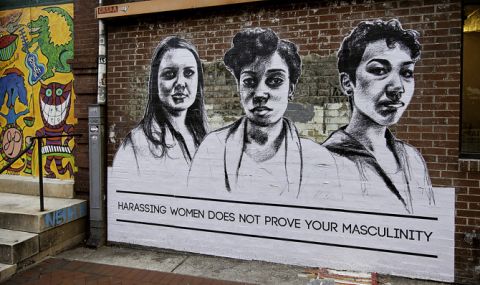 There's a lot going on in the UK too. Hollaback London has started keeping a map of locations in which women and girls have experienced street harassment or violence. And the fantastic Everyday Sexism project shows women that they're not alone by highlighting the millions of instances of harassment and discrimination women experience every day:
@EverydaySexism @StopStHarassmnt 7 mths pregnant on bus at 9am. Drunk man hitting on me, no way I'm pregnant, too pretty / hot etc #endsh

— Katy (@katy_h_h) April 5, 2017
Can't go a week w/out a man looking me up & down & saying something in passing. Feel disgusted, helpless, unsafe #endSH @EverydaySexism

— Anna Segelman (@anyasegel) April 4, 2017
There is clearly a long way to go to stop street harassment, but the movement is building, and the need is more visible than ever.
ActionAid believes in empowering women to demand change and advocate for their own rights. We campaign for an end to violence against women and girls in public spaces all year round. Here's how some of the incredible women we work with are standing up against harassment.
How women worldwide are standing up for Safe Cities
ActionAid's Safe Cities campaign runs in 17 countries, tackling violence against women in public spaces. We recognise that cities provide huge opportunities for many women trying to make a living and provide for their families, but when women and girls feel unsafe in public, it severely impacts their use of public spaces and services.
In Liberia, we work with female students across seven universities. The students at The United Methodist University successfully campaigned for the government to fit lights on campus and near where women catch rides home from class.
The result is that now almost half of classes are made up of women. Leona Gomo, the head of the university's Women Speak group, said:
"I think the men who want to sexually harass women know that they will be found out because of our group and their abuse won't be hidden. This has made a very big difference."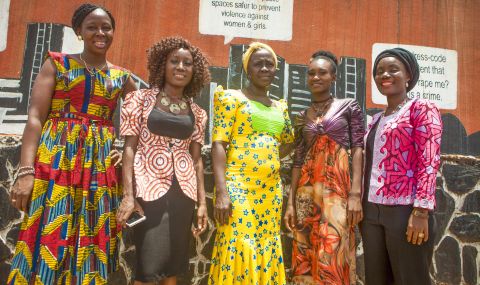 ActionAid in Cambodia works with a really passionate group of campaigners. When they launched their first Safe Cities Campaign in the Olympic Stadium of Phnom Penh back in 2014, an unbelievable 1200 people showed up!
The event unfolded with speeches, and lots of people wrote messages in solidarity with women and girls who have experienced street harassment. Since then they've given radio show interviews, made the case for the Safe Cities campaign on TV, and even made their own app – is there no stopping them!?
Is anti-street harassment campaigning making a difference?
If this isn't enough to convince you of the amazing work being done globally, you should know that as a result of women fighting back against violence and harassment, laws are changing.
Across Latin America there have been a number of changes to the laws around street harassment, and there is even talk of introducing a law against cat-calling. There have been proposals to introduce a prison sentence of up to 12 years for street harassment in Peru, and in Argentina you can be fined.
Our online survey showed that 96% of women experienced harassment at some point in their lives #Nufoshey #EndSH pic.twitter.com/xavEu5BDhT

— Nufoshey (@nufoshey) April 4, 2017
Campaigners like you are making a difference. We hope you're inspired by their actions to join the growing worldwide movement saying no to all forms of intimidation, harassment and violence against women. We'll need your voices soon for International Safe Cities Day on 20th May, so watch this space!
Inspired by these awesome campaigners? Share this blog using the buttons below.
ActionAid Tatyana Fazlalizadeh Ruth McDowall/ActionAid
Read next
7 March 2022

9 December 2021

25 November 2021