#MeToo, now Kavanaugh: people in power aren't listening
11 October 2018
A year ago, women all over the world started sharing their stories of abuse and harassment through #metoo.  A year on, the confirmation of Brett Kavanaugh to the US Supreme Court serves as a powerful reminder of how much is still at stake.
#MeToo is as important today as it was when it hit the headlines a year ago.  If anyone had any doubts about that, events in Washington DC this last week will surely have changed their minds. The spectacle of a woman standing in a room full of men, reliving a horrific assault, rightly dominated picture desks the world over. Dr Christine Blasey Ford was later heralded for her courage and credibility, but no sooner had she left the room than Donald Trump himself mocked her testimony.  
A week later, Brett Kavanaugh has been approved to sit on a court whose decisions affect millions of lives – and Trump has doubled down, this week apologising to Kavanaugh and calling his accusers "liars".
"Don't look away from me"
It could have been so different.  After the initial hearing, Jeff Flake, one of the Republican Senators, was confronted by a handful of survivors of assault, and reminded of how this decision could affect how survivors around the world would process what happened to them. One of the women, Maria Gallagher, demanded:
Don't look away from me, you're telling me that what happened to me doesn't matter.  
Shortly after this dramatic encounter, Flake changed his mind, and told the committee that Kavanaugh's nomination should only proceed after an FBI investigation. Such a sudden turnaround doesn't happen often.
 
These developments may seem remote, happening as they are on the other side of the world to us in the UK. But, just like each survivor's story, these events matter. They matter because violence against women and girls is still a pervasive problem, and one which justice systems all over the world need to confront urgently. They matter because this man accused of assault isn't just evading justice – he's about to embody the justice system in the US.  
It's happening here too
And this imbalance exists closer to home, too. In the UK in recent weeks, CPS figures have been published which show that less than a third of men prosecuted for rape are convicted. Worryingly, jurors in Britain are particularly loathed to punish younger men for the 'indiscretion' of assaulting a woman.
What's striking is that this trend chimes with stories which we at ActionAid hear every day in the poorest communities in the world, where huge barriers prevent women from accessing justice. From Rio to Dhaka, we work with women who've experienced violence simply because they're women – violence perpetrated by men who believe that women's bodies are their property, to do with as they please.
Through our work on the ground with paralegals and grassroots women's groups, ActionAid teams support women to come forward, and to understand and claim their legal rights.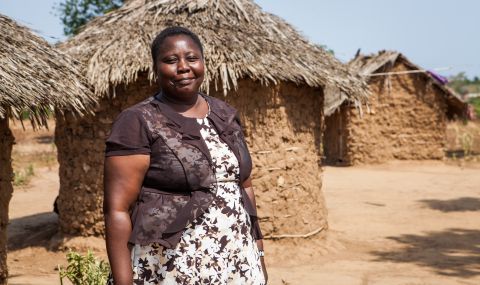 But as Kavanaugh's confirmation in the US shows, survivors' voices are too often marginalised by those charged with administering justice. Courts, police and lawyers over the world have yet to find remedies for their testimonies. Instead, laws that are meant to protect women aren't enacted, barriers are put in the way of reporting, women aren't taken seriously and those who should investigate the truth fail. The end result is that women are discouraged at every juncture from accessing justice.
#MeToo has served a valuable purpose in supporting women who tell their stories. But how can we continue to expect women to speak out, or make progress, if people in power won't listen?
Something has to change
When another woman, Ana Maria Archila, stood blocking those lift doors from closing in Washington DC, she told Senator Flake that:
the way that justice works is, if you recognise hurt, you take responsibility for it, and then you begin to repair it.
At ActionAid, we couldn't agree more. Over the coming months, we'll be working with courts, governments, and women affected by violence across the world to forge systems that provide support to survivors. Be it by shoring up support for legislation or campaigning for legislation to be enacted, all our efforts will focus on ensuring that every survivor's story is made to matter.
The time for passively listening has passed. Women have spoken their truth. Now, that truth must be answered with action.
Photo at top of page of scales of justice by Google Images, creative commons license. Photo of Joyce the paralegal in middle of page by Sheldon Moultrie/ActionAid.