Insodeh, 28, her husband and three young children fled Syria over five months ago, and have been living in Zaatari refugee camp in northern Jordan since then. Her Syrian hometown of Dera'a, a rural area in southern Syria which saw some of the first anti-government demonstrations, had become too dangerous to live in.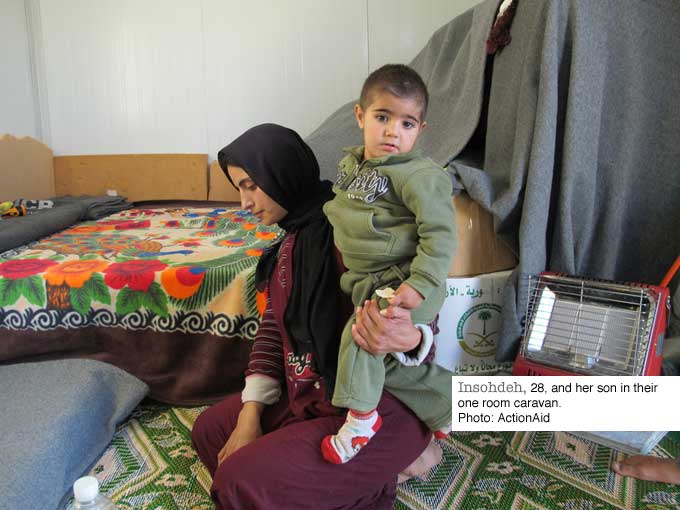 She says: "Life in Dera'a was very difficult after the fighting started. Everyone in my village was afraid. We couldn't go outside and we couldn't sleep at night. They destroyed our village and our home. When the air strikes started we decided we had to leave. I was afraid for my children in Syria, their safety is the most important thing."
Insodeh and her family drove an hour south of her home and then crossed the border into Jordan on foot. But going to Jordan meant leaving some of their family behind.
"My father is still in the village we lived in in Dera'a. My husband's parents are there also. I don't think they will come to Zaatari, my father is very old and isn't able to travel. I'm not sure when I will see him again."
When the family first arrived in Zaatari they lived in one of the thousands of tents, but when part of the camp flooded in January the family were moved. Now they live in a small one-room caravan where they sleep, cook and eat. It is basic — the only things they have are some thin mattresses, a few mats and a small electric heater – but offers protection from the weather and it's easier to keep clean.
For Insodeh, one of the most difficult things about living in Zaatari is the lack of basic possessions and money to buy the things they need.
"There is a small market here but we can't buy any of the things we need. We don't have any money. It is difficult when the children ask for things but I am not able to buy them. Sometimes the neighbours give us money to buy milk for the children. We weren't able to bring anything with us. We had only the clothes we were wearing."
A particular problem is the lack of essential items for women specifically, and Insodeh says that up until now, no-one had asked what women needed.
Today she was one of the first women in Zaatari to receive a kit specifically designed for women, which includes hygiene items, and a set of culturally appropriate women's clothing. Insodeh says that this kit has some of the things she needed most.
ActionAid will be scaling up our distribution of these kits over the next few weeks and months.