It's that time of year again. Time for every newspaper, magazine and blog to churn out their highlights/quizzes/countdowns of the year in an endless series of lists. And we're no exception!
We asked 10 ActionAid staff what made them proud this year. The things they said make us feel just that little bit less cynical about lists - they can be used for good! Hurrah. Here's a list to warm your cockles.
1. Meeting children living in Brazil's favelas
Our fearless roving reporter and emergencies journalist Natalie Curtis said:
"My highlight of this year was meeting eight-year-old twins Samir (l) and Samira (r), who told me what it's like growing up in one of Brazil's most dangerous slums.
"I spent two days interviewing, photographing and laughing with these two inspiring kids, who despite facing the threat of drug violence every day, are doing well at school and making the most of every opportunity."
2. Telling Barclays to stop dodging the question

Murray Worthy, our tenacious tax justice campaign manager said:
"Thanks to our determined supporters, Barclays committed to stop promoting tax dodging through tax havens to companies investing in Africa. After more than 50,000 people took action, we put Barclays in the media spotlight in November when our campaign supporter Will (looking smart in this pic) asked a question at their AGM, and the bank finally agreed to act.
"While this isn't a total victory, it's pretty amazing that with pressure from ordinary people we influenced one of the world's biggest banks."
3. Being fearless at London's South Bank for Nirbhaya

The tirelessly efficient Najmah Anshory, who organises our entire UK communications team, said:
"In March I went to see the incredible play Nirbhaya during its eight show run at London's South Bank. ActionAid was there with a FEARLESS wall installation in the auditorium to encourage people to raise their hand to #breakthesilence on violence against women.
"We got a huge response from people of all ages and backgrounds who wanted to have their voices heard and to know more about what we do to support women's rights and empower women. I was especially moved by the personal stories of sexual violence that many women shared on the wall."
You can still see the installation and people's reactions in our behind the scenes video.
4. Totally hanging out with Angelina Jolie
Our magnificent Grant Manager, Kiran Gupta met the award-winning actress turned UN ambassador Angelina in June.
"Meeting Angelina Jolie at the Global Summit to End Sexual Violence in Conflict this summer has to be my 2014 highlight. Here she is arriving at the summit with then foreign secretary William Hague.
"I was pretty tongue-tied when she stopped by our stall, but it was amazing to see the media frenzy she generates wherever she goes.
"Thankfully ActionAid benefited from that for a brief moment, and I hope Angelina read the ActionAid booklet she took away with her."
5. Having our day in The Sun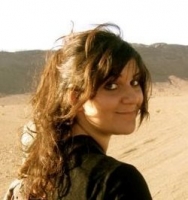 Awesome Oriana and our Bollocks to Poverty youth campaigners teamed up with drum and bass legend Chase & Status, Music Speaks winner Tony Blaize and Kenyan artists Jembe Tatu to release a life-changing track over the summer.
The song was launched at Reading Festival 2014 and was chosen as 'Single of the week' in The Sun newspaper! You can still buy it from iTunes and help ActionAid change lives through music. Here's the story of Music Speaks.
6. Learning to love porridge

Usually she's the most enthusiastic and cheerful person in the London office, but when Events Manager Liz Grant faced the Live Below the Line challenge for ActionAid she found herself struggling to maintain her usual jolly demeanour.
"Porridge, sausage spaghetti and budget biscuits were my friends for the five days I lived below the line. Our plucky events team and half the ActionAid London office staff joined me on my misery mission – and we sat weakly at our desks feeling sad and hungry all week. We did manage to get creative with our £1 daily recipes though – as this, erm, instructional video shows.
"And together we raised a cool £100,000 to help women and girls living below the poverty line." See some amazing gifs about the Live Below the Line story here.
7. Promoting peace, love and education

Our most excellent schools officer Lucy McDonnnell said:
"For me, the events of this year have highlighted just how important it is that all children get to go to school, and it has made me particularly proud to be working towards this goal with ActionAid.

"I read with horror of the Chibok schoolgirl abductions in Nigeria and the recent attack on schoolchildren in the Pakistani city of Peshawar. But there have also been some inspiring moments, with the highlight for me being two education campaigners, Malala Yousafzai and Kailash Satyarthi, winning the Nobel Peace Prize. And the girls, like Precious (r) and Simon (l) in this photo, who we work with every day in Nigeria to help them make it to to school against all the odds."
8. Closing witch camps in Ghana

"Sometimes progress is best measured in small but life-changing steps," says ActionAid UK CEO Richard Miller.
"Two years ago ActionAid published a shocking report from Ghana on so-called 'witch camps' – desolate, isolated places where women accused of witchcraft seek refuge from beating, torture or lynching.
"So it was a joy to receive news from my colleague Sumaila Rahmen that one of the camps was being closed. Misguided beliefs become ingrained over years and it is hard to turn them around. But for over 50 alleged witches it will be the chance to live out their lives in dignity back in their communities."
Ayisethu Bujri, 40, below, was in Gambaga witch camp in Northern Ghana for three years, until intervention by ActionAid brought her back to her family.
9. Hearing the hopes and dreams of these young citizens

For Chris Parker of our Schools team the high point was interviewing a group of primary school children about what they thought the future held for them, as part of our #GiveAFuture appeal.
"It was inspiring to hear how they wanted a fairer world, for all children to have equal rights, and about their career aspirations (it seems the future will have no shortage of comedians, dancers, heart surgeons and maths teachers).
"Above all, it wasn't iPads they wanted for all children this Christmas, it was water, food, safety, families, education … and maybe treehouses."
10. Doing a happy dance

Last, but not least is Laurence Watts, our Visual Content Manager. Many, many photos cross his desk every day from photographers visiting people in the countries where we work and telling their stories through pictures. Laurence is notoriously a tough man to impress, but even he couldn't resist this photo of a jubilant dance in Bhalswa, New Delhi, India.
"My highlight was learning about Beti Utsav, which is basically a party to celebrate the birth of girls. This celebration is especially important as boys in India are valued more than girls. Many women face pressure to have an illegal sex determination test and, if they are having a girl, face pressure to abort the foetus.
"The photo I have chosen captures the colour and pageant of the celebration, that rival those that are held when boys are born".
That's it!
That's our list. We could have included so many more highlights, but I think these stories sum up pretty nicely what we do, and why we do it — as ever it's all about our amazing supporters who help us in so many ways, and the resilient communities we work with and learn so much from.
If you agree, and you feel like making a small donation after reading this to help us reach even more people and change more lives, we'd really appreciate it.
Photos: Lianne Milton/Panos/ActionAid, ActionAid, Karen Garvin/ActionAid, ActionAid, Jane Hahn/ActionAid, Poulomi Basu/ActionAid.