How the humble sanitary towel keeps girls in school
23 May 2016
Sanitary towels are not trivial, nice-to-have items - they're essential tools in the fight against poverty and injustice. That's why this Menstrual Hygiene Day, we're talking about the importance of fighting period poverty. 
What stops a girl in Africa from going to school? Is it a lack of books and uniforms? It could be - but there is another, rarely talked about, problem that can bring girls' education to a screeching halt: the simple lack of a sanitary towel when she has her period.
One in 10 girls in Africa miss school when they have their period. 
At ActionAid we recognise that sanitary towels are not trivial, nice-to-have items – they are essential tools in the fight against poverty and injustice.
So to mark World Menstrual Hygiene Day this Saturday, find out more about what we're doing to support girls and why menstruation matters. 
Standing up in class with confidence
When it came to responding to the teacher's questions, giving the wrong answer used to be the least of 17-year-old Vast's worries.
Instead the teenager was terrified of standing up and revealing the fact that she was on her period to the entire class. 
In Malawi, where Vast lives, pupils are expected to stand up to answer questions. Without access to sanitary pads, Vast had to wear bulky strips of cloth known locally as a 'nyanda' to stop leaks when she had her period. She said:
I used to miss out on classes about three days a month. I was afraid that people might laugh at me as the nyanda shows at the back of the uniform. I got laughed at before by boys.
But things have changed since Vast got sanitary pads through ActionAid. The pads are more absorbent, reliable and discreet than the nyanda.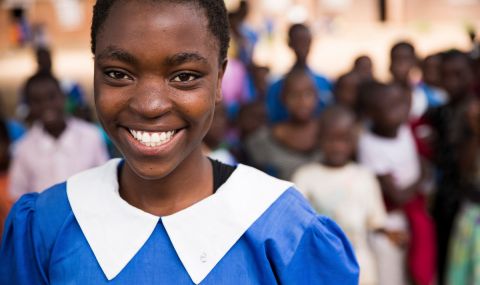 "They make a huge difference," said Vast. 
"Now I can play. I can even play netball. With the pads I can chat with my friends.  And in class I can stand without being conscious of what is behind me."
Busting dangerous period myths
For many girls around the world, those first drops of blood can signal the beginning of the end of their time at school.
As well as this risk, adolescent girls also have to contend with a host of myths and misinformation about periods.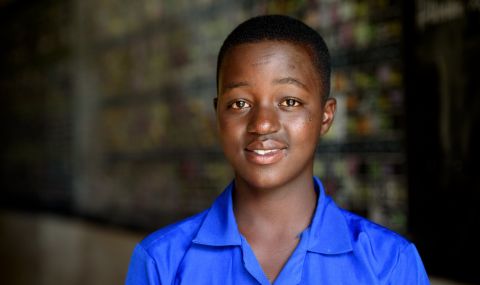 For example, some girls in Malawi told us they heard a myth that if they cook with salt during their periods they could make the diner's teeth fall out. In Rwanda, some girls told us that they heard that having sex will reduce period pain.
Germaine, 14, was told this dangerous myth.
Someone told me that if you have a lot of pain, back pain or stomach pain, to reduce it or heal it, you engage yourself in a sexual relationship with a boy. It reduces the pain.
Thankfully, a member of ActionAid told her that this is untrue.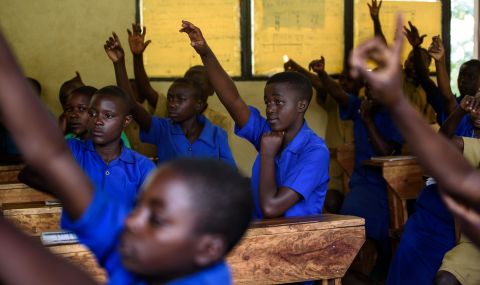 We work in Rwanda to provide safe spaces in schools where, in addition to getting sanitary pads, fresh uniforms and a place to wash in privacy, girls can get vital reproductive health advice. 
The matrons who run the ActionAid-built safe spaces talk to girls about periods and sex, and can answer any questions that they have in confidence. 
Sanitary towels and safe spaces
Science teacher Marie-Grace watched with increasing anxiety as the number of adolescent girls in her class in Rwanda started to dwindle. 
She realised that they were missing lessons when they had their periods.
So the school hastily arranged an emergency safe space for the girls by converting an old storage room.  
Although the room is very basic at the moment, it has helped to stem the number of girls who quit school. Improved attendance has also boosted grades. She said:
Previously before the safe room, because of the girls missing school and dropping out of school, the boys were performing better. But because of the safe room, there is a positive change in the girls' performance. In the class you can see the girls are first, they are taking the top positions from one to five.
When girls stay in school it pays huge social dividends. Keeping girls in school is good for them and their communities.
ActionAid is planning to build a better safe room at Marie-Grace's school this year.
Why menstruation matters for women too
Years ago, Speciose had to drop out of school in Nyanza, Rwanda, after she started her period. 
She couldn't afford pads so she used cloth instead. One day, she stained her uniform. 
"The boys made a lot of conversation and laughed a lot about it, so I went back home," the 45-year-old recalls. "Because of fear you couldn't tell the teacher, you just left class and went back home."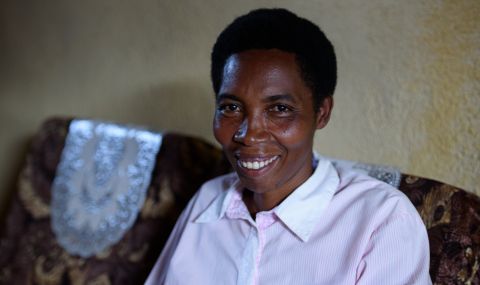 "The fact that I missed school was not a good thing," said the mother of four. "I missed the opportunity and sometimes I regret it. I didn't feel good about it." 
Now Speciose is so glad that her daughter doesn't face the same problems. Fabiola, 12, goes to a school where ActionAid has installed a safe space, where she can get pads and clean spare knickers. 
Speciose realises what a profound impact this can have on young girls' lives. She said:
I feel privileged to see my daughters in school because it will help them to grow up as mature adults who will be independent and have the opportunity to get a job and help themselves. They help me, the nation, and the family.
A monthly gift could change a girl's life
Relatively small interventions – providing sanitary pads, a safe place to wash and accurate health information – are helping to keep girls in school and tackle injustice.
After all, menstruation is a natural part of girls' and women's lives. Periods should never stop a girl from reaching her potential.
Just £3 a month will give a hygiene kit to a girl on her period - but by keeping her in school, it will ensure she has the skills she needs for the future.
Not only is this good for her, it's great for her community too.