Celebrities star in film to support ActionAid pledge
6 March 2017
On the eve of International Women's Day, celebrities Emilia Fox, Emily Watson, Lucy Rose, Charlie Webster, Tanya Burr, Frances Barber, Sophie Cookson, and Gabriella Wilde are starring in our new film to support ActionAid's ongoing commitment and support for women's rights.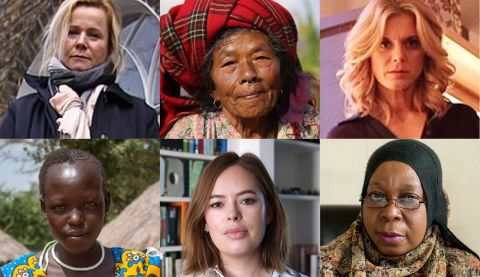 These eight female stars of the screen, stage and music worlds have lent their voices to our powerful new film which reinforces ActionAid's commitments to support women and girls living in some of the poorest parts of the world, in the global fight for women's rights.
Please watch and share this film to show you stand for women's rights this International Women's Day.
TV presenter and women's rights activist, Charlie Webster, says:
"I am proud to be part of this film for ActionAid. Women around the world continue to have their voices silenced, their identity taken away from them and their bodies violated in the most horrific way. It is up to all of us to stop this from happening. This is a violation of everyone's fundamental human right to life."
British YouTuber, Tanya Burr added:
"I wanted to be part of this film for ActionAid, not only to stand in solidarity with women and girls around the world, but to try and encourage others to do so too. Fighting for women's rights is fighting for human rights. Now is the time for people to raise their voices, not just for International Women's Day but every day!"
Read our five commitments to women for International Women's Day. You can download our commitment document here or read a summary below.
1. We stand with women who work together for the rights of women and girls in poverty
Through their work with some of the world's poorest and most marginalised communities, we see first hand the incredible impact of grassroots women's organisations in helping to strengthen women's rights and end violence against women and girls.
But these women's organisations are chronically underfunded – with an average income of $20,000 per year and only receiving 1.5% of aid money committed to gender equality worldwide.
ActionAid will continue to advocate for more funds for women's rights organisations and movements – especially at a time when women's rights are under attack globally.
2. We stand with women tackling violence, so women and girls can live without fear
Violence against women and girls (VAWG) is one of the most widespread and insidious human rights abuses, affecting one in three women and girls globally.
Violence against women and girls happens in every country, culture, religion and socio-economic group, in times of peace and conflict. Women living in poverty, disabled women, LGBTI and migrant women, those of young or old age, and those living with HIV/AIDS are often more at risk.
While there has been huge progress over the last four decades towards recognising and addressing this – not least through the hard-fought campaigning by women's rights organisations - levels of violence remain unacceptably high.
Grassroots women's rights organisations know the specific issues in their communities that hold women and girls back and how best to tackle these.
ActionAid will continue to work with these grassroots women's organisations as they fight to end violence and the gender inequality at its root.
3. We stand with women fighting for the right to earn an equal wage
The scale and depth of economic inequality faced by women – particularly in countries in the global South – is staggering. Gender discrimination means that women often end up in the lowest paid roles in sectors stereotyped as 'feminine', such as garment manufacturing and domestic work. So it's no surprise that the gender gap in wages remains stubbornly large.
Women earn on average 24% less than men globally, a figure that rises to 33% in South Asia.
Many working women are employed in informal, precarious and part-time roles, often without secure contracts, social protection, or rights to organise for better conditions. And a vastly disproportionate amount of unpaid care work is undertaken by women.
Violence against women and economic inequality are closely linked, and we believe more needs to be done to address their root causes.
ActionAid commits to challenging harmful economic structures and their patriarchal roots.
4. We stand with women rebuilding their communities after humanitarian disasters
Violence against women and girls tends to increase during humanitarian crises. Many women and girls have experienced sexual violence while in temporary unsafe accommodation, increased domestic violence as a result of the stresses of long-term insecurity, or have been forced into marriage to reduce the number of mouths to feed.
Too often, women's and girls' voices are not heard during crises. ActionAid will support women and girls to be leaders in humanitarian response work, to raise their voices and demand that they are listened to.
And we will support grassroots women's rights organisations – who are best placed to deliver effective services to their communities in emergencies –  to be at the forefront of humanitarian response.
5. We stand with women who won't stop until every woman and girl has access to justice
ActionAid has worked for many years to promote access to justice when women and girls face violence or economic inequality. We have engaged with governments to expand women's and girls' legal rights, and have supported women's organisations to realise the full implementation of the rights that may exist on paper but are rarely upheld.
ActionAid will continue to support women and girls across the world to demand justice and lobby for justice systems that work for women.
We will continue to raise awareness about the laws that exist to protect women's rights and reduce the stigma around reporting crime. We will continue to work to bring about pro-women government policies, judicial system reform and changes in social norms and practices at national, local and community levels.
We must stand together to protect hard-won women's rights and challenge the root causes of injustice. 
How to get involved in the fight for women's rights
This is not the time to be complacent – it is the time to get involved, and stay involved, in the worldwide fight for women's rights.
And you can make a donation to help us continue supporting women and girls around the world here.
Photos: Ashley Hamer /ActionAid, Jo Harrison/ActionAid, Rachel Palmer/ActionAid.