What #MyBodyIsMine means to women around the world
1 March 2018
So often women and girls' bodies are not seen as their own, but as the property of men, for them to exploit and control. Local women's groups are the strongest advocates against all forms of violence against women and girls. We asked some of the women who we work with what #MyBodyIsMine means to them, and why they are standing up and speaking out.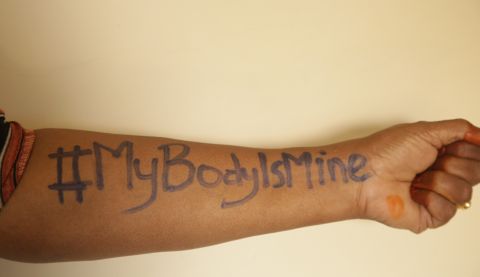 #MyBodyIsMine in Bangladesh 
Nurun Nahar is a programme officer in gender equality and women's empowerment at ActionAid Bangladesh. When Nahar was 15, she rejected the advances of a boy two years older than her. In response, he came into her house and poured acid over her.
The refusal of marriage or sex is behind many acid attacks. They are an expression of control by the perpetrator over women and girls' bodies. With help from ActionAid, Nahar founded the Acid Survivors' Network (ASN), a support group for acid victims.
"To me, the phrase #MyBodyIsMine means it is my body, my choice, my rights and my decision," she says. "I know all the survivors in our network. I could see that they felt so hopeless and that they had no confidence and so I tried to explain to them how I had changed my life.
"To me, the phrase #MyBodyIsMine means it is my body, my choice, my rights and my decision." Nahar, acid attack survivor. https://t.co/fUr827WHlS pic.twitter.com/8EIErHn8Np

— ActionAid UK (@ActionAidUK) 1 March 2018
"I hope we can stop this practice of throwing acid on women. I hope the survivors can move easily through Bangladesh and that society will accept them as normal people – not just acid victims. I also want to see survivors in Government positions; I want to see them in Parliament. That is my dream."
#MyBodyIsMine in Myanmar
Khaing Zar Lin is a women's rights project manager at ActionAid Myanmar. She shared her #MyBodyIsMine selfie, saying: "#MyBodyisMine means having the full right to decide to protect and be respected with my body. I cannot be harassed, tortured, coerced in any form at any time."
The countdown to #IWD2018 is on! We're encouraging everyone to stand together and say #MyBodyIsMine.Here's why: https://t.co/fUr827WHlS pic.twitter.com/hLXPFqRjrh

— ActionAid UK (@ActionAidUK) March 1, 2018
Khaing described working with a woman who had been paralysed as a result of the sexual violence that her husband and her brother-in-law carried out against her.
"She is such a strong woman. She said, 'If I do not disclose this, then other people will not know and this cycle will be repeated, so I need to break this.'
"It's crucial for me, when I see this very strong woman who is saying: 'No, I cannot be alone and keep this as my own problem. This is a bigger problem, which needs to be addressed together.' So when I think about her story, I feel braver in myself. I'm motivated by how courageous she is; how strong she has become. It really moved me and pushed me to work harder and harder."
#MyBodyIsMine in Somaliland 
Zeinab Mohamed Hassan is a women's rights coordinator at ActionAid Somaliland. A survivor of female genital mutilation (FGM) herself, she is campaigning to end FGM in Somaliland.
She says: "My body is mine means nobody can take a decision about my body, except for me.
"When I first started the project, it was not easy because FGM was still taboo. People didn't want to talk about it because they thought that it was forbidden. They said things like: 'This is part of our religion, so please don't talk about it', and 'It's a good thing because we are looking after the honour of our girls, so please, leave us alone'.
"Now, things are advancing. Ending FGM in Somaliland will take time. But in the end, we want all our girls to be safe from the cut. That's what we are all working towards."
Read next
18 March 2021

15 December 2020