Why did we build the Maze of Injustice?
30 August 2019
Because the justice system is a maze for women and girls, and that needs to change.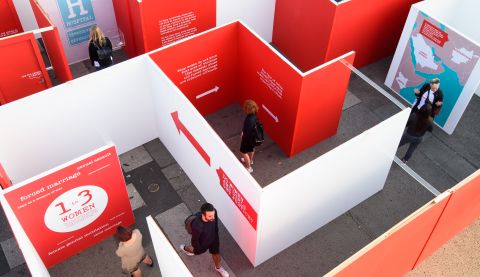 On 29th August 2019, ActionAid built the Maze of Injustice in front of Marble Arch in Central London. The maze showed the barriers women face when accessing justice for crimes committed against them.
It was a beautiful morning and we were joined by famous faces like actors Andrea Riseborough, Holliday Grainger and Pearl Mackie, as well as TV presenter Charlie Webster, who is a survivor of sexual abuse and a campaigner.
Members of the public and passers-by visited too, intrigued to find out what the big, bright red maze was all about.
One in three women will experience violence in their lifetime. Yet in the UK and around the world, the odds are stacked against women and girls - many never get justice.
Justice system is a maze for women and girls
For women and girls affected by violence, the global justice system is at best, a maze. At worst, barriers like deep-rooted misogynistic beliefs in the police and courts, outdated traditions or laws and unaffordable legal costs put many off reporting crimes in the first place.
When they do report, it's not uncommon for women and girls to be treated like criminals rather than survivors and it's nearly impossible to get justice.
After facing a traumatising act of violence like sexual assault, rape or female genital mutilation, it is outrageous and wrong that women and girls are then cheated by the justice system.
Yesterday ActionAid's Maze of Injustice brought these barriers to life using mirrors, doors and dead ends.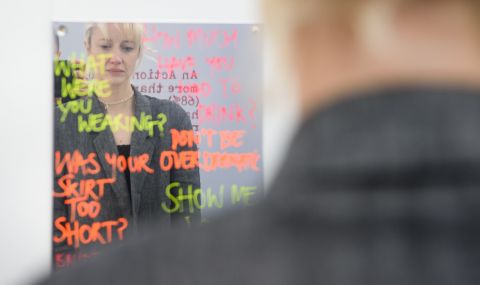 Andrea Riseborough, who is an actor and a women's rights advocate, was moved by her visit to the maze.
Andrea said:
The Maze of Injustice left me speechless - it was arresting being faced with the reality of some of the legislation around the world that doesn't protect women. However there are some incredible people doing wonderful and selfless things. To me, justice for women and girls means equality and fairness."
From the UK to Uganda, women and girls are let down by the system, no matter where they live. Millicent lives in a slum area in Kampala, Uganda's capital. In 2016, her husband poured acid on her face and blinded her in one eye – after already having hospitalised her the previous year.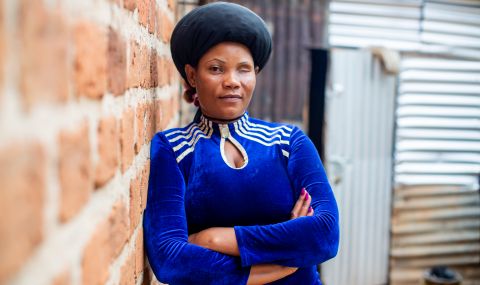 With support from ActionAid, the police located Millicent's husband and launched two cases against him. And after a two-year-long legal battle supported by ActionAid, Millicent got justice and her husband was sentenced to more than six years in prison.
Millicent said: 
When organisations like ActionAid come and stand with people who can't stand on their own, cases get resolved."
But this shouldn't be the case. Broken justice systems need to be fixed so that women like Millicent have better access to justice from the off.
ActionAid put on this stunt to engage the public to stand in solidarity with women and girls around the world – and sign up to our 'Justice for Women' campaign supporting campaigners around the world who are calling on their governments to listen to survivors and put power back in their hands.
Matt Crossick
Read next
3 August 2022

7 March 2022

9 December 2021