I first heard about the ActionAid Happy Homes project while stuck in a Dhaka city traffic jam. We were moving, very slowly, towards another project ActionAid is supporting in Bangladesh's capital when my colleague Tazeen brought the topic up.
The project sounded interesting and I asked practical questions.
What was the purpose of the centre? To give young, vulnerable girls living on the streets of Dhaka a safe place to live, learn and thrive. How many centres had ActionAid established in Dhaka? Five. How many girls are benefiting? 150.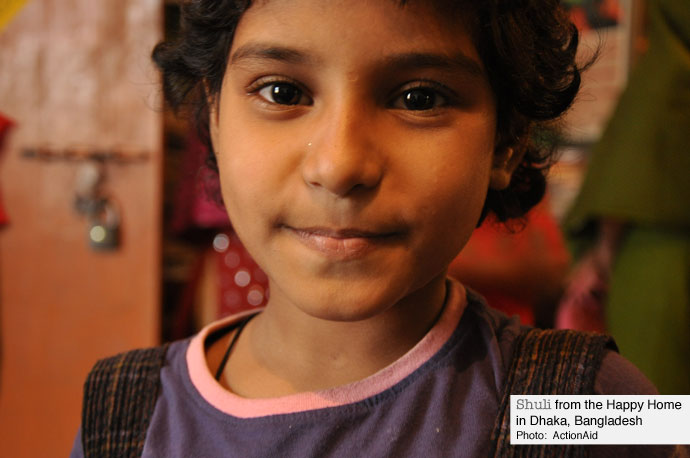 Tazeen promised that, if we had time, we could visit one of the homes. Knowing the traffic, I didn't think it would happen, but fast forward six hours, after visiting some amazing ActionAid supported projects in the slums of Dhaka, and we arrived at the Happy Home.
Around 30 girls, aged between seven and 16, greeted us excitedly. The walls of the five-roomed home were plastered with the children's artwork, empowering messages such as "we shall overcome" and the Happy Homes goals and objectives.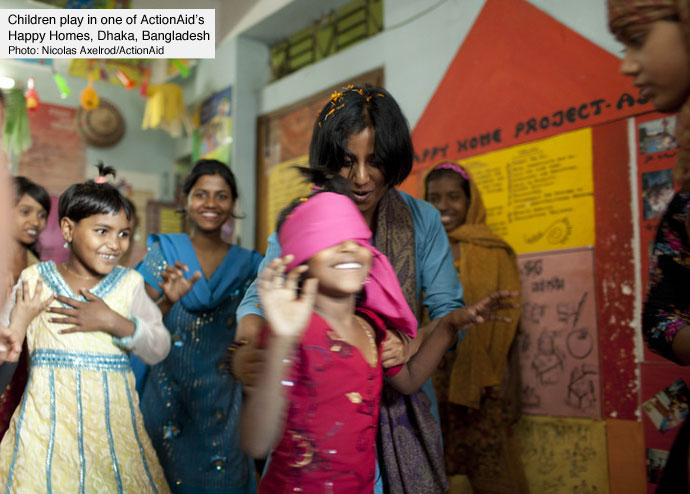 The girls all looked healthy and at ease and it was only when I heard what they have been through that I realised how this sense of happiness is such a huge achievement.
The amazing Nazma Begum, who runs the centre, explained to me how these girls come to live on the streets. Some run away from abusive homes, others have been sent to the city as domestic workers, but face such a harsh life and living on the city streets is a preferable alternative. Many have been abandoned – girls are not seen as valuable as boys, so when families are unable to cover their costs the daughter will be abandoned. Many have been sexually abused.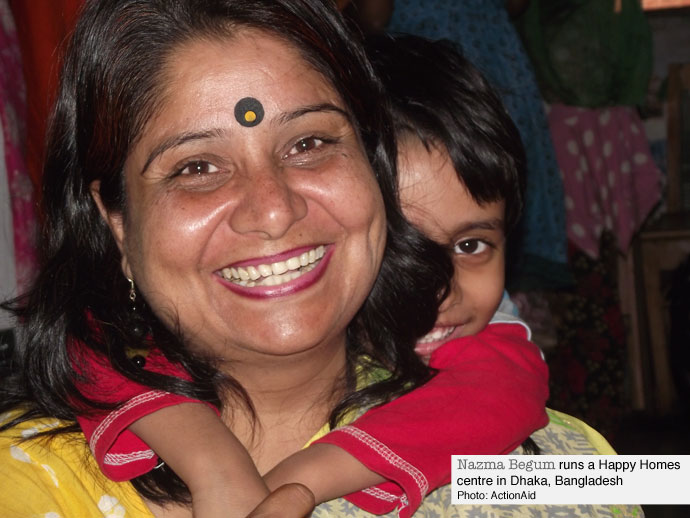 Counselling is provided to all the girls. Nazma explains it can take a very long time to earn the trust of the children, but after five or six months she always sees a positive change.
The homes provide the girls with food, a clean and secure home, an education, opportunities to learn about health and life skills, and they are helped to develop vocational skills. When they are ready to leave the home, they are helped to find employment and a secure home. The girls are never abandoned and staff keep in touch with all graduates. Many girls who have now grown up revisit the centre to inspire the younger girls and demonstrate what they can achieve.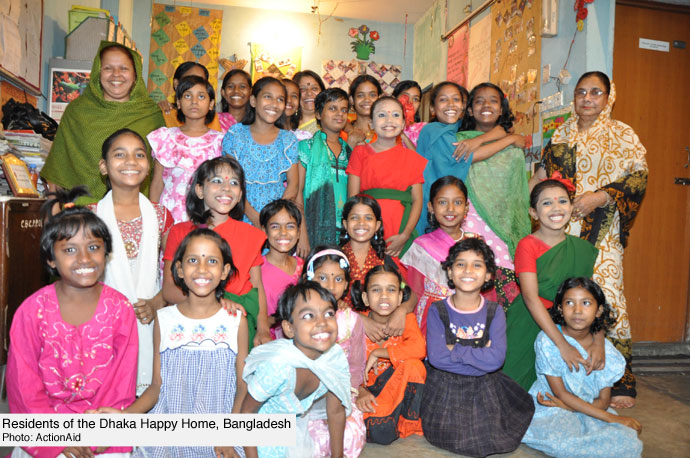 You just couldn't helped but be moved, amazed and inspired with what is being achieved here. From experiencing trauma, abuse and abandonment, these girls were now leading a life of hope, inspiration and vibrancy.
I want to leave you with the words of Nazma. She said: "If I can make a small change in the future of these girls, I will feel good. They are like my own children and they will become good citizens. We dream with them, like we dream with our own children."