With UN estimates that up to five million people may be forced to leave Ukraine due to the Russian invasion, the Ukraine conflict is set to become Europe's largest refugee crisis this century.
The world was already facing the highest levels of displacement on record. Find out about the world's refugee crisis, what ActionAid is doing to take action, and how you can support us to help refugees around the world.
What is the refugee crisis, and what's causing it?
During one week in March 2022, over one million people - mostly women and children - fled Ukraine to escape the conflict.
Globally, by the end of 2020, an unprecedented 82.4 million people had been forced to flee their homes.
Among them are more than 26 million refugees. Over half of them are children.
Whether it's due to conflict, persecution, disasters or climate change, millions of people have been left stranded, and are now living dangerous and precarious lives.
The risk this poses to women and girls is particularly acute, from rape, trafficking, abuse, child marriage, and an increased likelihood they'll lose their incomes and livelihoods.  
That's why ActionAid works closely with women, girls and their local communities to provide life-saving support, rebuild communities, and strengthen their resilience against future crises. But we urgently need your help to reach as many people as possible.
What ActionAid does to help refugees and displaced people
We support refugees and displaced people in the immediate aftermath of a humanitarian crisis and also over an extended period of time to help them rebuild their lives. 
In the short-term we provide humanitarian aid, including:
food
safe drinking water
shelter
hygiene kits containing clean underwear, soap, sanitary protection and other essentials.
In displacement and refugee camps we set up safe spaces for women where they can breastfeed in private, seek counselling and access emotional support.
We also set up Watch committees to monitor and prevent violence against women, and provide direct cash transfers which empower women to buy what they need the most.
In the long term, we help to rebuild communities and strengthen their resilience. For example, ActionAid trains women in leadership skills and disaster preparedness so that they are better equipped to lead their communities in times of crises.
Conflict in Ukraine
Over one million people, mostly women and children, have fled their homes to escape the heavy fighting, shelling and air strikes across Ukraine.
At Ukraine's borders with Poland, Romania, Hungary, Slovakia and Moldova, huge numbers of people are arriving with only what they can carry. In many places there are long waits to cross and scant facilities waiting for them on the other side, with temperatures dropping below freezing overnight. 
Hungry, exhausted, and traumatised, people are in urgent need of food, water, and shelter.
ActionAid's immediate concern is for the hundreds of thousands of women and girls, who are separated from their families, have walked for hours to cross borders and need urgent protection and assistance. Women and girls are at increased risk of sexual and gender-based violence during conflicts, especially when displaced from their homes.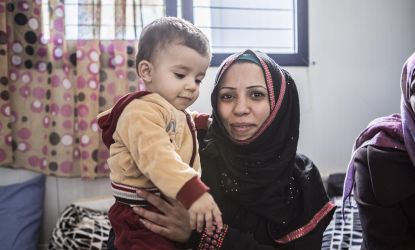 The Syrian refugee crisis
The war in Syria, which started in 2011, has claimed over 400,000 lives and injured more than 1 million people.
Violence and horrific human rights abuses, deepening poverty and the destruction of healthcare and education services have forced millions to cross treacherous waters and travel hundreds of miles in search of safety for themselves and their families.  
28-year-old Sajida came to our women's safe space on Lesvos after a traumatic journey from Syria.
"Our city is gone. There's nothing left any more. Not only was Assad bombing us from above, we were living in fear of ISIS too," she said.
I left with my two children, as well as my husband, mother and brothers. But one of my brothers didn't make it. He died in Syria."
We would have fled earlier if we could, but we didn't have enough money. We were hoping that the war would end. The journey was really difficult. My children were shaking and crying.  We were so scared because the sea got extremely rough before our boat reached the shore.
Right now, I'm dreaming of living a life without fear. All I want is for my children to have one night's sleep without fear."
The Rohingya refugee crisis
Since August 2017, an estimated 745,000 people have crossed the border from Myanmar into Bangladesh after violence erupted in Rakhine State. 
The rapid movement and huge influx of people across the border put massive strain on existing refugee camps and settlements, and on the host communities who are supporting the new arrivals. 
ActionAid continues to support vulnerable refugees in the camps of Cox's Bazar, Bangladesh, delivering life-saving aid including water and sanitation, food, shelter and blankets. 
We've also supported the creation of women-led committees in the camp, to empower women to take on decision-making roles and stop violence against women and girls.
We're making a huge difference to the lives of Rohingya refugees, but there are many more people in urgent need. Please give a regular gift to support our work today.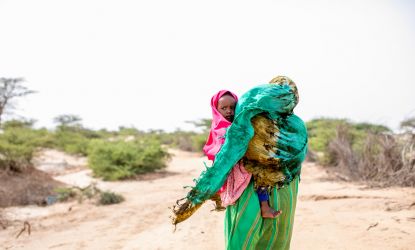 Climate refugees in Africa
Tens of thousands of people in Somaliland, a region of Somalia in Africa have been affected by a protracted, climate change-related drought, forcing families to flee their homes.
Many are now living in seriously overcrowded camps, where there is little food, no water, no shelter and no toilets. 
Women and girls like Sabad (right) and her daughter Nimo have received support from ActionAid and are part of a local Women's Coalition.
ActionAid are helping them to develop an independent livelihood, and to build schools so children can continue to get the education they deserve.  
Top image: Families wait to get into temporary accommodation at a refugee camp in Lesvos, Greece. Karin Schermbrucker/ActionAid
Page updated 4 March 2022