Meet the woman who survived rape to become a community hero
Meet the woman who survived rape to become a community hero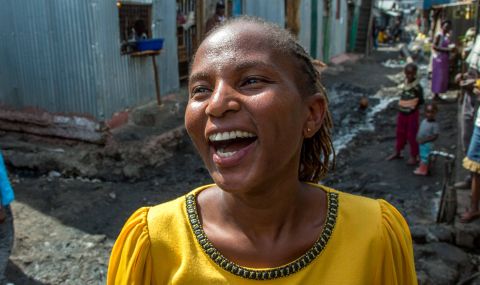 Wangu is famous in Mukuru slum
Everyone in Mukuru knows Wangu. A few years ago, her life changed forever when she was carjacked, robbed and raped at gunpoint by several men in Nairobi. Not only did she have to deal with the trauma of the assault, but the police didn't take her seriously when she tried to report it.
So her attackers were never brought to justice. Wangu hit rock bottom.
"For people who do not understand sexual violence, it takes and robs away the dignity of a person."
But she eventually found some counselling and started to heal. And that's when she decided to use her experience to help other women going through the same thing.
How Wangu turned personal tragedy into triumph
With ActionAid's support, Wangu set up a free text helpline in Mukuru slum offering immediate, confidential support for survivors of violence. She recruited a team of local community volunteers to run the helpline.
Rape, attempted rape, and domestic violence are the most common cases they see, because Mukuru has one of the highest rates of violence against women and girls in all of Kenya.
"We are trained to change the conversation from statistics to even one case is one case too many."
So a big part of Wangu's work is making sure that survivors have proper access to medical treatment, counselling, and legal advice.
They've handled 500 cases so far. Many have led to convictions.
Reaching out to the local community and beyond
As Wangu knows from her own experience, survivors of violence are often afraid to speak out because of stigma, because they don't know their legal rights, and because they don't trust the police.
"When I set out I did not anticipate to be a human rights defender."
So Wangu and her team of volunteers work with local community radio to promote and publicise the helpline. They've built links with the local hospitals, police station and legal advisers.
Through Wangu's own Foundation, she's also helping women set up their own businesses, so they can earn a living and be independent.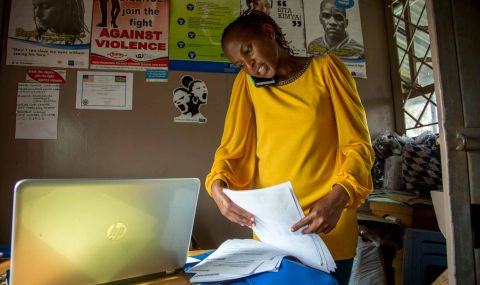 Survivors are becoming change makers
Wangu is determined to knock down the barriers and the shame that many women feel that might stop them reporting violence – and ensuring the legal system doesn't let them down.
She has big plans for the helpline – she wants to expand it across Kenya.
"We will equip women who are survivors of sexual violence to be advocates of change."
Photos: Georgina Goodwin/ActionAid
Page updated 7 December 2020