Top tips on writing to your sponsored child
26 February 2018
Time and time again children from around the world tell us how much they love to receive letters from you - their sponsors, their overseas friends. Children's laughter rings out as they look at the letters and photos delivered by our local staff. 
It takes just a few minutes to write a letter - but the effect is everlasting. The friendship formed through child sponsorship is a powerful thing, and one of the reasons why I wanted to share with you the happiness your letters bring and encourage you to write.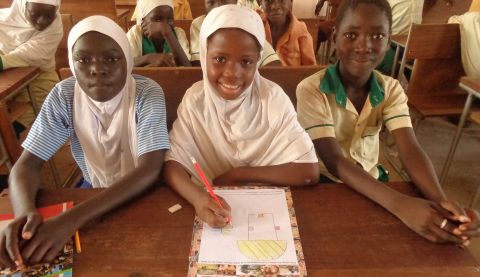 The joy a simple letter brings
Hai is 14 and lives in Vietnam. She keeps all the letters and photographs her sponsor sends her safe in a drawer.
I feel warm and full of joy whenever I receive postcards from my sponsor. It's a beautiful feeling because I know that thousands of miles away, someone cares a lot about me. Distance doesn't matter at all!"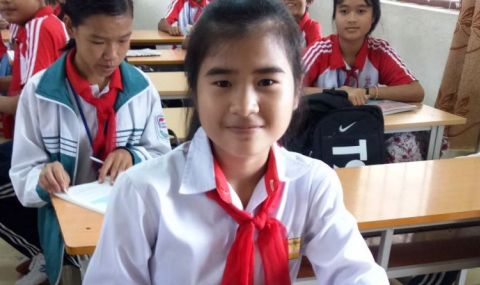 The children love to write messages back to you
Just as much as they love to hear from you, the children love to write back. The days the children gather to write their messages to their sponsors are a chaotic mixture of fun and laughter - days that the children truly remember.
ActionAid's local staff have become experts at organising events for the children, from party games to reading stories and putting on plays. They also take along new and exciting art materials for the children to use to make their messages for you. Many of the children have never had the opportunity to use coloured pens or crayons before. Paint and glitter are firm favourites - with more ending up on the children than the paper; I am sure you can picture the scene!
Suneeta (right) is 12 and lives in Pakistan. When we spoke to her about what she enjoys most about writing to her sponsor she told us.
I like to use multi coloured pencils and stickers to make my favourite pictures of flowers and plants."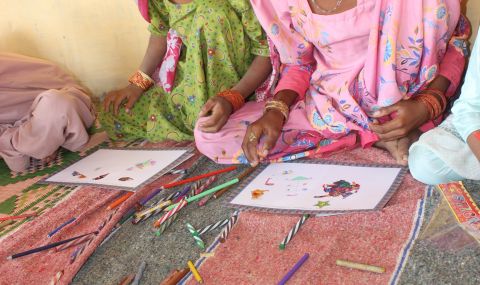 Why not get in touch with your sponsored child!
If you already write to the child you sponsor, thank you so much. As you have heard, it means a great deal to the children! We know it isn't always easy to find the time or even to know what to say, but we hope these children's words will inspire you to get in touch. It only takes five minutes to send a card, or to pop a photo or a postcard in the mail. To help get you started, here are some of our top tips on writing to the children. 
Our top tips on writing to the children
What do I say? 
Children all over the world are interested in the same sorts of things. They love to hear about your friends and family, what sports you like - football is a favourite. They also like to hear about the foods you eat and your family celebrations. They just want to get to know you, so any of these topics are a good place to start.
Still unsure how to get started? 
No need for a long letter, its fine to send a photo or a simple postcard to say hello. In fact, the children love to receive photographs - seeing a picture of their sponsor and their family brings the relationship to life. Their sponsor becomes somebody the child can talk to their family and friends about.
Get your children or grandchildren involved
Short of ideas? Why not ask your children or grandchildren to give you a hand. How exciting would it be for them to write to another child and learn about a country far away. They could draw a picture or make a collage for you to send.
Keep it short
Remember, all the messages sent to the children will have to be translated, so best to avoid lengthy letters.
Be mindful of different cultural backgrounds
Avoid writing letters about religion or politics, or sending holiday snaps with people in beachwear.
Where should I send my letters?
All the information you need to write to your sponsored child is in your child sponsorship welcome pack. If you don't have this to hand you can send your messages to us here in the UK at: ActionAid, Chataway House, Leach Road, Chard, Somerset, TA20 1FR, and we will forward them on for you. You can also contact us at supportercontact@actionaid.org or by calling us on 01460 238 000, and we'll be happy to help!
Don't forget!
Please write your supporter and children's reference numbers on everything you send, so that we can deliver them safely.
Finally and most importantly - have fun!
Want to find out more about child sponsorship? 
If you don't already sponsor a child with ActionAid - what are you waiting for? It's such an amazing thing to do. You won't just be helping change the life of one child - you'll be helping their whole community too.
If you sponsor a child in Kenya before 7 June, your donation will be doubled for the first three months by the British government. The match funding will go towards our projects working to eradicate sexual violence against girls in Kenya.
Learn more about child sponsorship
Photos: ActionAid.