Alesha Dixon on our new film - One Girl's Journey
30 October 2018
ActionAid supporter and Britain's Got Talent judge Alesha Dixon writes about why watching One Girl's Journey, our new short film, brought back memories of her trip to Ghana.
Last year I travelled with ActionAid to Ghana to meet young girls who had been abducted for child marriage. The stories I heard will never leave me; they described the extent to which girls are tricked and manipulated into horrifying situations.
But during this time, I also met the most brilliant women working with ActionAid to help stop this violence in its tracks and empower young girls to be who they want to be. And so I remained hopeful.
A year on, seeing the film One Girl's Journey has reminded me why I felt this way.
The film shows the challenges girls face, but it inspires by showing how the amazing interventions and sheer grit and determination of the women working with ActionAid can change lives for good.
Memories of my time with ActionAid Ghana
One girl I will always remember meeting is Cynthia. She was just 15 years old when a group of men kidnapped her, locked her up and told her to prepare for marriage. In a heartbeat, these men took away all her rights, including her right to an education and a life of her own.
Fortunately, Cynthia's father received help from Mary Lily, an ActionAid teacher working with community based anti-violence teams – called COMBAT squads – and Cynthia was released.
Another girl I remember is Juliette. She was 18 when she was tricked by men who offered her a lift to a festival but then held her hostage as a potential bride. Again, thanks to support from a local COMBAT squad, her uncle was able to rescue her.
These squads report cases to the police and make sure perpetrators are held to account so the minute they come on the scene, they make a difference.
Longer term they also teach men and local community members about the dangers of child marriage, and that by educating a girl, you help the entire community. This can shift the mindsets of whole villages and create lasting change.
"All girls should have the opportunity to achieve their full potential"
In the same way Naomi – the main character in the film – gains the confidence to create the future she wants, Cynthia and Juliette have done the same.
They have joined a girls' club run by ActionAid, where they are able to learn more about their rights and how to protect themselves. And they are back at school, despite their trauma and the ongoing threat of it recurring.
This is thanks to the women I saw in action, who are now also running a safe house built thanks to funding from the players of the People's Postcode Lottery, for those seeking justice for crimes committed against them.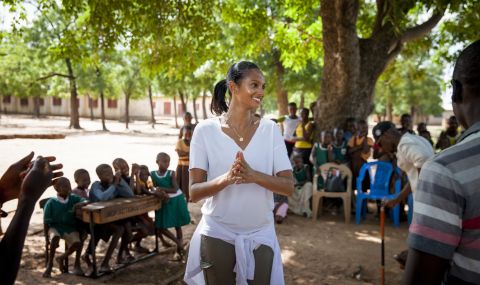 All girls should have the opportunity to achieve their full potential – to thrive, have choice and enjoy themselves. Girls are resourceful and determined so with the right support they can change the world.
However, there are still so many girls worldwide unable to escape the violent acts targeted towards them, unable to escape from those who believe they should be treated like second class citizens and forced to stay at home, married.
We can ensure girls are not alone
By supporting the work that ActionAid does, we can make sure that girls like Cynthia and Juliette are not alone and that they and millions of other women and girls around the world, living in some of the world's poorest places, can one day fulfil their potential.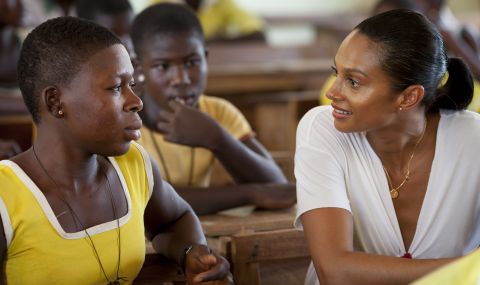 Being a performer myself, my favourite memory of my time in Ghana was when a group of girls put on an amazing performance for me. They were all singing about abduction and child marriage and staying away from bad boys.
As a collective, they were a powerful force showing clearly that even if you grow up where there's extreme poverty, you can be independent, creative and ambitious; you can become a nurse or a teacher or whatever you choose.
They definitely would have stood out from the crowd on the Britain's Got Talent stage!
Abbie Trayler Smith/ActionAid
Read next
30 November 2018

30 October 2018