Actress Jan Ravens: "What sponsoring children means to me"
3 June 2021
Dead Ringers' actress, impressionist and ActionAid ambassador Jan Ravens explains why she's sponsored children with ActionAid for over 12 years, and what it means to her.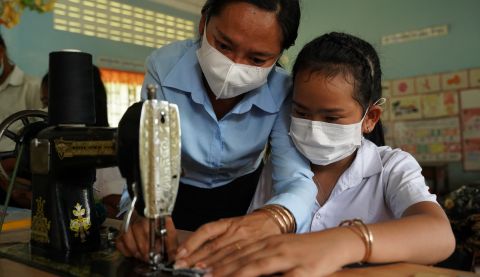 I have been supporting ActionAid for over 15 years. In 2008, I was very fortunate to visit their projects supporting women and girls living in extreme poverty in Kenya.  
One of the areas I visited was West Pokot in the Rift Valley in Kenya, where 11 months of devastating drought and rising global food prices had meant that many of the people I met were incredibly malnourished.
In Rift Valley, crops were failing and livestock was dying, and parents were scavenging for berries to feed their children. It would take up to three days to prepare just one meal from these berries, with many of the berries being poisonous and causing sickness. 
ActionAid was on the ground, working with local women and girls to provide support and save lives. They provided emergency food and water to the most vulnerable, and helped families by supplying them with the seeds and tools they needed to start farming again.  
Why I sponsor children with ActionAid
Since my trip, I have been involved in supporting many of ActionAid's campaigns and fundraisers, and I have also had the pleasure of sponsoring children.
I have sponsored three children, all in Cambodia.  Over the years I have loved getting correspondence from their communities to tell me about what they are learning, their progress at school, and their family lives.  It feels really special to be able to get an insight into their lives.  
Seeing the impact of my monthly contribution is hugely rewarding, knowing that it's supporting the whole community to tackle poverty and bring about sustainable, long-lasting change. 
I have learned a lot about the challenges faced by the children and their families too, which is why I am also supporting ActionAid's 'She is the Answer' appeal which is empowering women and girls to take the lead when it comes to tackling the climate crisis. 
How climate change is affecting women and girls
Like my trip all of those years ago to Kenya, where the effects of climate change were devastating, the climate crisis is now putting millions of lives and livelihoods in danger in many other countries including Cambodia. 
In Cambodia, women and girls tend to have less economic power and work in vulnerable industries like farming, fishing or the unpaid care sector because if existing gender inequalities. So when climate devastation strikes, it is women and girls who suffer most, affecting their ability to build resilience, seek support and access their fuller rights – including economic rights.   
But ActionAid also knows that women have immense potential to be powerful agents of change as I saw for myself in Kenya. When women and girls are brought into the climate conversation they can help build their communities' defenses. 
That is why, by supporting the brilliant work ActionAid is doing we can help women and girls on the frontline of the climate crisis to lead their communities to adapt – and survive.
ActionAid urgently needs more child sponsors in Cambodia, so for just 65p a day you too could change a child's life and build a better future for their whole community.  Not only will you help a child, but women and girls in Cambodia will also benefit. 
What's more, if you sponsor a child by 4 June, your gift will be matched by the UK Government for up to 3 months as part of our She is the answer campaign
Cindy Liu/ActionAid