Why International Women's Day matters
1 March 2019
Why does International Women's Day matter? Do we still need to celebrate it - and what about International Men's Day? We explore the history and future of this important day in the women's rights calendar. 
Celebrated every year on 8th March, International Women's Day is a chance to come together and recognise the incredible contributions of women.
Throughout history, women have shaped the human experience and transformed our world culturally, socially and politically. International Women's Day is an opportunity to celebrate those achievements.
But it's also a chance to consider how much further we have to go. Because the denial of women and girls' rights is one of the biggest causes of poverty worldwide, and a grave injustice.
On 8th March, we can come together to call for advocacy, change and progress in women's and girls' rights, so that the women of tomorrow have every opportunity to fulfill their potential. 
we all move forward when
we recognize how resilient
and striking the women
around us are"
- Rupi Kaur, Milk and Honey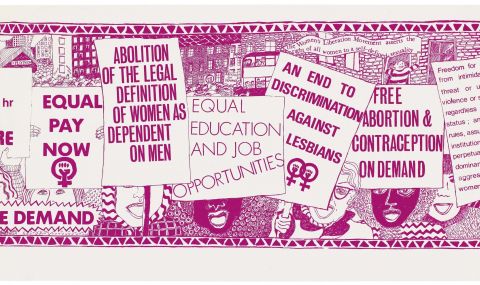 What is International Women's Day?
Most historians agree the earliest Women's Day observance, called "National Woman's Day," was held on 28th February 1909 in New York, organized by the Socialist Party of America. 
Globally, International Women's Day has been observed since 1911. In 1910, an International Conference of Working Women was held in Copenhagen and two women, German socialist Luise Zietz and Clara Zetkin, Leader of the 'Women's Office' for the Social Democratic Party in Germany, tabled the idea of a day to celebrate women. 
A year later IWD was marked for the first time, by over a million people in Austria, Denmark, Germany and Switzerland, in efforts to promote equal rights, demand suffrage and call for the right to hold public office. 
Since then, IWD has taken on lots of different meanings around the world. In some countries, it's a public holiday celebrated by all, while in others it merges with mother's day, with children giving small presents to their mothers and grandmothers.
Today, IWD is observed in many corners of the globe as a chance to reflect, appreciate and resolve to improve the rights of women and girls everywhere.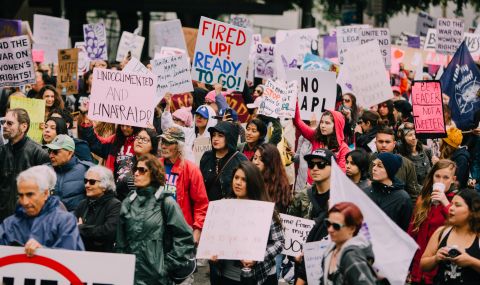 Why celebrate International Women's Day?
Quite simply, women's contributions to society often go un-celebrated! Whether it's our mothers, friends or our female heroes, IWD is a great chance to appreciate the amazing women who've inspired us. 
Women have shaped our experience at all levels of society. From the groundbreaking suffragette Emmeline Pankhurst, to the feminist leader Gloria Steinem and the trailblazing voice of civil rights Angela Davis, women have led movements for justice and equality. 
Author bell hooks fought oppression through the written word, while Malala Yousafzai, at the age of just 21, has rallied people for girls' education in the face of huge adversity. 
Frida Kahlo still stands as one of the world's most influential artists, while Marie Curie is remembered for her unrivalled contributions in the fields of both physics and chemistry. 
Today, writer Chimamanda Ngzoi Adichie continues to shape feminist thought, and Serena Williams breaks records in sport and shows young girls they can achieve their dreams. 
Maggie Aderin-Pocock inspires through her contributions to space science, and Saudi Arabian activist Manal al-Sharif blazes a trail for women's rights. 
Meanwhile ActionAid's Somaliland County Director, Sadia Abdi Alin, fights passionately for women's and girls' rights in a country where 97% of girls undergo FGM. Sadia was among those leading our march against Donald Trump's UK visit in 2017. "It isn't just about Donald Trump," she said. "Violence against women is such a shameful act of cowardice and we should be brave enough to stop it now and for good."
In every sphere, and across continents, there are inspiring women who are breaking down barriers and changing the landscape for girls. That's why, on 8th March, we celebrate them.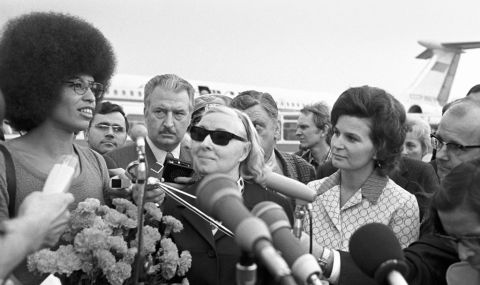 "I don't feel like I need feminism"
The progress we've seen in the UK over the last 50 or 60 years has been vast - from our rights in the workplace, to our progress in politics, sport and culture, women have certainly taken great strides to redress gender inequality. 
For some, that might mean feminism has become unnecessary or redundant, or that there's no longer a reason to celebrate International Women's Day. 
But the fact remains that in the UK, and in every country around the world, women and girls continue to face huge injustices, from violence to lack of opportunity, simply because of their gender:
The #MeToo movement showed the breadth and depth of sexual abuse that continues in societies all over the world, with thousands of women speaking out about the experiences they've faced - many for the first time ever. 
We know misogyny isn't trivial; it's pervasive and it takes many forms, from harassment and prejudice, to rape and even murder. 
And we know girls are being denied the opportunities available to men; in education, the workplace and the home.
That's why together, we speak in one voice on International Women's Day, and demand equality for women and girls everywhere. We work together so that one day, the women of tomorrow don't have to face discrimination, prejudice or violence.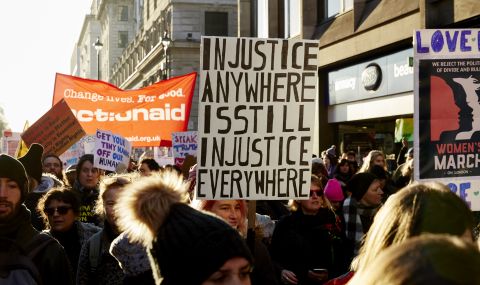 "Why is there no International Men's Day?"
There is! It takes place every year on 19th November, and is a chance to celebrate men's contributions and the fantastic men who inspire us around the world. 
But at ActionAid we recognise that all over the world, women face greater injustice, simply because of their gender. 
Women and girls have less social, economic and political power, which can lead to their human rights being denied. That's why we put women and girls at the heart of all we do. 
We work for women's economic empowerment, to keep girls in education, and to put an end to violence against women and girls all over the world. 
Please support our work with a donation this International Women's Day, to help us celebrate the women of today and tomorrow, and invest in their futures.
Kibuuka Mukisa Oscar/ActionAid; Wikipedia; Creative commons by Molly Adams; RIA Novosti archive, image #36716 / Yuriy Ivanov / CC-BY-SA 3.0; Montikamoss [CC BY-SA 4.0 (https://creativecommons.org/licenses/by-sa/4.0)] Alice Whitby/ActionAid