World Refugee Day: everything you should know
13 June 2019
On World Refugee Day, we come together to commemorate the challenges faced by refugees all over the world, and the incredible courage they show in the face of adversity. Find out when it is and how we mark this important day.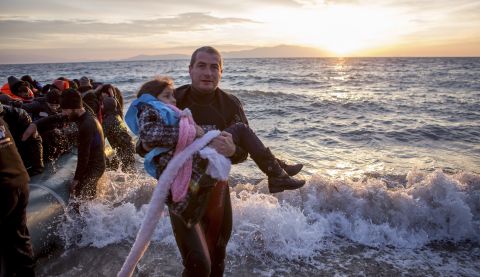 This year, on World Refugee Day, ActionAid is commemorating the incredible courage shown by refugees around the world, and the unbelievable challenges they face. 
There are more refugees now than ever in history - a shocking 68.5 million people have been forcibly displaced worldwide1 , around half of whom are women and girls. Find out more facts and figures about this important day, and why we choose to mark it. 
What and when is World Refugee Day?
World Refugee Day is observed every year, internationally, on the 20th June. 
It's a chance to consider the plight of millions of refugees around the world, and also to raise awareness about the worsening situation for many. 
The day was first established by the UN General Assembly in 2001, and today, events to mark the day take place all over the world.
Why is World Refugee Day important?
Every day 44,000 people are forced to flee their homes because of conflict or persecution2 .
The number of displaced people around the world - 68.5 million - is now greater than the UK population." 
This crisis is not going away, and we know the plight of refugees is desperate. In 2018, six people died each day attempting to cross the Mediterranean sea3 .
That's why on World Refugee Day we shine a spotlight on the refugee crisis and, every day, we work to support refugees in crises around the world.
Where are the refugees coming from, and going to?
57% of refugees worldwide are from just three countries - South Sudan, Afghanistan and Syria.
An estimated 6.3 million refugees have fled the conflict in Syria. Of those, around 3.5 million are hosted in Turkey4 .
The second-largest refugee population in the world is from Afghanistan - some 2.6 million people. Refugees from Afghanistan now hosted in more than 70 countries around the world, but 95% are in just two countries - Iran and Pakistan5 . 
And at least 2 million people in South Sudan became internally displaced persons as a result of the South Sudanese Civil War, which started in 2013.
Meanwhile, after a brutal conflict broke out in Myanmar 2017, at least 700,000 Rohingya refugees have fled for countries like Bangladesh.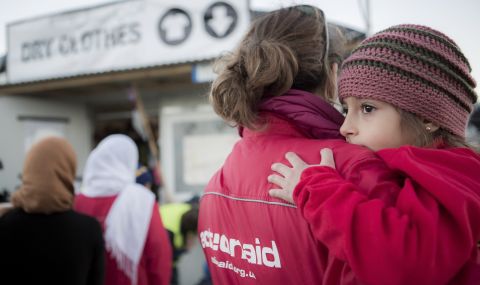 Why climate change is making things worse
Increasingly, the growing threat of climate change is making the plight of refugees worse. 
As the climate changes, drinking water is likely to become more scarce, and crops and livestock can suffer and fail, threatening people's livelihoods and making food more insecure around the world6 . Extreme weather is also contributing to natural hazards. 
As a result, the UN recognises that people are already being forcibly displaced from their homes, or are choosing to relocate in order to better their chances of survival.
The Global Compact on Refugees, adopted by the UN General Assembly in December 2018, said: 'climate, environmental degradation and natural disasters increasingly interact with the drivers of refugee movements.'7
Not only this, but new displacement patterns, and competition over resources can create conflict between communities or make existing conflicts worse.
We know the poorest people in the world are being hit first and worst by climate change."
That's why ActionAid is working with communities across the world to develop solutions that help people adapt to the impact of climate change, and support their families. 
This includes supporting farmers with climate-resilient crop seeds and farming methods, training women and children on how to respond to cyclone warnings, and supporting the building of flood-proof villages.
How women and girls are affected
At ActionAid, we know violence against women and girls increases during all emergencies, especially during displacement and conflict. 
Women and girls who are refugees are more at risk of violence including mass rape, sexual slavery, forced pregnancy, forced 'marriages' and being forced to offer sex in exchange for food or shelter.
Extreme poverty can put pressure on families to 'marry off' their daughters to someone who can provide for them. 
That's why, as part of our work around the world, we support refugees with life-saving humanitarian aid, including food, safe drinking water and shelter. This is just one of the ways we work to reduce poverty and end violence against women and girls.
We also provide hygiene kits, including sanitary protection, clean underwear and soap, to women and girls in crises. 
In emergencies, women and girls tell us that among the items they need most are sanitary pads, which allow them to manage their periods safely and with dignity." 
After fleeing their home with nothing, some women and girls have no access to sanitary protection, and can risk serious infection by using improvised materials to manage their periods - or even go without their next meal to buy clean pads.  
No girl, anywhere, should have to choose between food and sanitary protection.
How can I help? 
This World Refugee Day, we're standing with thousands of refugees around the world who have been forced from their homes due to conflict and disaster.
As the Covid-19 crisis continues to escalate, their need is greater than ever.
But your support could provide essential food supplies for a vulnerable family living in a refugee camp. Please donate today.
Footnotes
1 https://www.unhcr.org/uk/figures-at-a-glance.html
2 https://www.unhcr.org/uk/figures-at-a-glance.html
3https://www.unhcr.org/uk/news/press/2019/1/5c500c504/six-people-died-day-attempting-cross-mediterranean-2018-unhcr-report.html
4"UNHCR Syria Regional Refugee Response -Turkey". UNHCR Syria Regional Refugee Response.
5https://www.unhcr.org/uk/afghanistan.html
6https://www.unhcr.org/uk/climate-change-and-disasters.html
7https://www.unhcr.org/uk/climate-change-and-disasters.html
Karin Schermbrucker/ActionAid
Read next
25 August 2018

28 November 2017

26 October 2017