Southern Africa food crisis 2020: key facts
16 January 2020
Southern Africa food crisis 2020: find out what's happening, where it's happening, and see the solutions to the escalating food insecurity crisis in Southern Africa.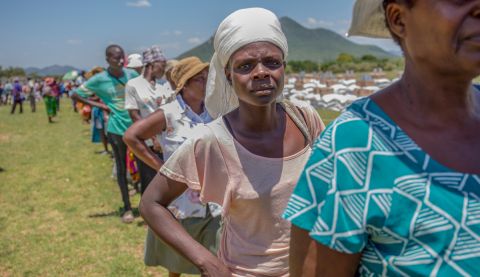 Countries in Southern Africa are currently facing the region's worst drought in 35 years. 
More than nine million people are struggling with severe food shortages, and this number is expected to increase to 45 million over the next few months.
Late rains, the aftermath of two major cyclones, drought and flooding have caused crops to fail and food prices to soar across Mozambique, Malawi, Zambia and Zimbabwe. 
ActionAid are on the ground delivering life-saving aid to people in urgent need. 
Which countries are in Southern Africa?
Southern Africa is a region generally thought to comprise Angola, Botswana, Eswatini (also known as Swaziland), Lesotho, Malawi, Mozambique, Namibia, South Africa, Zambia, and Zimbabwe.
The 2020 food crisis is most seriously affecting Malawi, Mozambique, Zambia and Zimbabwe - here they are on a map.
Countries affected by the crisis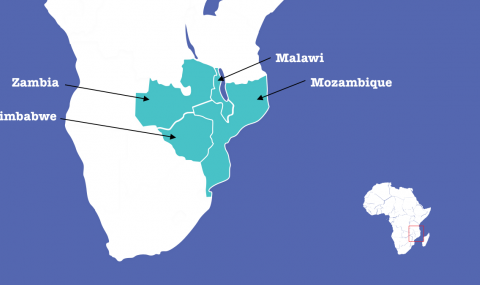 What causes food crises?
Food crises are caused by a series of complex factors, including changes to the climate, extreme weather events like cyclones and floods, pest infestations, and/or human disasters like conflict. 
These events can cause crops to fail and food prices to rise; they can also cause road blockages, stopping the transport of food and supplies. 
Food insecurity can also be affected by political and economic factors like inflation, land access, fuel prices and government investment in food production.1
As floods, droughts, typhoons and other climate-related emergencies become more frequent, people living in the most vulnerable places are finding it even harder to farm and earn a living. The poorer people are, the harder it is to recover from the effects of climate change. 
What has caused the food crisis in Southern Africa?
Southern Africa is still recovering in the aftermath of Cyclone Idai, which killed over 1,000 people in the region and left at least 400,000 without a home. 
Just weeks later, Mozambique was hit by a second cyclone, Cyclone Kenneth.
Both disasters affected huge areas of farmland, destroying crops. There were donations of seeds as part of the recovery effort, but an infestation of armyworms, a type of caterpillar, further damaged and destroyed crops.2
On top of this, large areas of Southern Africa are suffering prolonged drought and unusually high temperatures, damaging vegetables and other crops.3
Read more stories about the crisis and what ActionAid is doing in Southern Africa.
What is a drought?
A drought is defined as extended period - a season, a year, or several years - of deficient precipitation compared to the average for a region, which results in water shortages.4
Its direct consequences include reduced crop, rangeland, and forest productivity, increased fire hazard and increased livestock mortality rates.
But it also has wide-ranging indirect consequences, like higher unemployment rates, lower tax revenues and higher migration rates.5
What are the solutions to the food crisis?
An early response is critical, and significantly more effective than later, emergency interventions. 
ActionAid and our local partners are on the ground in Mozambique, Malawi, Zambia and Zimbabwe, distributing life-saving items including food and water purification tablets, plus critical items for longer term health like sanitary products and essentials kits.
Read more about how ActionAid is distrubuting supplies in Zimbabwe. 
We are also supporting women and girls to create their own safe spaces where they feel physically and emotionally protected.
And in the longer term, we are building communities' resilience to climate disasters by training women and young people to take leadership roles during emergencies, and supporting farmers to develop climate-resilient farming techniques. 
Footnotes
1https://www.unescap.org/news/un-report-says-food-crisis-must-be-addressed-part-response-economic-crisis
2https://actionaid.org/stories/2019/severe-drought-hits-mozambique-months-after-devastating-cyclone-idai
3https://actionaid.org/stories/2019/families-are-surviving-one-meal-day-drought-hit-zambia
4http://www.fao.org/3/aq191e/aq191e.pdf
5http://www.fao.org/3/aq191e/aq191e.pdf
Cynthia Matonhodze/ActionAid.
Read next
16 January 2020

25 November 2019

3 October 2018