Happy's wishlist: a Christmas list with a difference
22 November 2021
This Christmas, we urgently need 200 generous people to sign up to give a monthly gift to ActionAid, to help us provide life-changing support to women and girls living in poverty around the world. Will you donate to Happy's Christmas wishlist?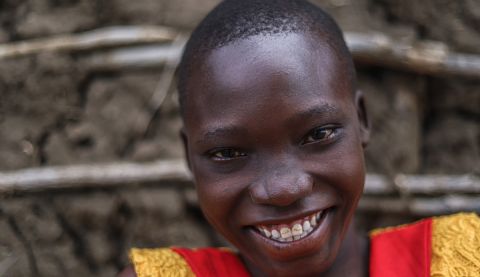 This Christmas, would you help us meet our ambitious targets by donating to Happy's wishlist?
Around the world, there are millions of girls like 13-year-old Happy, from Kenya, who are out of school and missing out on their right to an education.
And the Covid-19 pandemic has made a serious situation worse. Lockdowns have kept girls at home, out of sight and out of the classroom - some of them for good. 
We urgently need 200 generous donors to join us and make difference, this Christmas.
If you sign up to become an ActionAid supporter, you could help make an amazing investment in girls' education. Your donation to Happy's wishlist could help a girl open the door to a brighter future. 
ActionAid's Christmas appeal 2021: why we need your help
Every girl deserves to go to school and get the education that is her right. But around the world, 129 million girls are out of school. That's 129 million empty desks in classrooms. 
ActionAid believes that every girl has the right to go to school. Every girl has the power to transform her own future, and build a life free from poverty – if only she's given the chance.  
That's why we run a network of projects that support girls into schools, keep girls from dropping out of school, and help girls to catch up on learning they've missed. 
And that's why, this Christmas, we have ambitious targets to invest in girls' education and help them to unlock their power. Please join us, and become one of 200 generous donors to Happy's wishlist today.
Read next
23 December 2021

6 December 2021

24 November 2021