Two explosions at a warehouse in the port city of Beirut, Lebanon have caused widespread damage across the capital, killing at least 180 people, injuring over 6,000 (including around 1,000 children), and leaving 300,000 homeless.
ActionAid is on the ground in Beirut working with local partners to support some of the worst-hit families with essential supplies like food, hygiene kits, masks and psychosocial support.
Please donate now.
Why we need your help
Fifty per cent of people in Lebanon live below the poverty line, and they have already been struggling with a surge of Covid-19 infections, as well as an existing financial crisis. 
Food stored in the city's warehouses has been destroyed by the explosion, including eighty-five per cent of the country's cereal reserves. 
There is also a huge demand for water as the explosion damaged the water and sanitation infrastructure of the greater Beirut area.
Risk of gender-based violence is rising and protection concerns for vulnerable women and girls are mounting as well. 
What is ActionAid doing
ActionAid is working with our local partners in Lebanon on the ground, putting in place our emergency response which includes:
Repairing shelters such as windows and doors, and help clean up houses. 
Reconstruction of homes. 
Provision of blankets, bedsheets and pillows.
Distribute food and other essential items to families.
Provide psycho-social support for those affected. 
Provide cash for the most vulnerable families.
Setting up a 24/7 hotline for families to request support.
Reaching out to vulnerable women and girls at risk of gender-based violence. 
Setting up emergency safe spaces for those affected by domestic violence. 
How your donation makes a difference
Your gift to the Emergency Appeal can help people in urgent need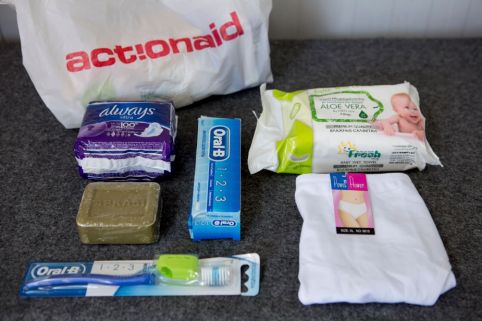 Coronavirus pandemic: what's happening in the world's poorest countries 
The world's poorest countries are struggling to control the coronavirus pandemic. Find out what ActionAid is doing to mobilise our response. 
Bangladesh
In Cox's Bazaar in Bangladesh over 800,000 Rohingya refugees are living in densely populated camps.
More than half of the population does not have access to adequate water and at least one third of the people do not have access to soap. 
Recent reports indicated the spread of fake news and inaccurate information being circulated about Covid-19 in the camps. 
ActionAid is sharing approved information through trained Rohingya female volunteers, who are using mobile phones and going door to door (while maintaining social distancing) to raise awareness of the dangers of Covid-19. 
ActionAid's four women friendly spaces have re-opened to provide women with critical services such as access to psychosocial counselling and support – to help tackle domestic violence which is predicted to increase during lockdown. 
India
1.3 billion people have been told to stay at home under lockdown in India. 
ActionAid distributed dry rations (flour, rice, pulses, milk powder) across 12 states and food packages to reach more than 55,000 of the most vulnerable families, including domestic workers and street vendors, who will have no way to earn a living during the lockdown.
We are also running 15 community kitchens for migrant and informal workers, with 120,000 families reached by 9 April 2020. 
Kenya
Informal settlements in Kenya which are overcrowded are likely to be worst affected by the coronavirus outbreak.
Women and girls, who are at the forefront of caring for the sick, home schooling, working in precarious jobs, are at a greater risk of falling through the safety net.
ActionAid has supported the humanitarian response to the Covid-19 pandemic by distributing information and myth-busting leaflets to communities through its network of women's collectives and community groups.
We are also translating public health advice into local languages for people who may not speak English or Swahili and sending these to radio stations for them to record and broadcast to their wide audiences.
Women's collectives are also setting up hand-washing stations in marketplaces. 
Liberia
Using lessons learnt during the Ebola crisis, ActionAid is distributing life-saving advice and health information through our network of local partners, including women's rights organisations and rural women's leaders. Social media and virtual meetings will be used for mobilising communities and spreading awareness.
During the Ebola crisis there was a dramatic increase in violence against women and girls, as police were unable to respond, support services were reduced, and survivors were left unable to access justice.
We're calling on the government to ensure that access to justice and women's protection are central to national response plans. Rape and other forms of sexual and gender-based violence spike during disease outbreaks. Women must be able to report cases during the pandemic and resources must be available to support survivors.

Lakshmi Subramani, Country Director, ActionAid Liberia.
Occupied Palestinian territories
ActionAid Palestine is one of the first NGOs to help with a Covid-19 response in the region, distributing food parcels and hygiene kits including hand sanitiser, gloves, toilet paper and soap to 1,600 people in quarantine in Bethlehem.
ActionAid is using its network of young activists who received training on how to protect themselves and others from Covid-19.
We've also set up women-only online spaces, providing classes on preparedness, focusing on the needs of women as they are more involved in times of crises and the first to protect their families and communities.
Senegal
ActionAid is supporting nine communities in Senegal by raising awareness on stopping the spread of coronavirus as well as providing hygiene and sanitation items such as sanitisers, wash kits, bleach and soap.
Women and girls are most affected by the coronavirus crisis
The impact of the disease caused by coronavirus is likely to be more severe on people whose health is already diminished by poorer nutrition; who have limited access to water and sanitation facilities; who have inadequate healthcare systems and who are working and living in weaker economic and political regimes. 
And women and girls living in poverty will be even more severely affected.
They are at the forefront of fighting the coronavirus crisis worldwide. They face an increased risk of domestic violence while under lockdown and they shoulder the burden of domestic care and informal work.
As primary caregivers and health workers, women are on the frontline of the crisis and must be empowered to take leadership roles in the response. Women and young people will be leading our work to reach marginalised communities with health messages."

Julia Sánchez, Secretary General of ActionAid.
At ActionAid we know that in every emergency, women and girls suffer disproportionately.
That's why we seek to put local women in charge, advising what their communities need, and overseeing the distribution of aid to the most vulnerable, to ensure fairness and transparency. They ensure that people get the life-saving aid that is their right.
Failing crops in Zimbabwe
Rumbudzai, 18, is from Manicaland Province, Zimbabwe. Her baby daughter Charmaine is almost two years old.
Rumbudzai told us she and Charmaine are able to eat only once a day because the increasingly poor rainfall pattern in Zimbabwe means their crops keep failing.
"The crops we are planting are not getting to maturity... Now the rains also come in December, we had planted, and a dry spell came, and they wilted," she said.  
When Cyclone Idai rains came the crops had wilted already and we did not harvest anything.
ActionAid and our local partners have distributed food aid to 49,000 people in Manicaland Province, including Rumbudzai and Charmaine, but we need to reach many more.
About ActionAid
ActionAid is an international charity that works with women and girls living in poverty.
Our dedicated local staff are changing the world with women and girls. We are ending violence and fighting poverty so that all women, everywhere, can create the future they want.
We operate in rural and urban communities across Asia, Africa and Latin America.
We're committed to ending the cycle of violence in communities around the world, enabling women's economic empowerment, and supporting women's and girls' rights during humanitarian crises.
Where your money goes
90% of your donation, after fundraising costs, will go to support the Beirut Explosion Appeal. 
The remaining 10% will be retained for ActionAid's Emergency Action Fund which will only be used for ensuring we are prepared and able to respond quickly and more effectively to future emergencies and crises. If the total amount raised for this appeal exceeds the funds needed for the response, ActionAid will transfer the remaining balance to the Emergency Action Fund. All Gift Aid claimed on donations will fund ActionAid's work across the world, wherever the need is greatest.
How your donation makes a difference
Your gift to the Coronavirus Appeal can help people in urgent need
Or choose your own amount to give
Top photo: Women leading the response after explosions in Beirut, Lebanon on August 4, 2020. Photo by ActionAid
Page updated 23 August 2021