Many of us know what it's like to lend a tampon or a pad to someone - anyone - who needs one. 
It doesn't matter if it's your sister, a friend, or a complete stranger in the loo. It's an unwritten rule that we always help out in an emergency, if we can.
What about a girl living in a refugee camp in Somaliland? Would you help her out too, if you could?
Around the world, thousands of women, girls and people who menstruate live without access to the safe menstrual products they need, putting their health and safety at risk.
But ActionAid is working to end period poverty.
So if you know what it's like to need a tampon or a pad, and to be helped out by a stranger, please pass the favour on. Help to end period poverty for good.
How your monthly gift can help end period poverty
If you've ever been helped out with a spare pad, or tampon – pass on the favour to someone in need. Giving a monthly gift could help women, girls and people who menstruate with the menstrual products they need, every month.
Why are we asking for a monthly gift?
Every donation counts, and we're grateful for whatever you feel you can afford. A one-off donation is a fantastic start, but periods happen monthly. And they don't stop for humanitarian crises.
Period poverty in a long-term problem, which needs a long-term solution. That's why regular donations are so important: they mean we can commit to end period poverty for as long as it takes.
A monthly gift from you allows us to make ambitious plans, and invest in the futures of young girls and their communities. It means we can make a real, sustainable difference to the lives of women and girls. Please help us to change the world with women and girls.
Why we work to end period poverty
Access to menstrual products and safe, hygienic spaces in which to use them is essential for anyone who menstruates. So is the right to manage our periods without shame or stigma. 
But around the world, millions can't afford or don't have access to the safe menstrual products they need. 
A lack of access to menstrual products means some people are forced to manage their periods in dangerous, unsanitary and ineffective ways. 
And it's not only the potential health risk – period poverty can also mean girls' education, well-being, and sometimes entire lives are affected. 
What ActionAid does
ActionAid work with women and girls, community leaders, men and boys, schools and governments to help end period poverty around the world — once and for all. 
In many of the world's poorest countries, we provide training on how to make reusable sanitary pads, which are affordable and sustainable.  
In our girls' clubs and safe spaces in schools, we help girls learn about their bodies, menstruation and health, build confidence and come together to advocate for their rights.
And in humanitarian crises, we distribute kits containing menstrual products, soap and clean underwear, so women, girls and people who menstruate can manage their periods safely and with dignity.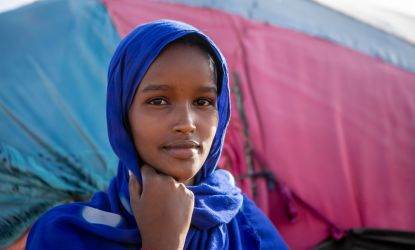 How ActionAid helps girls like Hibaq
Hibaq, 15, in a refugee living in a camp for displaced people in Somaliland. She and her family fled their home after devastating droughts destroyed their livestock and with it, their livelihood. 
It was a long and dangerous journey for Hibaq to arrive at the camp. And now, she and her sister are struggling to manage their periods safely.
"When we have a period, we need soap and also we need a lot of water and a toilet," Hibaq told us. "But we don't have all those facilities in our camp."
With your support, ActionAid is supporting people in the camp, and putting women and girls at the heart of our response. We're distributing hygiene kits to women and girls - containing menstrual products and other essentials - so they can manage their periods safely and with dignity.
About ActionAid
ActionAid is an international charity that works with women and girls living in poverty.
Our dedicated local staff are changing the world with women and girls. We are ending violence and fighting poverty so that all women, everywhere, can create the future they want.
We operate in rural and urban communities across Asia, Africa and Latin America.
We're committed to ending the cycle of violence in communities around the world, enabling women's economic empowerment, and supporting women's and girls' rights during humanitarian crises.
Page updated 27 April 2023