Each year we run a Ramadan appeal raising money to support our work with the most vulnerable communities around the world.
Whether it's providing essentials like food and water, fighting poverty or building resilience against climate change, our Ramadan appeals are one of the best ways to donate to a cause close to your heart.
At ActionAid, we already work in countries around the world and help provide water and food like rice, flour, lentils, beans oil, salt and sugar. 
We are also helping improve the long-term conditions for families living in poverty by building wells, providing education, and supporting people to rebuild their lives. 
But we need your help to reach as many people as possible. Start your Sadaqah Jariyah gift anytime or during next Ramadan.
How your monthly gift makes a difference
Your donation could help families around the world this Ramadan and after. 
Hunger in Somaliland
Amina, 90, has survived 12 droughts in her lifetime, but says the current situation in Somaliland, is the worst she's experienced.
Amina has seen first hand the devastation caused by the drought in her hometown.
"The drought has hit us hard. We have no water. Fuel is very expensive. We used to eat sorghum, rice, pasta and macaroni. But now we do not have the money to buy these foods. We are starving," she said.
Families are only able to access one working well once every seven days. Some resort to digging holes with their bare hands in search of water, but more often than not, they find dirty, muddy water.
Like Amina, millions of others around the world are struggling with disasters, conflicts and crises that are affecting their food and water supplies. Now rising food and energy prices are pushing families to the brink of survival.
You can help us reach people like Amina. ActionAid is working with communities around the world to provide food, water, build wells, and help rebuild livelihoods.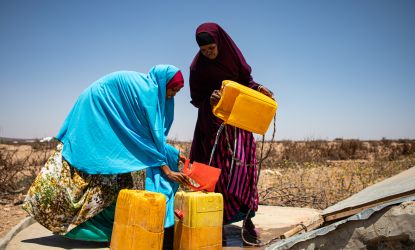 Our previous Ramadan appeals
In 2022, you helped raise funds for communities struggling with climate change. 
Around the world, millions of people are facing hunger. Droughts, floods, soaring temperatures, conflict and existing poverty in countries like Somaliland, Ethiopia, Afghanistan and Bangladesh are leading to severe food and water shortages around the world.
But your donations are helping to ensure women like Amina, pictured, can access water and rebuild their livelihoods.
Lack of rain and rising temperatures in recent years have meant that Amina's livestock no longer has much pasture to graze on. In addition to selling milk from her livestock, Amina is also dependent on her crops, and without water, she has lost their entire livelihood.
She says: "I have seen severe droughts for the last few years, [but] in my view, this is the worst drought."
Give Sadaqah during Ramadan on any time of the year to help women like Amina. 
The role of Ramadan is undeniable in showing what co-operation, empathy, and respect for one another other can do in building bonds of friendship, equality and unity in the Muslim world.

It is what incredible charities such as ActionAid – who already have a proven track record in working with the most vulnerable of communities – have been doing for many years, with great success. Not only do they provide immediate, humanitarian aid but they also stay back and work together with communities to provide long-term, sustainable solutions.
Image: Muslim children of Gujjar community read Quran at a madrasa in Chamba. Credit: Raul Irani Kirmani/ActionAid